DNS servers help to fetch the correct IP address of the URLs requested from a client computer. All browsers like Safari, Chrome or Firefox running on a client computer by default use the DNS server settings of the Internet Service Provider (ISP). Sometimes it is necessary to change the default DNS servers in order to ensure unrestricted, safe and fast surfing experience. This also will help to resolve IP related problems like resolving host issue in Google Chrome browser and helps the sites load faster. This article explains the step by step process of how to change DNS servers IP addresses in Mac.
Change DNS Servers in Mac
We use Google public DNS servers in this example and you can use any reliable DNS server IPs for this purpose.
Remember to enter two IP addresses one for primary and other for secondary server.
8.8.8.8 and 8.8.4.4 are IPv4 addresses for Google. In case of IPv6, you should use, 2001:4860:4860::8888 and 2001:4860:4860::8844 for primary and secondary servers respectively.
Since Apple changed the macOS settings from Ventura (version 13 or later), here we will explain the setup for the latest version as well as old versions (macOS Monetary or earlier). Also, learn how to change DNS servers in Windows 11 or 10, iPhone or iPad and Android.
1. Change DNS Servers in macOS Monterey or Earlier (Version 12.x or lower)
Earlier macOS versions have System Preferences where you can change the DNS.
1.1. Open Network Settings
Click on the Apple icon on the top left corner of your Mac and go to "System Preferences…" option. Alternatively press "Command + Spacer bar" to open spotlight search box and search for "system preference". Click on the "System Preference" application.
Click on "Network" icon as shown in the below picture.
1.2. Enable Edit Network Settings
Choose the network adapter showing in green signal indicating the connection. In general this should be your Wi-Fi connection showing first in the list on the right sidebar. It should be an ethernet connection if you are still using old Mac with cable connection.
Select the active connection.
Click on the "Click the lock to make changes" option. Provide your administrator password and enable edit options.
Click on the "Advanced…" button.
1.3. Changing DNS Server Addresses
Navigate to DNS tab where you can see the default DNS servers assigned by your ISP in the box. Select the default DNS servers and click on the – button to remove them. Again click on + button and add your own DNS server details.
Here we have shown commonly used Google's public DNS servers as:
Primary server – 8.8.8.8
Secondary server – 8.8.4.4
Click on OK button to save your changes. That's it!!! You have successfully changed the DNS servers in your Mac.
2. Change DNS in macOS Ventura or Later (Version 13 or Later)
Latest macOS versions have System Settings (instead of System Preferences) where you can change the setup. If you are logged in with administrator account, generally the Settings screens are open for editing without the need for unlocking again.
2.1. Access Network Settings
Click Apple logo and go to "System Settings…" menu.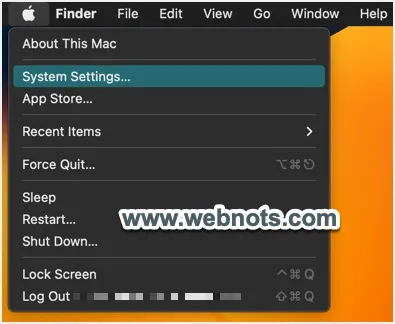 Go to "Network" section and click the connected network. For example, "Wi-Fi" option in the below screenshot which shows as "Connected" with a green dot.
Click on the "Details" button showing against your active Wi-Fi network connection.
2.2. Change DNS
On the pop-up, go to "DNS" section and click the + icon.
Type your primary DNS server's IP.
Again, click the + icon and add your secondary DNS server's IP.
Click "OK" button to apply the changes.