Smartphones are our personal digital spaces where we store almost all our personal information. As smartphones carry such sensitive personal information, their security is also a must. With online educational classes are common nowadays, parents also need to share their phone with kids. Imagine your kid accidentally open a private photo and it's a good idea for you to take precautionary measures to avoid annoying moments. The best option out there is to password protect your sensitive files and folders. In this article we will explain different ways to password protect files and folders in Android smartphones.   
Screen Lock and Encryption in Android
Many users may think the screen lock is sufficient to protect the phone. However, this is not enough as you may need to share the phone with family or friends in necessary situations. Other option for protecting is to encrypt your data on your phone's memory and the external memory card. Though encryption provides excellent security it has some drawbacks.
Anyone can access your files and folder if they know the screen lock code.
Secondly, it gets tough to recover the data if your phone is malfunctioning or broken.
The encrypted external memory card will not work on other phones until you format it for reusing.
So, the better strategy is to put an extra layer of security on the selected files or folders, which are more sensitive. Whenever you or someone tries to open it, it will ask for another PIN or password. It is suitable when you show something on your phone in front of others or in case you give your phone to someone. It can also protect against accidental opening of sensitive files. The good part is that Android by default provides the ability to set a password to the files. We will explain this and other options to protect your files in the following sections.
1. Protect Pictures and Videos with a Locked Folder
If you still feel the lock screen passcode is sufficient, then this is the feature for you to protect pictures and videos in Google Photos. The followings will happen once you put your pictures and videos in the locked folder:
They will disappear from the typical view of the Google Photos, providing privacy.
Pictures and videos in locked folders are not backup or shared.
Photos and videos will be deleted if you uninstall Google Photos
You will need the screen lock code to access the item in the locked folder.
If this is what you are looking for, then here is the procedure to put pictures or videos in the locked folder.
Open Google Photos and select the items you want to put in the locked folder. Tap and hold on a picture for few seconds to select it and tap on all the desired items to select multiple pictures.
Now tap on the vertical line of three dots in the upper right corner and select "Move to Locked Folder" from the menu. It will ask for confirmation and tap "Move" button, and all the selected items will disappear from the standard Google Photos grid.
1.1. Access Pictures and Videos from Locked Folder
Once you put your photos and videos in the locked folder, accessing them is a little tricky because these items are hidden from the standard system view.
Open Google Photos and go to the "Library" tab. Tap on "Utilities" button at the top to open a menu.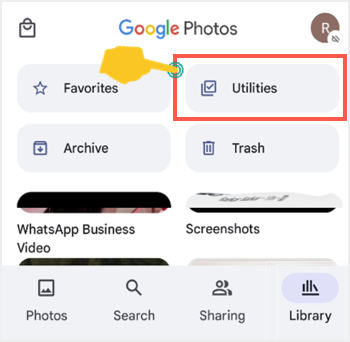 Again, tap on "Locked Folder" option available under "Organize Your Library" section. It will ask for either your fingerprint or the lock code, depending on your screen lock security. Once you do that, the folder will open up with all the items that you can view.
If you want to delete an item or items, select it by pressing it for a few seconds. You can also select multiple pictures for deletion. There are two options to proceed further: "Delete" and "Move" which will appear at the bottom of the screen. "Delete" will erase the item from memory and tapping "Move" will transfer the item out of the locked folder and send it back to the standard Google Photos grid. The moved item will now appear elsewhere in Google Photos and can be backed up or shared. It will also appear in other apps on your device.
If you leave the locked folder open for a while, it will get locked automatically, and you have to unlock it again. The only drawback of the locked folder is that you cannot set a new code other than the lock screen code for the locked folder. Anyone who knows how to unlock your phone can also unlock your locked folder.
2. Protect Files with a Safe Folder in Android
As you could see, there are two drawbacks of using locked folder option. One is that you can only protect pictures and videos and other is that you cannot set an exclusive password only for the locked folder. If you are looking to protect all types of files, including pictures and videos, and you want to set your own Personal Identification Number (PIN) for the folder, then Android 12 offers a "Safe folder" feature. Remember you can't open the safe folder if you forget the PIN. Improved security of the safe folder does not even allow to take a screenshot when it is open.
2.1 Setting Up Safe Folder
The following procedure will walk you through the setup of a safe folder in Android 12.
Open "Files" app on your Android phone. You can either find it in the detailed list of apps or search and open it. This app will show all the files on your phone, including pictures and videos.
Scroll up and find the "Safe folder" near the bottom of the page.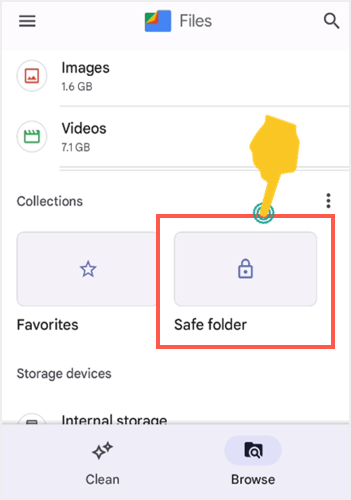 If it is your first time using the Safe folder, pressing it will ask you to set it up.
In the first step of setting up the Safe folder, you will choose a passcode for the folder. It could be either a PIN or a pattern, select your desired option and follow the instructions to complete the setup.
Congratulations! Your Safe folder is ready to use now.
2.2. Move Files into or Out of Safe Folder
Moving a file into a Safe folder is straightforward if already set up.
The "Files" app will show different tabs for the folders. You can tap the folder name in the tabs to view all the files in that folder which you can move into the Safe folder.
Select the file(s) and press the vertical three dots in the upper right corner. From the list of available option, select "Move to Safe folder" and enter your PIN. As soon as you enter the correct information and press "Next", file(s) will move to the Safe folder.
To access the files in the Safe folder, open the Safe folder located near the end of the " Files " page. It will ask for the PIN or pattern to view its content.
You can delete the files in the Safe folder or move the items out of the Safe folder by tapping on the three dots near the name of the files. You can also select multiple files and do the actions at once.
Note: Some manufacturers offer the Safe folder with other names like "Vault". If you do not find the Safe folder, check your phone's support manual to find more details.
3. Password Protecting with Archiving (ZIP) in Android 12
If you have many files or specific folders to password protect, the best option is to zip the files or folders. This works similar to setting password in zipped folders in Windows using WinZip or 7Zip apps. While you zip the files or folders in Android, you can set a password. You can also put the whole zipped file in the Safe folder after setting a password. Learn more on how to zip and unzip files in Android.
4. Third Party Apps to Password Protect Files and Folders in Android 12
Although Android 12 provides very comprehensive password protection for your files, there are a variety of apps available to do that as well. When using these apps, make sure to setup a recovery email or other options if you forget the PIN. Otherwise, your data will permanently become inaccessible. Here are some of the apps that you use in Android for password protecting files and folders.
Folder Lock
File Locker
Gallery Vault
Final Words
Depending upon your situation and need, you can select one of the default Android options to protect your files. Safe folder option is better to password protect files and folders when compared to lock folder. However, you can zip the files to hide and move them to any location. If you do not like these default options, then you may need to go for a third-party app as mentioned above.