The so-called bookmarks bar in Chrome is called favorites bar in Edge. By default, it shows all your bookmarked items and folders for quicker access. Keeping too many items in the favorites bar make your browser slow and clutter the space affecting the appearance. Here are some tips to manage your favorites and cleanup the favorites bar in Microsoft Edge and work efficiently.
Adding Favorites in Microsoft Edge
By default, Edge will show two favorites icon in the address bar.
Add or remove favorites – Click the star with + icon inside the right end of address bar or press "control + D" keys to bookmark the current page. It is a good idea to create a custom folder and save the item instead of showing all in your favorites bar. Similarly, press "Control + D" and click "Remove" button to quickly delete the current page from your favorites list.
Manage favorites – press "Control + Shift + O" or click the favorites button showing next to the site address field. Here, you will see all your favorite pages and folders showing in favorites bar.

There are lot of options to manage the favorited items and favorites bar in Edge.
1. Hide Favorites Bar in Edge
By default, new tab page in Edge will show the favorites bar just below the address bar. This may be distracting when you want to focus on important task. You have multiple options to hide or remove it:
Press "Control + Shift + B" shortcut keys to toggle showing or hiding the favorites bar in Edge. Edge will remember your choice and show or hide the bar whenever you open a new tab page.
Other option is to go to edge://settings/appearance page. Scroll down on the right pane and check the "Show favorites bar". This will show "Always" option, click the dropdown, and select "Never" to permanently hide it. You can also choose to show it only on the new tab pages.
2. Hide Favorites Button
If you want to remove the favorites button showing next to address field, go to the same edge://settings/appearance page. Check under "Select which buttons to show on the toolbar" and turn off "Favorites button" option. You can still use the keyboard shortcuts "Control + Shift + O" to reveal the button when needed.
3. Only Show Icons Instead of Page Titles in Favorites Bar
Favorites bar will show the site icon along with page title which will occupy the available space quickly. However, you can remove titles and only keep the icons to have more items in the favorites bar.
For new item – when adding favorites simply delete the "Name" and click "done" button to only keep its icon without title. You can again edit the item to add its name.
For already added item – right-click on the item in favorites bar and select "Show icon only" option. Anytime you can uncheck this option to show the item's title.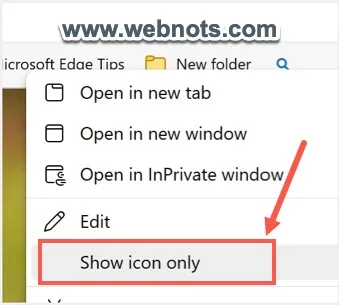 4. Searching Favorites in Edge
The simple way is to type a word in the address bar and Edge will automatically suggest the pages from your favorited items. Otherwise, press "Control + Shift + O" keys and click the lens icon to search your favorited items. But this will be congested as you need to search within the floating box.

The best option is to open edge://favorites/ page and use the search box to find your pages in a clean interface.
5. Bulk Delete Favorite Items
It is easy to delete a favorited item by right-clicking and selecting "Delete" option. However, there is also an option for deleting multiple favorited items from the bar.
Go to edge://favorites/ page where you can view all favorited items with a check box in front of each item.
Check the items that you want to remove from the list.
You will see a floating pop-up showing number of selected items along with a "Delete" button.
Click that "Delete" button and remove all the selected items at once.
If you made a mistake, click "Undo" button to restore the deleted items.

6. Bulk Add and Open Items
For adding all open tabs to favorites, right-click on the Edge title bar and select "Add open pages to favorites" option. This will open a pop-up where you can select a folder and save all the tabs at once.
Similarly, for opening all favorite items form the bar or from a specific folder, right-click on it and select "Open all…" option. You can open all the items in a new window or in a tab group or in a private window.
7. Rearrange Favorited Pages Order in the Bar
When you have too many folders and pages in the favorites bar, Edge will group the overflowing items under "Other Favorites" folder. It is also possible to reorder the items and make the frequently used page/folder in the visible area.
Drag and drop the page/folder in favorites bar to move the item.
Or go to edge://favorites/ page and drag the items to rearrange the order.
8. Sorting Favorites in Edge
Edge also allows you to sort the items in favorites bar as well as in a folder.
Go to edge://favorites/ page and right-click on the Favorites bar or on the folder showing in the left sidebar.
Select "Sort by name" option to arrange the items based on their names. You can also "Undo" this action immediately after sorting.
9. Removing Duplicate Favorites in Edge
Keeping duplicated items in the bar will not only occupy space but also confuse when you want to search and open favorited items.
Open edge://favorites/ page and click the three horizontal dots icon showing on top right corner of the list.
Select "Remove duplicate favorites" option.
Confirm you action by clicking on "Remove" button. Edge will check and remove all duplicated items and show you a notification on number of items removed.
10. Bulk Import and Export Favorites in Edge
You can bulk export the favorited items and import on another PC for migrating all items without hassle.
Go to edge://favorites/ page, click the three dots "More options" icon and select "Export favorites" option.
Alternatively, press "Control + Shift + O" and select "Export favorites" to download the favorited items as a HTML list.
On your new PC, select "Import favorites" option from "Control + Shift + O" favorites button menu.
Click "Choose what to import" button under "Import from other browsers" section.

Select "Favorites or bookmarks HTML file" and upload your exported file.
Final Words
As you can see, Edge offers plenty of options to manage your favorites and favorites bar. You can add bookmarks to custom folders better housekeeping and sort them for easy access. If you have too many duplicates, clean up the items to delete and trim the list.