It is impossible to live without passwords in this digital world. Earlier days, you need a password manager app for managing all your usernames and passwords in one central place. Now, smartphones like iPhone comes with an in-built password manager to remove that hassle. In this article, we will explore how to view and manage all saved passwords from password manager in iPhone.
Saving Passwords in iPhone
Apple uses Keychain Access app in Mac to store passwords. Though this app is not available on iPhone, your passwords are still stored in Keychain. If you enable iCloud sync, the stored passwords will be synchronized in iCloud server. This will help to access the passwords from any of your Apple devices logged in with the same iCloud account. When you are typing the username and password for the first time in a login page, Safari will suggest saving the credentials in iCloud Keychain.
If you opt to save the details, Safari will automatically show the details from next time onwards using AutoFill feature.
Viewing Stored Passwords in iPhone
You can view all website login passwords in iPhone from the Settings app.
Tap on the Settings app and then go to "Passwords" section.
Unlock the screen with your Face or Touch ID.
You will see the password manager options along with the complete list of websites that you have saved the passwords in the past.
Search box – type the website name to filter it from the list.
Password Options – tap on this and enable or disable AutoFill passwords in login prompts.
Security Recommendations – view the compromised passwords leaked in data breaches and change them to secure your login details. You can disable this option if you do not want to send the details to Apple for checking the data breach.
For viewing the password of an individual site, tap on the site name and then tap the password field. You need to unlock the screen with Face or Touch ID to view and copy the password. From here, you can also delete the password stored for that site in iPhone.
Use Mac to View Passwords Stored in iPhone
Though you can easily view the passwords using the above method, it is not possible to export or download all the items in a spreadsheet. This will be a problem when you want to edit hundreds of passwords and upload them back. As mentioned, if you are syncing the passwords in iCloud, then you can use Mac to download and upload the passwords stored in your iPhone.
Go to Apple menu and select "System Settings…" option.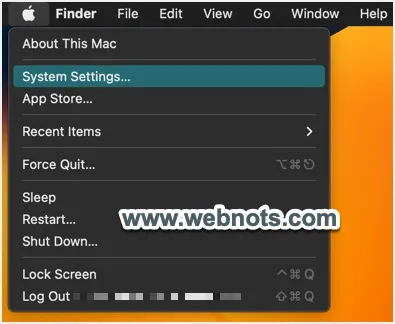 When the Settings app opens, go to "Passwords" section and you will see the same details like iPhone password manager.
Click the three dots button next to search box and select "Export All Passwords…" option.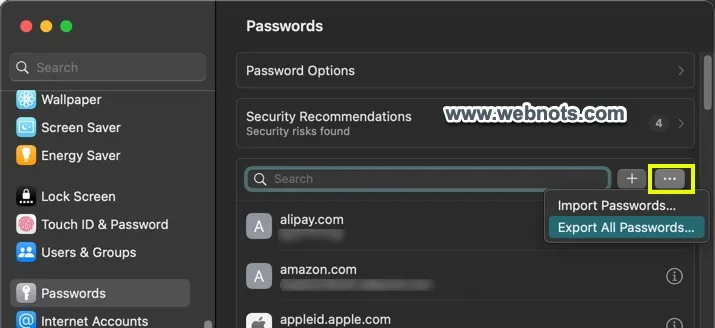 This will download all the passwords in a CSV file as shown below.

You can edit the passwords and reupload them using "Import Passwords" option.
After synching, the updated passwords will be available on your iPhone for login.
You can also view, download and upload passwords from Safari browser's settings in Mac.
Note: If you want to find the stored Wi-Fi passwords, you can directly view and copy from "Settings > WLAN" section from iOS 16 onwards.