Password management is one of the difficult tasks for everyone in this digital world. Since most of us use smartphones and at least one laptop or desktop device, it is another headache to sync passwords across all your devices. Apple solves this problem by syncing passwords in iCloud and allows you to use autofill feature on any of your Apple devices. However, did you ever wonder how to view the stored passwords in your Mac? In this article, I will explain how you can do that along with exporting all stored passwords. You can upload the file back into any other device to import the passwords.
Password Management in Mac
Apple uses Keychain Access app to store all your usernames and passwords centrally. You can enable iCloud sync for Keychain Access and share these passwords across your devices from iCloud server. So, you can use Keychain Access app in Mac to view all the stored passwords. In addition, you can also view the passwords from System Settings and Safari settings with user-friendly interface.
1. View Passwords from System Settings
This is the most convenient way to handle all the stored passwords in your Mac.
Go to Apple logo menu and select "System Settings…".
Select "Passwords" option from the sidebar and you will be prompted to unlock the settings using admin password or touch ID.
After unlocking, you can see a complete list of websites with usernames showing below the site name.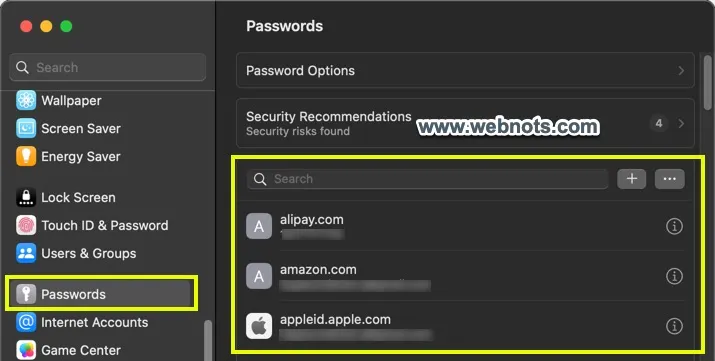 Double click on the site or click the information icon showing at the end of the item. This will open a pop-up showing the password in hidden mode.
Hover your mouse over the password to reveal it and click "Copy Password" button that appears on hover to copy the password to clipboard.
1.1. Downloading and Uploading Passwords in Settings
For exporting passwords, click the three dots icon showing next to the search box in "Passwords" settings. You will see a dropdown and select "Export All Passwords…" option to download the file in CSV format.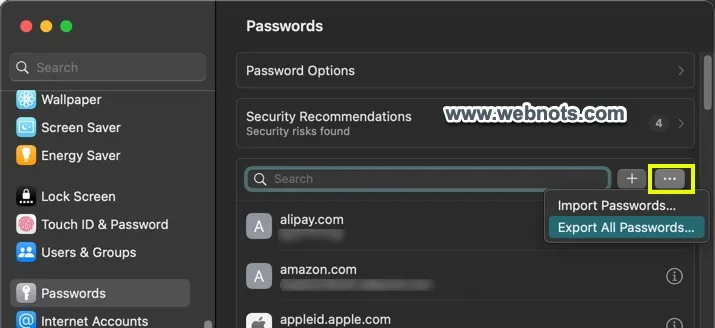 Confirm your action by clicking "Export Passwords…" button and then provide the access with touch ID or admin password.
Instead of downloading the entire password list, you can also select few items and export only those items. You will see "Export xx Selected Passwords…" option when clicking on the three dots icon.
You can edit the exported password CSV file with Numbers app and import with updated details. The exported password file will look like below containing title, URL, username, password, notes and OTPAuth details for each item.

2. View Passwords from Safari
You can do all the above actions within Safari app's settings page as explained below.
Open Safari browser and go to "Safari > Settings…".
Navigate to "Passwords" tab and unlock the screen with your admin password or touch ID.
You will see all websites with the usernames showing in the sidebar. The first section shows the "Security Recommendation" below which you can find "All Passwords" section.
Select a website and you can find the username and password details on the right pane. You need to hover over the password to see its value.
You can also click the "Edit" button on the right pane to view the username and password details for the selected site.
2.1. Importing and Exporting Passwords Safari
Like System Settings, you can export the entire list or selected items from Safari settings. Click the three dots in a circle icon showing below the password list and select "Export All Passwords…" or "Export Selected Password" option.
Confirm the action with your admin password and download the file. You can edit and upload the password file back into Safari using "Import Passwords…" option. The passwords will be synced automatically on all your devices if you have enabled iCloud sync for Safari.
3. View Passwords Using Keychain Access
Above two options are available in iPhone also. So, you will get a seamless experience when using those options. However, Mac has a Keychain Access app where all your passwords are stored. The advantage is that Keychain Access has other security keys, certificates and Wi-Fi passwords. The disadvantage is the interface is not user-friendly and you can't export the passwords.
You can open Keychain Access app from "Launchpad > Other" folder or search and open the app using Spotlight Search.
Click on "Passwords" section and select "iCloud" or "System" from the sidebar.
Double click on any of the item and you will see a pop-up like below.
Check the "Show password" option and provide the admin password.
This will show the password in the text box which you can copy to clipboard.
3.1. Importing and Exporting Passwords in Keychain
You can select single or multiple items and go to "File > Export Items…" menu to download the passwords. However, this does not work as the menu will be greyed out even you select a single item that can be easily exported from System or Safari settings page.
Though the import option still works, it is highly recommended to use System or Safari settings for importing and exporting passwords in Mac. If you want to migrate the passwords, keys or certificates from Keychain Access, you can enable the iCloud sync and access them on another device by logging in with same Apple account.
Final Words
Though Keychain Access is the source for all stored passwords, it is easy to manage them from macOS settings or Safari settings page. From there, you can also get security recommendations, easily bulk import or export passwords and delete the items from the list.