Microsoft Outlook is one of the popular email clients used for personal and professional reasons. Though Gmail grabbed considerable users from Outlook, it still rules the email world due to use in corporate companies. Sending and receiving emails in Outlook is part of many people's daily life. Therefore, using some emoji in the communication will make it more fun and expressive instead of always using the plain text.
Related: Keyboard shortcuts for Microsoft Outlook.
Insert Emoji in Outlook Windows
Here are different ways you can insert emoji in Outlook Windows version.
1. Using Windows 10 Emoji Keyboard
If you are using Windows 10, then press "Win + Semicolon" or "Win + Dot" keys. This will quickly open up an emoji keyboard for you to search and insert emoji symbols. You can either search from the different categories or type the emoji name to find it.
For example, type "tear" to filter all emoji symbols with tears.
2. Use Text Emoticon or Kaomoji
You can use the common emoticon keyboard shortcuts to insert popular emoji symbols in Outlook. For example, :-) will produce the smiling face like ☺︎. Do not worry, you do not need to all these shortcuts if you are using Windows 10 latest version. You can use the same emoji keyboard to insert Kaomoji symbols on Outlook.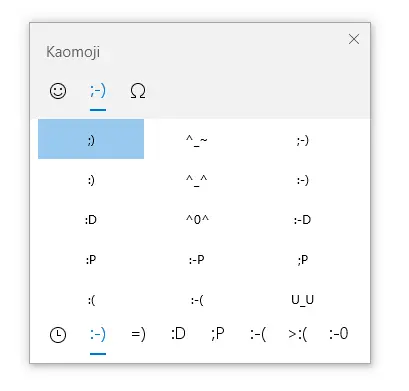 3. Alt Code Emoji Shortcuts for Outlook
In our earlier article, we have provided alt code emoji shortcuts for 1000+ emoji symbols. You can also download the PDF for offline reference. Use one of the emoji alt code to insert the symbol on your Outlook emails. For example, Alt + 129315 will insert the ROFL or rolling on the floor laughing emoji like 🤣.
4. Use Symbol Utility
Open a new email in Outlook and navigate to "Insert > Symbol" and click on "More Symbols" option.
It will open "Symbol" utility pop-up like below.
Change the font to Windings, Webdings or Segoe UI Emoji and select the emoji to insert in your email.
Related: How to fix Outlook slow loading issues in Windows?
5. Use AutoCorrect Shortcuts
If you always use few emoji symbols that are difficult to use or find in any of the above methods, then you can create a custom AutoCorrect shortcut in Outlook.
Launch, Outlook and go to "File > Option" menu.
Go to "Mail" tab and then click on "Editor Options…" button.

Now go to "Proofing" tab and click on "AutoCorrect Options…" tab.

Here you will see a list of all the words Outlook will automatically convert. You should see the some smiley emoticons already available. Let us say, you want to add custom replacement for face with tears of joy emoji 😂 using double colon ∷. Type ∷ in "Replace" text box and copy paste the emoji in "With" text box.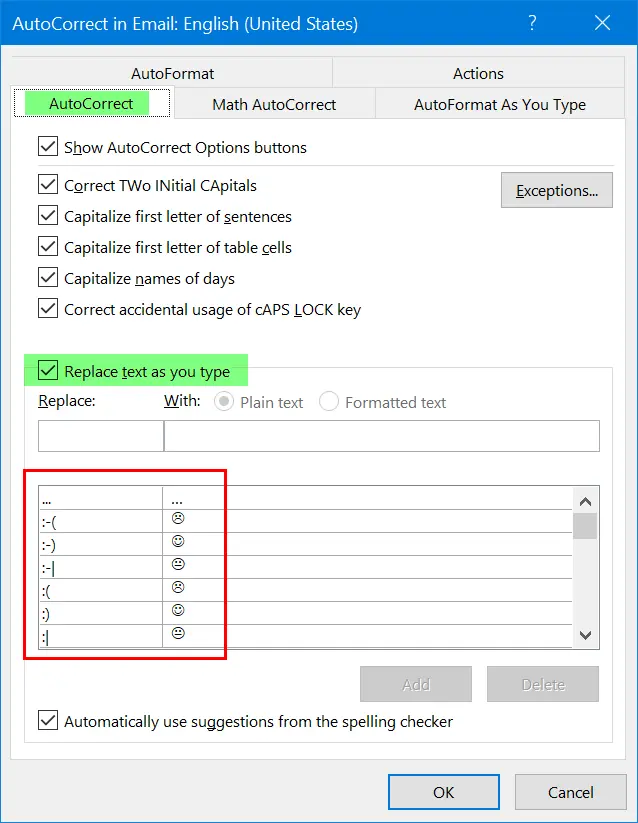 Click on "Add" button and then "OK" to save your changes.
Open an email and type ∷ to automatically convert it to tears of joy emoji.
In this manner, you can setup few custom emoji that you will use frequently on email communication. You can click on the Autocorrect option to undo the changes to revert to original text.
6. Insert Emoji Stickers
All the above options insert emoji as a text that aligns on your email content. However, you can also insert emoji stickers as image in your email.
First, you need to download emoji stickers from any online website.
Open an email and go to "Insert > Pictures" menu.
Choose the downloaded emoji sticker to insert on your email.
Remember, dragging and dropping the picture to your email will generally insert it as an attachment. However, adding through the menu will insert the picture inside the visible mail content. You can also resize the image inside email if required to adjust the size. Unfortunately, Outlook does not allow inserting GIF images, so you cannot insert animated emoji stickers.
Insert Emoji in Outlook Mac Office 365
Similar to Windows, you can use different ways to insert emoji in Outlook Mac.
1. Using AutoCorrect
The AutoCorrect option will help you to convert simply text like :-) to a smiling face emoji like ☺︎.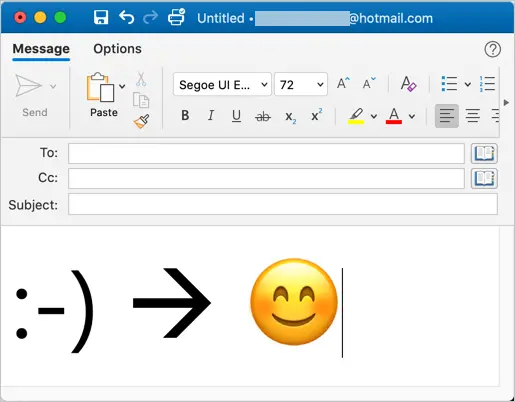 You can add custom AutoCorrect shortcuts to add different emoji symbols.
Open Outlook and press "Command + ," keys to open "Preferences…".
Click on "AutoCorrect" to open the settings.
Click the + button to add new shortcut for your desired emoji.
2. Use Emoji Keyboard for Mac
Mac has a Character Viewer app to insert all emojis you like on Outlook emails.
Press, "Command + Control + Space" shortcut or go to "Edit > Emoji & Symbols" menu when you are in Outlook email.
Search for your favorite emoji under "Emoji" category or by typing the word in the search box.
Double click to insert the emoji in your email.
3. Using Photo Browser
The last option is to drag and drop a picture from your Photos library. You can also go to "Message > Pictures > Photo Browser" within new email screen or go to "Window > Media Browser > Photo Browser" from the menu to insert already downloaded emoji pictures in your Outlook email.
Emoji Display in Outlook
As you can see in the above pictures, Outlook shows emoji in black and white text in Windows app. However, on Mac and browsers the emoji will look like a colorful pictograph.