iPhone allows you to configure email accounts using Mail app. You can add any service provider like Gmail, Yahoo! and custom email accounts from your domains. Though the app is easy to use, sometimes other apps and network settings can affect viewing emails in iPhone Mail app. Not able to download emails from the server is one such frequently faced problem by users. If you are stuck with "This message has not been downloaded from the server" message, here are tips to fix the problem and read your emails.
Email Message Downloading Error in iPhone
The error message appears in the preview line when searching or in the message body when viewing emails as shown below. There will no content except the sender and receiver information in the email.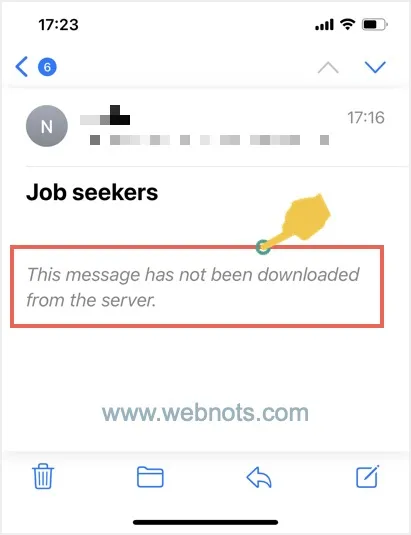 1. Account Password Changed
Wrong account password is the most possible cause for the email download error in iPhone. You might have changed the password in the browser from Mac or PC and forgot to update the password in your iPhone. Mail app in Mac will show you the password required message and ask for you to enter new password.

Though iPhone Mail app will not show any pop-ups, you can see the account error at the bottom of the screen when viewing emails. The best option is to use iCloud sync for your passwords so that it is easy to change in the iPhone. Otherwise, go to "Settings > Mail", tap on "Accounts" option and select the email account to enter correct password. Now, swipe the screen down on your Mail app to refresh the content and check whether you could see the emails with full message.
2. Delete and Add Email Account
If changing password did not help, then the next option is to delete your account from the list and re-add again. You can first turn the "Mail" switch off under the email account settings page and then turn it on.
Otherwise, tap on "Delete Account" and confirm the deletion action to remove the email account from Mail app. You can again add the email account from "Settings > Mail > Accounts > Add Account".
3. Automatically Push Email Fetching from Server
When you are on the email accounts list page, you can see a setting for "Fetch New Data". Tap on that option to see your calendars and email accounts.
Enabling Push – this will automatically push the emails from server to your iPhone whenever possible. After enabling "Push", you need to select each email account and set the schedule as "Fetch". We recommend this option to download emails in the background as it works automatically on battery and cellular data also.
Disabling Push – if you have disabled "Push" switch, then you can select the "Fetch" schedule from the bottom of the page. The automatic option will be suitable in most cases instead of manually fetching the emails. However, this schedule will work only when the iPhone is connected to Wi-Fi and on power cable.
You will obliviously see the emails not downloaded from the server message if you have disabled push option. If you have purposely disabled push for saving cellular data or battery, then the only option for you is to connect to Wi-Fi/battery and refresh the mail app to download the latest emails from the server.
4. Searching Old Emails
If you are seeing the not downloaded from the server message in the preview when searching for emails, then it could be a different problem.
Make sure you have not deleted mails from the server after downloading to your iPhone. Some email clients have this option as a default to reduce the storage space on the server.
If the email preview is not shown for very old emails, wait for some time. Alternatively, open individual email by tapping on it and then wait for the content to load. This may work faster instead of waiting to preview multiple emails at once.
5. Check VPN Apps and Proxy
If you are using VPN app or configured proxy server, then that could be the reason for blocking downloading of your emails. Most of the time, the VPN app may block entire internet connection due to unstable server. Go to "Settings" app and check the "VPN" status. If it show "VPN Connecting" with the switch turned on, your internet will not work. Simply, turn the VPN switch off and check you can download the emails. You can also contact your VPN service provider for connecting to a new server that is stable.
6. Update Your iOS
When you notice the emails are not downloading across multiple email accounts, then it could be a bug in iOS or Mail app itself. If you have disabled automatic iOS update, then you might be using very old operating system on your phone. Using outdated iOS version can also cause conflicting and unexpected behavior like this. Since Mail app is part of iOS, you can't download or update it separately. Go to "Settings > General > Software Update" section and check whether you have any iOS update pending. Download the latest available iOS version and install it on your iPhone. Now check if you are able to download email messages successfully.
Note: Make sure you are not using beta version of iOS. If you want to test the features before they are available for public use, install beta version on dummy iPhone which you are not using for daily routine.
7. Delete and Reinstall Mail App
iPhone will not allow to delete the default apps like Safari. However, you can easily delete and reinstall Mail app from App Store like any other app. We do not recommend deleting Mail app as it will delete all locally saved data and passwords. This will be a big task when you have multiple email accounts added in the app. The local data includes all sent emails of custom domain which are not synced to the server. So, try by only deleting the problematic account as explained in option 2 above. If none of the above options helped and all email accounts in Mail app have download problem, then you can try deleting the app as a last resort.
Press and hold the Mail app from your home screen. Select "Remove App" and then confirm by selecting "Delete App" option. Alternatively, you can hold the Mail app from App Library and select "Delete App" option.
After deleting the app, go to App Store and search for "mail". Install Mail app and add your emails account from "Settings > Mail > Accounts > Add New" section as mentioned above. Read our earlier article on how to add Gmail account in iPhone Mail app for more details. Check you are able to download the emails successfully with the newly installed app.