You can easily create contacts in iPhone using Contacts, Messages, FaceTime or Mail app. All the contacts will be available in Contacts app for you to manage them quickly. You can also sync email contacts and use iCloud to sync all contacts across your devices. However, the problem comes when you have duplicate contacts that may confuse you when you are trying to find a person. In this article, we will explain how to find and merge duplicate contacts in iPhone using various options.
Duplicate Contacts in iPhone
Sometimes you might have created the same contact entry multiple times with minor variations. For example, you might have swapped first and last name and saved the same person two times. It is also possible the contacts are duplicated while importing or syncing from iCloud. Android offers an in-built option to find duplicate contacts and merge them. Unfortunately, iPhone works differently and you have limited in-built option for linking duplicate contacts manually in iOS 15. Good news is that iOS 16 has an option to automatically find and merge duplicate contacts. Otherwise, you need to install a third-party apps for cleaning up your duplicate contact entries. We will explain all these options with an example for you to understand better.
Create Duplicate Contacts – Example
Let us create two contact entries in "Contacts" app like below:
| First Name | Last Name | Phone | Company |
| --- | --- | --- | --- |
| John | Doe | 123456789 | Abc.inc |
| Doe | John | 123456789 | Abc.inc |
You may expect the smartphone to stop this. But that's not the case and iPhone will simply allow you to create two different contact entries. In fact, you can use the same first/last names for multiple contacts with no change in other details.
Over period, you will get confused why there are two entries available for the same person in your contacts. Both contacts will appear whenever you search for making a call resulting in confusion. Remember, the majority of duplicate contacts are created due to syncing from different email accounts and iCloud. If you really want to avoid duplicates, make sure to sync only required sources and disable others. Learn more about email and iCloud contacts sync to manage your contacts properly.
Merge Duplicate Contacts in iPhone By Linking Them
As mentioned, there are no option until iOS 15 to automatically scan your contacts and find duplicates. However, you can do this manually using "link contacts" option.
Open Contacts app and search for the duplicate contacts. In our example, we will search for "Doe" and open the entry for John Doe.
Tap on "Edit" link on top right corner and scroll down to bottom of the settings page.
Now tap on "link contacts…" option showing just above delete contact.
Search for "Doe" and this time select the duplicate entry of Doe John.
Tap on "Link" option showing on top right corner.
You will see both the contacts are linked and showing under "Linked Contacts" section.
Tap on "Done" to finish the task.
Now onwards, you will always find only one contact entry (that is for John Doe) whenever you search. Though this option works well, it will be tedious job when you have hundreds of duplicates created due to importing or syncing problems.
Remember, linking contacts will not delete any entries from your contacts list. You can anytime unlink and make them two different contacts. For this, go to Contacts app or open Phone app and go to Contacts tab. Select the contact entry (John Doe in our case) and tap on edit. Scroll down and tap the minus icon showing in front any of the linked contacts. This will show "Unlink" option and tap on it.
Now you will find the contacts are separated and two entries are available (for John Doe and Doe John as we have created).
Find and Merge Duplicates with iOS 16
Finally, Apple adds a new function for automatically detecting and suggesting duplicates when found. You can also merge the contacts and clean up your contacts list with few taps. Remember, this will not work for the above example with different first/last names. It works only for the same first/last names and created as two exact duplicate entries. In addition, you can't revert this action and one duplicate entry will be deleted permanently.
Open Contacts app or open Phone app and go to Contacts section.
Your iPhone will show "Duplicates Found" message on top of the list.
Tap on it to find the complete list of duplicate contacts available on your phone.
To fix the problem in bulk, simply tap on "Merge" button. This will delete all duplicates and keep one unique entry for each contact. You will see a "Duplicates Resolved" message indicating the issue is resolved.
Alternatively, you can tap on each duplicate contact entry to review and merge them one by one.
Using Mac Contacts App to Merge Duplicates in iPhone
If you are using Mac along with your iPhone (using same Apple account), then it is a good idea to sync your contacts using iCloud. This will help to manage your contacts from the Contacts app in Mac. You have multiple options like importing, exporting and deleting contacts in bulk with Mac. Remember, again merging duplicate contacts in Mac works only if the two entries are similar with same first/last names. The app will not detect duplicates if the entries are like in our above example with first/last names swapped.
You can also enable syncing in iPhone by navigating to "Settings app > Tap on Apple ID > iCloud" and then enable "Contacts" option.
On Mac, click Apple logo on top left corner of the screen and go to "System Preferences…" menu. Click on "Apple ID" and then select "iCloud" option.
Check the "Contacts" option to enable syncing your contacts across all devices using same Apple ID.
Open the "Contacts" app in Mac and check if you are seeing all your iPhone's contact there. If not, wait some time for the contacts to synchronize.
When you find all the contacts, go to "Card" menu and select "Look for Duplicates…" option.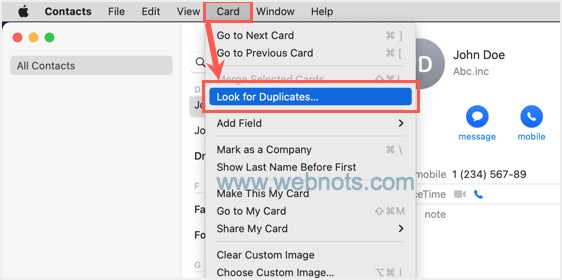 Mac will scan your contacts list and show if it finds any similar entries.
Click on "Merge" button to simply delete duplicates and merge the contacts.
Similar to iOS 16, merging duplicates in Mac Contacts app will permanently delete duplicate entries.
Cleaning Up Duplicate Contacts with Third-Party Apps
There are many third-party apps available for finding duplicate contacts and merge them with few taps. Though we recommend using in-built features in iPhone, iOS 16 is only available for iPhone 8 or later models. If you are still using old iOS version or old iPhone models and do not have Mac, then you can use a third-party app to fix duplicate contacts problem in iPhone.
Cleaner Pro is a free app available for this purpose and you can delete the app after cleaning up contact entries. It helps to find the duplicates and merge them, delete bulk contacts within iPhone and create restore point to revert your changes in case of any mistakes.
Though it works perfectly, you should be aware that the app will upload your contacts to their company's server. You need to accept their privacy policy and grant access for sharing all your contacts with them.
Unfortunately, this is the same situation with most free contacts management apps. Therefore, use at your own risk or use one of the in-built iPhone features as explained above.