File Explorer helps Windows users to locate and manage the files and programs. When there is an issue with File Explorer, you may not be able to view files and folders you are looking on the computer. However, do not freak out if you are having trouble running your File Explorer. Such errors arise from outdated programs or Windows being overwhelmed by the subsequent running of applications. Stopping the operation or doing a restart on File Explorer or else the Windows Explorer does not have any issues with other programs. Therefore, try out these solutions in fixing File Explorer not responding issues on your Windows 10 PC.
Related: 10 tips to customize File Explorer.
How to Fix File Explorer Not Working Issues in Windows 10?
Fixing File Explorer issues is self-run and straightforward, meaning even the novice users can handle it. There are multiple ways of running File Explorer in Windows 10 and fixing the subsequent issues.
1. Delete File Explorer History
It may not be the ultimate solution, but making a quick fix on the problem to complete your tasks can work.
Under the Windows 10 Cortana search box, enter "File Explorer Options" and click the corresponding desktop app to open.
Go to "General" tab and click "Clear" to delete the File Explorer history.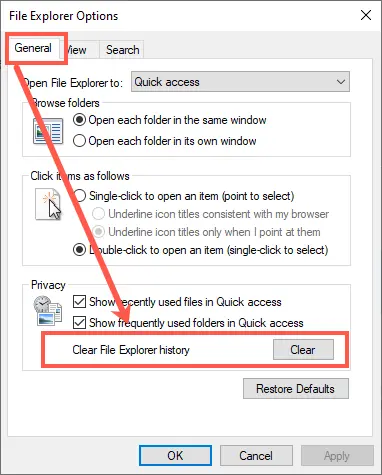 Now, check whether File Explorer works properly on your computer.
2. Change Default Opening Location
We recommend changing the default opening location that could help to fix issues in some cases.
Go to "General" tab when you are in "File Explorer Options".
Change the "Quick Access" option to "This PC" option against "Open File Explorer to".
Click "OK" to save changes.
Viewing Quick Access files may cause issues especially when you frequently work with files on external drives. Changing the default option to "This PC" will improve the stability in the long run.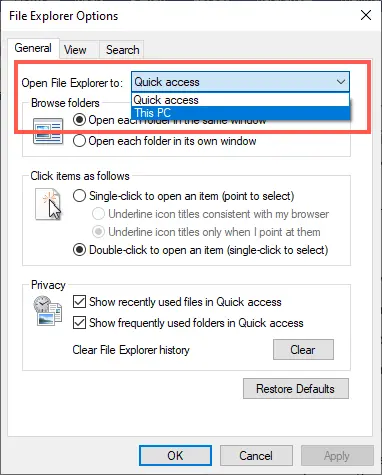 3. Restart File Explorer
If the above two options do not work in your case, you can restart the program. It comes in handy when it is not responding completely.
Simultaneously press "Ctrl + Shift + Esc" keys to open Task Manager. Alternatively, you can open the Task Manager by right-clicking on the taskbar.
Under the Processes tab, you can view the Apps section.
Click on "File Explorer" and select "Restart" to re-run the program.
Also, you can right click on File Explorer and select "Restart". Choose "End Task" to close the program.
If you do not get it under the Apps section, scroll down to the Windows Processes section.
Now check whether the File Explorer is responsive.
4. Restore File Explorer Default Options
Having a low processor PC prompts for lesser operations. Owing to that, you need to reset options that are slowing down your Windows 10 File Explorer to default. Such actions may overwhelm the RAM of the PC.
To start File Explorer, use the "Windows + R" keys to open the Run dialog box.
Key in "control.exe folders" command and click "OK".
Under the "General" tab, select the "Restore Defaults" option.
Click the "Apply" button to apply and "OK" button to save changes.
In case of any options that could have caused a hitch, restoring can fix them.
Related: 6 File Explorer extensions to improve your productivity.
5. Exit File Explorer and Start it from Task Manager
This option is an alternative to restarting File Explorer, although it is longer. It requires ending the File Explorer program entirely and starting it over again.
Press and hold down "Shift + Ctrl" keys and right click on the taskbar. Then release the keys.
To quit the File Manager, select "Exit Explorer".
Since the File Explorer will be off, the screen will turn blank.
Open "Task Manager" by pressing Ctrl + Shift + Esc keys.
Under the "File" dropdown option, select "Run new task".
A "Create new task" box will come up.
Key in "explorer.exe" and press "OK".
All the features will be available once more, and you can check whether the File Explorer is working.
6. Run File Check Using System Scan
If you suspect any file corruption is causing the problem, then this option should help. Windows File checker scan is built-in to check and restore corrupted files. Using this you can restore your corrupted files, fix File Explorer, and ensure you secure your PC from malware.
Search for "cmd" in the search box. Select the most appropriate one, right-click on it and select "Run as administrator". In this case, select "Command Prompt".
Type "sfc/scannow" and press Enter key.
When it is done, restart the computer and check if the issue has been fixed.
7. Restart File Explorer Using Command Prompt
Try out this option if File Explorer is not responding completely. It is a command-line option with few prompts to restart File Explorer.
Open the "Run" prompt box by pressing the "Window + R" keys.
Enter "cmd.exe" in the "Open" box and click "OK".
Besides, you can type "cmd" in the search box and select the best suitable option if the search box is working.
Type in "taskkill /f /im explorer.exe" command in the Command Prompt window and press the "Enter" key.
The above prompts close File Explorer.
To run File Explorer again, type "start explorer.exe" command and press Enter.
The desktop features will re-appear.
8. Troubleshoot Using Clean Boot
This option to fix File Explorer issues in Windows 10 is quite technical but worth trying. It helps boot your PC under basic programs eliminating any interruptive programs. It may occur when you've installed a program or an update. Follow these steps to perform a clean boot successfully.
Open Run using "Windows + R" keys and input "msconfig" command.
Then press "OK" to open the system configuration window.
Under the "General" tab, ensure the "Load systems services" box is checked and uncheck the "Load startup items" box.
Proceed to the "services" tab and check the "Hide all Microsoft services" box.
Click the "Disable all" button on the same tab and click "Apply".
Finally, press "OK" to save.
On rebooting, File Explorer issues should be fixed.
Final Words
The fixes listed above are the best options you can have for new and professional users. File Explorer options will help fix the underlying issues while the system file scan and other options will help fix the file corruption and other complex problems.