Whether you are preparing a research documentation or writing a simple article for your blog you should always avoid plagiarism. It may be a standard definition from a book or a phrase from a website that you want to insert in your document. However, as long as it belongs to someone, you should give credit for the owner by using citation. In this article, we will explain how to properly use citation in Microsoft Word documents.
What is Citation?
Citation is the method of quoting or referring an already existing work in your document. For example, if you are preparing a document about computer, you can take the definition of computer from a reliable source as a reference and insert in your document. In this case, you must mention the inserted portion of content is referred from the source.
Similarly, you may be referring a quote from a book, movie or a patent work. In all such cases, you need to cite the quoted content is originally belongs to the source.
Different Ways of Using Citations in Word
First there are different styles of citation available and Word by default uses APA style. Other styles include Chicago, GHOST, MLA, etc. and you can choose your desired style before adding citations in Word. Besides the style, there are two ways to insert a citation in Word document depending upon your situation.
Inline – You can use inline citation to mention the source next to the inserted sentence.
Bibliography – add separate bibliography to consolidate all the references on your document as a separate list. You can insert bibliography at the start or end of the document as per your need.
1. Adding Inline Citations from References Menu
If you frequently use some sentences or phrases from few websites or from any other sources, it is a good idea to create master list and keep them available for all your documents. Otherwise, you can add citations only on a single document which will not be available across other documents.
Open your document and make sure to place the cursor at the end of the sentence where you want to insert citation.
Go to "References" menu and click "Insert Citation". Note that the citation style is defaulted as APA, which you can change if required.
You have an option to "Add New Source" or "Add New Placeholder".
Select "Add New Source…" menu to open "Create Source" dialog box.
First select the "Type of Source" from the dropdown. The available fields in the source will change depending on your selection.
Fill out other details required for citing and click "OK" button.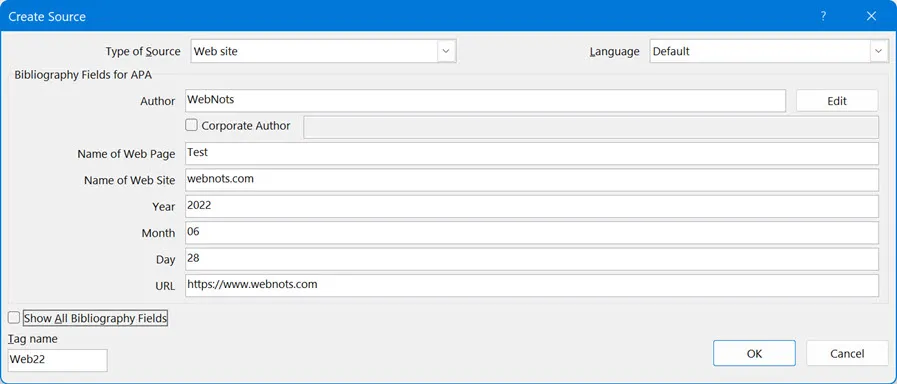 This will insert a citation as a box in the cursor's position and show author/year details. You can click on the citation box and edit its content or source.

Instead of inserting a citation, you can insert a placeholder by selecting "Add New Placeholder" option. This will insert a placeholder text as citation for that moment and you can convert it into a citation at later time.
Managing Sources for Citation
Once you create a source, it will show below the "Insert Citation" menu and you can use the sources on any other documents also.
For creating a list of sources that you frequently use, click on "Manage Sources" option. You can edit, delete or add new sources for using on your documents.
Remember, these are only sources and not the actual citation content. The source fields do not have an option to save your cited content. This means you always need to insert the content needed and use the "Source Manager" to insert the source for your citations.
Inserting Separate Bibliography
When you insert a citation, we recommend highlighting with different color and background. This will help to find the citations and show them highlighted compared to remaining document text. However, when you have multiple citations, it is a good idea to insert a bibliography at the end of your document.
Place the cursor at the end of your document and go to "References" menu.
Click on "Bibliography" and select the style from the list or simply choose "Insert Bibliography" option.
This will collect all the citations on your document and insert them as a bibliography.
Whenever you add new citations or delete existing items, you can simply click on any of the inserted citations or on the bibliography and select "Update Citations and Bibliography" option. This will update all the citations in your bibliography and keep it up to date.
2. Using Word Editor for Inserting Citations
Even you spend lot of time and write unique content, few sentences in the article may match with some online sources. This is generally the case with instructional how-to articles as there will be millions of similar articles on the web explaining the same topic. Microsoft Word offers an easy way to check plagiarism and fix the issue by citing or correcting as needed using Editor.
Go to "Home" menu and click "Editor" option at the end of ribbon on right side.
Click "Check for similarity to online sources" option under "Similarity" section.
Word will compare the content using Bing search and show the similarities if found. If you have written the content yourself, make sure to review the similarities and fix the plagiarism. In case, the document is written by someone (maybe you received it from a freelancer) or if you have really inserted some content from other site, then you can use the citation feature.
Click on the highlighted content found as a similarity and Word will show two options for inserting citations.
Select "Add in-text citation" option to insert an inline citation from the original web page. This will show the title and site name of the source web page next to the content.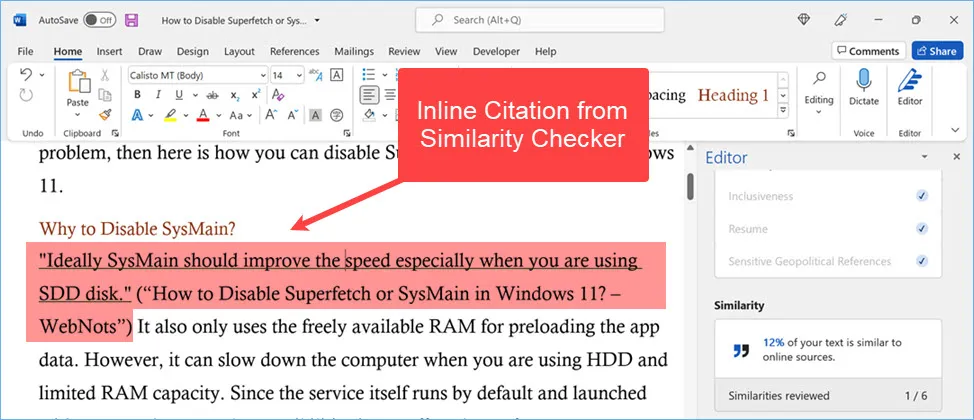 Instead of inline citation, you can choose the option "Copy full citation" to copy the source to clipboard. Go to the end of your document and manually create a citation or bibliography section and paste the copied citation's source. This will insert the page title, site name and page URL as shown below.
3. Manually Maintaining Citations in Word
Whether you use similarity checker or citation option from references menu, you have to manually decorate the inline citations to differentiate them from other document text. Similarly, we noticed the bibliography is not linked to its corresponding citations in the document. This means you cannot click on a citation and go to bibliography section to find its source. To overcome all these challenges, the best option is to insert citations manually by using superscript or subscript.
Decide whether you want to use numbers or alphabets for your reference list. Let us say you want to use numbers.
Insert a number and press the superscript or subscript icon under "Home > Font" section.
Crate a table at the end of your document and insert the source link for the citation. You can use also use the in-built "Source Manager" or "Similarity Checker" for this purpose.
If you want to link the citation and corresponding bibliography row in the table, change the reference citation numbers in the table to use headings.
Select the superscript/subscript citation number and press "Control + K" keys. This will open the hyperlink options in Word and click on "Place in This Document" option. Select the correct bibliography heading you want to link with the citation text and click "OK" button.
You can create all your citations in the document and link to the corresponding line in the bibliography table. It should look something like below on your document.
You can change the color of the citation numbers and the bibliography table to highlight them.
4. Insert Footer Note
Sometimes you may want to insert citations at the end of same page. This is useful especially when you do not want to insert a separate bibliography or do not like inline citation in Word. You do not need to create footer and Word offers an in-build footer note function which you can make use for this purpose. Go to "References" menu and click on "Insert Footernote" icon. This will insert a superscript number and allows you to add a note in the footer as a citation.
Final Words
Out of all options we have explained, manually inserting citations and bibliography section works perfectly though you can combine this with default source manager. Remember, you can keep and share the Word document with citations as a file. For example, you can send the file in email to multiple recipients. However, when you want to publish your document online, then make sure to add the citations manually on your webpage.