Microsoft introduced Bing AI chat powered by ChatGPT in Feb 2023. From that time onwards, the AI is being pushed in every possible way to take the usage to next level. In fact, Office apps are using AI well before the Bing AI Chat and you are possibly using it without your knowledge. So, here are the 5 ways to use Microsoft AI tools in Windows PC setup without any third-party apps.
Before Using AI
Remember the following two points for using AI from Microsoft:
AI tools work well in some situations while relying on it completely will backfire you in many other situations. Especially, make sure to do additional research for fact check and provide citations when using AI generated content in your document or website.
For using Bing AI Chat feature, you should have applied and got approval from Microsoft. Follow the instructions in our earlier article to get Bing AI Chat access.
1. Use New Bing AI Chat Website
Go to bing.com/new webpage in Microsoft Edge to access the new Bing AI Chat. Make sure you are logged in with your approved Microsoft account and click "Chat Now" button to start the conversation. You can start asking your queries using voice or type with keyboard. It is also possible to change the mode to one of the three available options at this point – creative, balanced and precise. This helps to get appropriate answers for the type of query you search. You can continue one chat conversation till 15 iterations (earlier it was restricted to 10) to get more details. Click on the broom icon to delete the current chat and start a new conversation.
2. Start AI Chat from Windows Search
Microsoft introduced Bing AI Chat in Windows 11 search box that appears in your taskbar. First make sure to update your Windows to the latest version and type any keywords in the search box. You will see a Bing AI icon on the top right corner as well "Chat" option in the top left corner. Click on any option to open Bing AI Chat conversation with the searched keyword in Microsoft Edge browser. At this point, you may still see traditional search results for most of the queries and you will start seeing chat results when things improve with AI chat.
If you do not like to use chat in Windows search, learn how to disable Bing AI and search results in Windows search.
3. Chat and Compose Documents from Edge Sidebar
The latest Windows update brings the Bing AI Chat button to Microsoft Edge browser's sidebar. It combines the discover option available earlier and you will see a chat icon on the top of the sidebar.
Open Edge and go to edge://settings/sidebar/ page. Turn on "Always show sidebar" option to open sidebar.
Click Bing AI chat icon showing on the top and start your chat conversation.
You can also compose an email or draft a blog post.
The old discover option is now enhanced as "Insights" to show discovered webpages from Bing along with analytic details of the site you are viewing.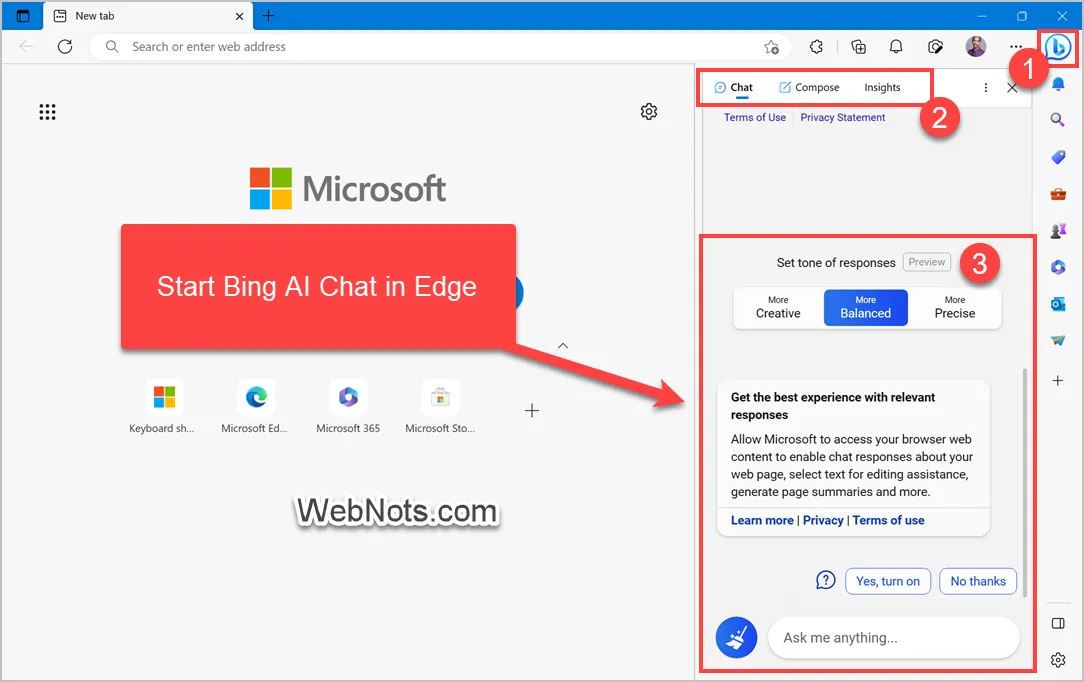 4. Microsoft Editor for Word and Outlook
Microsoft Editor is one of the useful AI tools in Microsoft Word which replaced the traditional spelling and grammar checker with Microsoft 365 subscription. You can use Editor for checking spelling, grammar, plagiarism based on Bing search and other refinements (like clarity, vocabulary, etc.). It is also possible to change the checking based on your writing style as formal, professional or casual mode. Good part is that Editor is available for Mac Word version and you can get the Chrome extension also.
In addition, the online Word editor has a document summary option which can automatically insert AI generated summary on top of your content. This will be generated based on the first 1000 words from your document and you will also see a notification to verify the information before using.
5. Designer for PowerPoint and Word Online
Microsoft PowerPoint has a cool AI designer tool to auto generate design ideas for your slides. Go to "Design" tab and click on the "Designer" option when you are using Microsoft 365 subscription. This will show AI generated slide designs for the current slide and click one of the designs to apply the changes. This will save huge amount of time and help to create stunning slides effortlessly in Windows, Mac apps or using PowerPoint online editor.
The best part is that Designer is also available in online Word editor (not in Word desktop app). You can open the editor and go to "Home > Designer" to see the AI generated templates for your Word document.
Note: You can also convert lengthy Word document to PowerPoint slides using AI powered online editor interface.
Final Words
You also already have AI integration in other apps like Skype, functions like dictation and Microsoft also recently introduced copilot which is the AI assistance for Office apps. As you can see, Designer and Editor tools can create AI designs from your content. This is safe to use as the content will not be changed (except summary generation in Editor). However, be sure to manually verify the content generated using Bing AI Chat to avoid consistency and accuracy problems.