The word "calibration" is primarily used in metrology for adjusting instruments with proper measurements. From computer perspective, calibration is the process of adjusting your monitor and setup correct visual levels like color and brightness that works for you. In most cases, you do not need to calibrate the monitor display as Windows chooses appropriate color profiles based on your display adapter. However, if you want to manually calibrate your monitor in Windows 11, here is the step-by-step process.
Using Display Calibration in Windows 11
If you have secondary monitor for your laptop or using a desktop, then check the buttons at the bottom or back of your monitor. You can use these buttons to calibrate the display with on-screen setup without changing software settings. Otherwise, Windows 11 has a built-in tool for calibrating your monitor as explained below. The tool works along with your monitor's buttons to adjust the brightness and contrast. Hence make sure you know how to use the on-screen display adjustment using monitor's buttons.
Note: For laptop monitors which do not have buttons, you can skip the brightness/contrast adjustment section in the tool and adjust other settings. Normally, F1 and F2 keys can be used to adjust laptop monitor brightness or go to "Settings > Display" section and adjust the brightness under "Brightness & color" section.
Open Display Color Calibration Tool in Windows 11
Type "calibrate" in Windows search box to find and open "Calibrate display color" tool.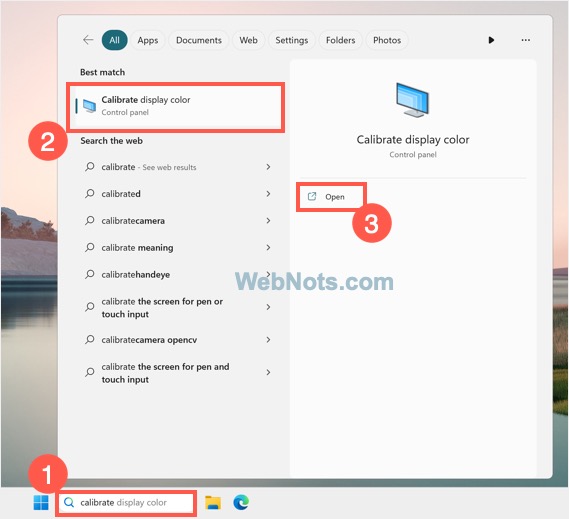 However, follow the below steps if you want to know where exactly the tool is located.
Press "Win + I" keys to open Settings app and navigate to "System > Display" section.
Scroll down on the "Display" settings page and click on "Advanced display" option showing under "Related settings" section.
If you have multiple monitors, make sure to select the correct display for calibrating from "Select a display to view or change its settings" dropdown.
Expand the display name showing under "Display information" section.
Click on "Display adapter properties for Display 1" link below the details. You may see a different name on your system instead of "Display 1".
When the properties dialog opens, go to "Color Management" tab and click "Color Management…" button.
On the "Color Management" dialog box, go to "Advanced" tab.
Here you will see all default color profiles assigned by Windows and click on "Calibrate display" button showing under "Display Calibration" section.
Starting with Display Color Calibration
Clicking on "Calibrate display" button will open Display Color Calibration tool with a welcome screen. When you have multiple monitors, drag the app window to the appropriate monitor which you want to calibrate and click "Next".
The next screen will ask you to open the on-screen display menu using the buttons your monitor and set the display to factory settings. If your monitor does not have buttons or you use laptop, simply click on "Next" button.
Adjust Gamma Settings
The first option is to adjust the gamma setting of your monitor. As you can in the explanation, gamma is the light emitted from the display based on RGB color inputs. The tool will show you three example images with the gamma values as too low, good and too high. All what you need is to adjust the image on the next page and make it like the one with good gamma value example image. Click "Next" button to proceed further.
Move the slider up or down and adjust the gamma value and you will see the monitor display also changes lively based on your adjustment. In case if the adjustment is not good, click on "Reset" button to set the gamma value default setting. You may also skip the adjustment to keep the current setting and click "Next" button to move further.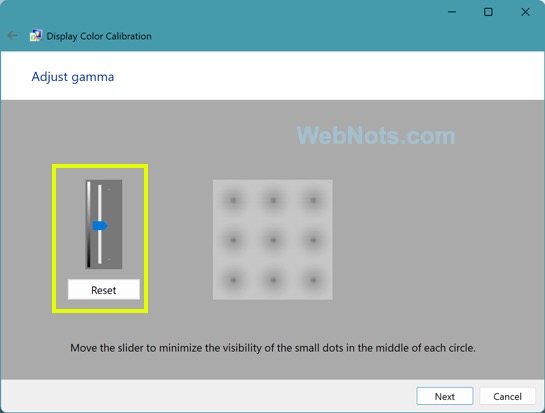 Adjust Brightness and Contrast
The next step is to adjust brightness and contrast settings for your display. Like gamma setup, you will see the instructions to open on-screen menu using monitor button. As mentioned above, if you do not have monitor buttons or using laptop, click "Skip brightness and contrast adjustment" button to skip this setting. When you have PC monitor or using secondary monitor with your laptop, click "Next" button.
You will see three example images showing with too dark, good brightness and too bright. Click "Next" to move on to next page where you can calibrate for good brightness.
When you are on the next screen, use the brightness control buttons on your monitor and adjust the visibility. You need to make the X mark visible on the backside board to differentiate the person's shirt color and backside color.
When you are done, click "Next" button to proceed further with contrast management. You will see three example images and click "Next" to calibrate monitor for "Good contrast".
On next screen, use the monitor's buttons and adjust the contrast of the image to desired level. Click "Next" button to proceed further.
Adjust Color Balance
The final setting is to adjust the color balance to setup the grey shades on your display. You will see the instructions with example images for adjusting neutral grey colors. Read the instructions and click on "Next" button.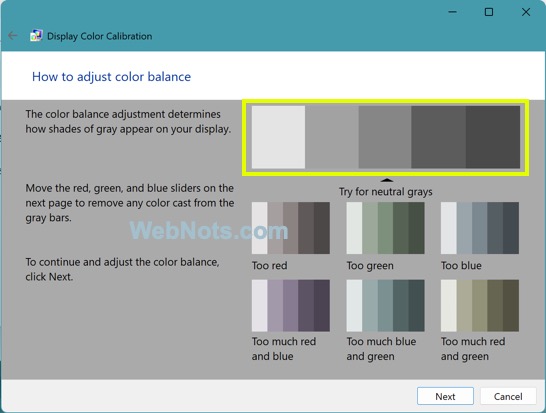 On the next screen, move RGB sliders to adjust red, green and blue color and get neutral grey. In general, you can keep all three color's sliders in equal position so that the gray looks neutral without any shades.
When you are done, click "Next" button to finish the setup.
Compare Calibration and Finish Setup
The next screen will show you two buttons to compare your previous and currently selected calibration setup. Click on the buttons and visually feel how the display looks on the monitor.
If you are happy with the new setup, check "Start ClearType Tuner when I click Finish to ensure that text appears correctly (Recommended)" option and click "Finish" button. You can anytime cancel the setup or go back to previous page using the back arrow showing on top left corner of the app (next to app name).
Using ClearType Tuner for Calibrating Text Display on Monitor
Though this is an optional step, it is recommended when you change the calibration of your monitor. As you selected the checkbox, ClearType Text Tuner will automatically open when you click "Finish" button on Display Color Calibration tool. Click on "Next" to start the text calibration.
As a first step in this process, Windows will reset your monitor to its native resolution. Click "Next" to move further.
ClearType Text Tuner will show 5 sets of text display for you. Check and select the readable text boxes that are comfortable for your eyes.
Finally, you will see a message mentioning the text tuning is finished on your monitor and you will see the text content is comfortably readable now.
When to Calibrate Monitor and Text Display?
As mentioned, you need not go through the long steps for calibrating your monitor and text in Windows 11 computers. Only go for manual calibration when you are facing the below situations:
Images and videos are not showing clearly.
Blurry text content which can't be fixed by adjusting monitor's resolution.
You are using custom apps or need custom setup for working on HD graphics (like photographs or video editing).
You want to print the photos with the same colors that you see on the monitor.
In addition, if your display supports HDR or High Dynamic Range mode, then you need to calibrate HDR in Settings app. For that, right-click on Start button and select "Settings" menu. When you are in Settings app, navigate to "System > Display > HDR" section. From here, go to "Display calibration for HDR video" option and select "Calibrate" option.