Windows 11 shows date and time at the right corner of taskbar and you can click on it to open the notification center. By default, date / time is shown based on your regional setting formats. However, you can easily change date and time to different formats in taskbar and customize as per your preference.
Change Date and Time Formats in Taskbar
Windows offers long and short formats for both date and time. Taskbar and many other apps by default will show the short date/time. You can hover on date/time in taskbar to see long format date. On my system, the taskbar shows time and date as below with AM/PM and M/DD/YYYY formats respectively.
Below are examples of short/long date/time for clear understanding.
Short date – 04/28/2023
Short time – 10:30 PM
Long date – Monday, December 12, 2025
Long time – 10:30:45 PM
Here are some of the things you can play around with short/long formats to change the default appearance:
Change formats without editing like showing DD/MM/YYYY instead of MM/DD/YYYY.
Editing the format to show short date in long date format like 12/01/2025 to Monday, December 12, 2025.
Show 24-hours format with AM/PM or 12-hours format.
Display full day like Monday or Mon with the existing date.
Add seconds to time.
If you are looking for any of these things, then read on further.
1. Change Date and Time Format from Settings App
In this method, you can simply select the long/short date/time from one of the available formats.
Right-click on the date/time on taskbar and select "Adjust date/time" option.
This will take you to "Time & language > Date & time" section in Windows Settings app. Scroll down on the right pane and click "Language & region" option.
You will see Windows by default applies "Recommended" settings for your "Regional format". This is the format used for your date/time in taskbar. Click on "Recommended" button and select different region to change the format. If you do not want to change the region and want to change the format of your current recommended region, click on "Regional format" option to expand it.
You can find the details of current short and long date/time formats and click on "Change formats" button.
On the next screen, you can change the calendar, first day of week, short date, long date, short time and long time.
For example, I change the short date format as 05-Apr-17 and the time as 09:40. The taskbar date/time will instantly reflect the changes and shows the time as 22:01 (instead of 10:01 PM) and 28-Apr-23 (instead of M/DD/YYYY format).
Remember, here you can only select the option from dropdown and Windows will always use the short date / time formats. The long date and time formats are not used in taskbar and you can't edit any options to add custom formats.
2. Edit and Change Date and Time Format in Taskbar
In this method, you have options to select from the available formats or manually edit and add custom format. If you do not know the format, you can copy and paste from long date to short date field and vice versa.
Search and open Control Panel app and change "View by" option to "Category". Find and open "Clock and Region" link.
Click the "Region" option to open "Region" dialog box where you can change date, time and number formats.
Instead of going through Control Panel app, simply press "Win + R" keys to open Run prompt. Type intl.cpl in the box and press "OK" button to open "Region" dialog box.
Under "Formats" tab, you can find the "Date and time formats" along with the "Examples" shown below that section. You have five items to customize the format appears on the taskbar – Short date, Long date, Short time, Long time and First day of week. You can click the dropdowns and select one of the available formats for short date and short time to change the taskbar format.
Let's say, you want to change the taskbar date to show in long form like dddd, MMMM d, yyyy. In this case, click on "Additional settings…" button.
Go to "Date" tab where you will see similar short and long date formats. However, this time you can edit the short / long date fields though it is a dropdown.
So, simply select any long date format you like in "Long date" dropdown and copy that value. Now click on "Short date" box and paste the copied format. It should look like below for applying dddd, MMMM d, yyyy in short date field.
Click "Apply" button and your taskbar will instantly show the long date format as shown below.
Similarly for changing time, go to "Time" tab in "Customize Format" dialog. For example, instead of h:mm tt you can use HH:mm format.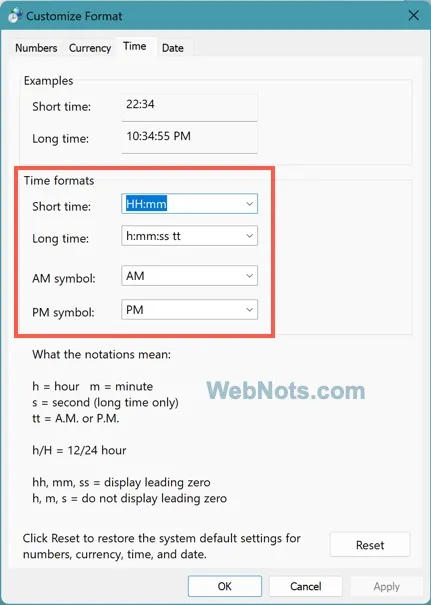 The taskbar will instantly show the time in new format.
Remember, you can either select from the dropdown or edit the short time, long time, AM / PM symbol fields. For example, you can use any custom text like Morning and Evening for AM and PM respectively. The notations used in the formats are explained in both time and date tabs. If you made any mistake, simply click the "Reset" button to revert all changes and restore the formats as per your region settings.
3. Show Seconds in Taskbar Time
In the above option, using :ss in short time box for adding seconds in the clock with NOT work. This is because Windows 11 does not support showing the seconds in taskbar as of now. However, good news is that this feature is available in Windows Insider Preview developer version. Hence, you can expect this to be available in stable version soon. Here is how you can add seconds in taskbar time in Windows 11 developer version.
Right-click on Start icon and select "Settings" menu. Alternatively, press "Win + I" keys to open Settings app.
Go to "Personalization" section and select "Taskbar" option.
Expand "Taskbar behaviors" section and scroll down to the bottom.
Check the option "Show seconds in the system tray clock" to add seconds in taskbar time.
4. Using Explorer Patcher App to Change Taskbar Style to Windows 10
Windows 11 taskbar is completely different from Windows 10 setup and Microsoft unfortunately removed some of the useful options available previously. If you are frustrated with the new taskbar, the best way is to simply revert to Windows 10 style. Though this is not possible from Settings app, you can do this with the help of third-party apps. ExplorerPatcher is one of the best, free and open-source apps available in GitHub for this purpose. Check our articles on how to change the size and style of taskbar and separate system tray icons to get more details.
Conclusion
Windows 11 shows the date and time in taskbar based on your region settings. You can simply change the region or change the date/time formats for your recommended region from Settings app. If that is not sufficient, then use Control Panel to edit and use custom long date formats with day showing in taskbar. The last option is to get rid of Windows 11 taskbar and use Windows 10 style using third-party apps like ExplorerPatcher.