By default, Mac will show the time in HH:MM format on top menu bar along with day and date. You can do basic things like changing the formats and show with 24-hour or AM/PM time from the Settings app (earlier known as System Preferences). However, there are no settings available for including different time zone clocks on the menu bar as in Windows taskbar clock. So, here are few options if you want to keep multiple time zone world clocks on your Mac.
Adding Multiple Time Zone Clocks
There are three possibilities:
Use default macOS widgets in notification center
Use Clock app
Try third-party world clock apps
1. Add Multiple Clocks with World Clock Widget
You can use the Word Clock widget that comes with macOS for this purpose.
Click the date or time on top right corner of your Mac to see the notifications and widgets section.
If you already have lot of widgets, scroll down to the bottom and click "Edit Widgets" button.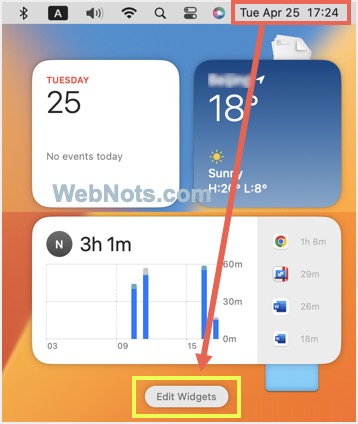 You will see list of widgets along with categories showing on the left sidebar.
Go to "Clock" category and find "World Clock" widget.
Choose Small or Medium size and click on the + icon showing on the widget panel.
This will instantly add the widget in right side widget display area. It is possible to add multiple World Clock widget in the notification center. For example, one small and one medium size widget as shown below.
The widget will use four random time zones and show clocks with black or white background. The black background indicates the city is in night time and white indicates the city is in day time. For customizing the time zones and city, click the time on the top bar and view the widget.
Right-click on the widget and select "Edit Clock" option from the menu.
The widget will show the list of four cities used in the clock and click on a city name to change it.
You will see a complete list of world cities and select the one you like to show in the widget. You can use the search box or scroll down and click on the city name.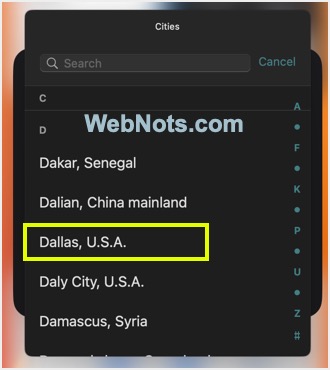 This will replace the clock's city and you can do the same steps to change all the four clock's time zones. After that, click "Done" button to to finish the activity.
Though the World Clock widget allows you to add only four clocks with different time zones, you can insert multiple widgets to include 8 or 12 cities if you need. Any point of time, you can right-click on the Word Clock widget and remove it from the notification center.
2. Use Multiple Clocks with Mac Clock App
In the above method, simply click on World Clock widget in your notification center to open Clock app. Otherwise, you can use Spotlight Search to find Clock app and open it. This app is similar to Clock app in Windows 11 (Clock & Alarms app in Windows 10). Go to "World Clock" tab and it will show your current city's time zone by default.
Click the + icon showing on top right corner of the Clock app to see a huge list of city names.
Use the search box or scroll down and select the city from the list.
The app will add a new clock and show with black or white background depending on the current city's time is in night or day. As you can see the visual map in the below picture, Austin city clock shows in black as it is in night time and Amsterdam clock shows in white as it is in day time.
You can add multiple clocks with different cities and show them in the list.
Any time, you can hover over the added clock and click the small delete icon or right-click on the clock and select "Delete clock" to remove it from the list. The app will remember all added clocks and show them whenever you launch. The only problem here is that you need to open the Clock app every time to view world clocks. What you can do is to add Clock app in your Dock so that it is easy to open and you don't need to search for it every time.
First, open Clock app by using Spotlight Search.
Right-click on the Clock app icon on the Dock.
Select "Options > Keep in Dock" and the app will be permanently added in your Dock list.
3. Add Word Clocks with Third-Party App
The last option is to use a third-party app from App Store. I personally like Clocker app as it is completely free and adds multiple clocks on top bar instead of widgets section.
Go to App Store and search for "world clock".
Find "Clocker" app and click on "Get / Install" button.
Provide your admin password or use Touch ID to install the app.
After installing, open the app and click "Get Started" button.
Follow the instructions on the setup wizard to grant access to Reminders / Calendars and add Clocker to login items for launching at startup.
After that add a city to start with and finally click on "Launch Clocker" button to open the app. All these are optional steps in the wizard which you can skip and customize later from the app's preferences section.
After finishing the setup, click the app icon showing in top bar and click + icon.
Again, click on the + icon and select a city to add in the list. You can add as many as cities you want and go to "Appearance" section to change the date's format.
Once you are done, click on the top bar icon and you will see all the added city's time in a neat display.
You can scroll the bar showing below the city list to dynamically see the time changes on all the clocks. The app also offers many other features to view your calendar events and set reminders in different time zones.
Final Words
Using default World Clock widget is the easy way to add multiple clocks in Mac. However, you need to open notification center and check the time whenever needed. If you want more visual view, then Clock app is the best option. Clocker is a packaged app suitable for using multiple word clocks on top bar, set reminders and view calendar events in different time zones.