Sending notifications is a simple way for website owners to send the latest information to the reader. There are different types of notifications that a website can show when you visit the page. Though notifications are useful to get information, most of the time they annoying due to the bad user experience. Since, website owners push the notifications and show anytime, it makes sense for readers to block them to have distraction free reading. In this article, we will explain how to manage push notifications in Safari browser on your Mac.
Related: How to fix slow Safari and speed up your browsing?
Mac Safari and Notifications
Safari browser on Mac shows notifications request as per the website's design. However, you have multiple options to block different types of notifications as a whole as well as for specific websites that annoys you. The notification process in Safari works like below:
Website send a push notification request.
You subscribe to the notifications by allowing the request or have an option block the notifications from that website.
When allowed, Safari show push notifications using the default "Notification Center" on your Mac.
When blocked, Safari will add the exception in the website preference which you can change anytime later.
Push Notifications in Safari
Push notification is a server side technology that triggers notifications to the readers. This is very useful feature on mobiles to receive updates from news and other apps. In fact, Apple introduced this push notification to send messages from iOS apps. The advantage of push notifications is that it can work even after you closed the apps. Similar to mobile phones, the websites on desktop also can show you push notifications.
Below is the example of push notification confirmation on Safari browser on Mac.

The push notifications from some websites show "Allow" and "No Thanks" button while some sites will show you "Allow" and "Block" or "Cancel" buttons. You can either allow, cancel or block the notifications from the website. If you are allowing, Safari will show you another message that the website will send notifications from "Notification Center". You can click on "Allow" to continue or click "Don't Allow" to block.
Related: How to customize Safari browser layout in Mac?
Allow or Block Push Notifications from Websites in Safari Mac
When you allow or block, Safari will automatically add this in your preference and send or block notifications from that website. You can also manually allow or block notifications following the below instructions:
Go to Safari menu and click on "Preferences…" option.
Under "Websites" tab go to "Notifications" section on the left sidebar.
Here you can view the list of sites that you have enabled notifications.
Select the site and change the permission to allow or deny sending notification on the browser.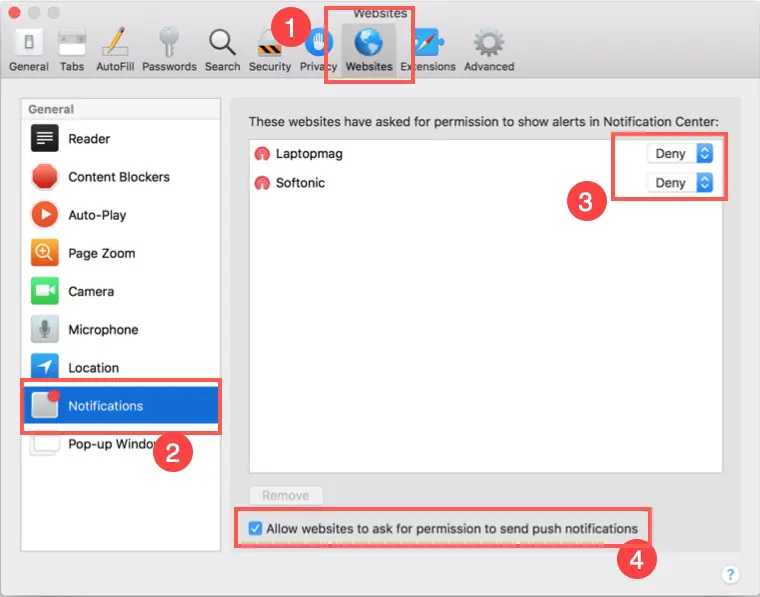 Permanently Blocking Push Notifications in Safari Mac
The good part is that websites can't send you notifications without your permission. Therefore, it is easy for you to block the request for all the websites.
Head back to Safari preferences section and go to "Websites" tab.
Under "Notifications" section, deselect the option "Allow websites to ask for permission to send push notifications".
This will disable the push notification requests from websites, and you will be never prompted with any messages. If you need notifications from websites then enable this check box and then choose to allow or block specific websites when they request your permission.
Removing and Adding Websites in Notifications
On Google Chrome, you have the options to add websites for blocking or allowing notifications. As you can see in the screenshots, Safari does not allow you to add the websites for blocking notifications. What you can do is to manage after you have visited the website and allowed/blocked the notifications. However, anytime you can select the websites from the list and click on the "Remove" button to delete from the list. This is strange that you have a remove option without the option to add.
In addition, Chrome also allows you to block or allow websites using wildcard. For example, you can add the entry like "*.domain.com" to block or allow notifications from all subdomains of a website. Unfortunately, you can't do this with Safari on your Mac.
Also, remember that Safari can't block the inline pop-up notifications shown within the same browser window. This is the same problem with Chrome and other browsers.