There are hundreds of models available in Windows computers from various manufacturers. However, each computer comes with a unique serial number to identify it easily. This serial number is assigned for the device and not related to any software installed on the system. You need this serial number to get customer support, check warranty and other details of your device. If you are searching for your serial number, here are the different ways to get the serial number of Windows laptop and PC.
Windows Device Serial Number
Most manufacturers need the device's serial number to offer the required assistance for you. For example, you need to provide the correct serial number of your computer to avail customer support, download software/drivers, use the warranty and replace/upgrade hardware components. In most cases, serial number is also used to identify and verify the ownership of your device. There are many ways to find the serial number of Windows computers. You can use one of the below explained methods that works for you.
Remember, serial number assigned to device level is different than the product or license key used to activate Windows OS. If you are looking for product key, then check our article on how to find product key in Windows.
1. Find Serial Number from Terminal App
Windows Terminal is a default command line interface from Windows 22H2 release. This app will open with PowerShell or Command Prompt depending upon your profile setting. You can either use PowerShell or Command Prompt in Terminal to find the serial number of your computer.
Right click on the Start icon in taskbar to open power user menu.
Select "Terminal (Admin)" option from the list to Terminal app in administrator mode.
Type or copy paste the following command in the prompt and press enter key.
wsim bios get serialnumber
You will get a serial number as a result as shown below: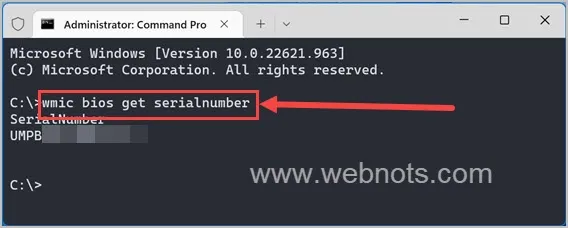 2. Check Back Side of Your Laptop
As a common practice, manufacturers paste or imprint the serial number on the back side of the laptops. For example, Apple imprint the serial number on back side of the case on all MacBook laptop models. However, it could be different in Windows depending upon your manufacturer.
Close the lid and turn your laptop back. In our case, we could find the serial number is pasted as a barcode and also printed in the sticker. However, the text is too small and you might need a magnifying glass to read. Alternatively, you can take a picture using your mobile and zoom to find the serial number. You can also use your phone's camera to scan the barcode and get the serial number.
If you are using PC, probably you need to check the CPU case to find the sticker or imprint.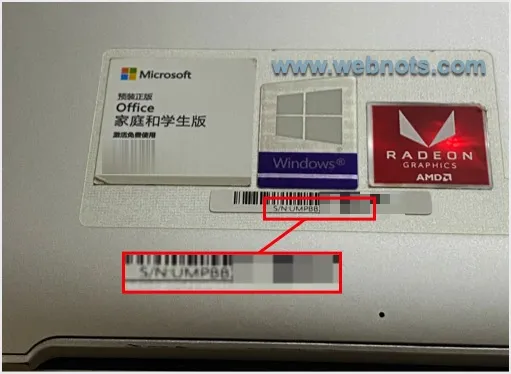 If the number is not imprinted and pasted as a sticker, there are lot of possibilities it could worn out or faded out. In such a case, you may need to use other methods explained in this article to find the serial number of your device.
3. Serial Number in BIOS / UEFI
BIOS or UEFI is the firmware to help booting your system. You can access BIO/UEFI by pressing F2 key when booting the computer. This may vary depending upon your manufacturer and check out this article to find which method will work on your device.
Restart your PC or laptop and enter into your BIOS/UEFI setup.
Scan through the settings and find the serial number of your device. This should be available generally in the main screen as shown below on Huawei MateBook.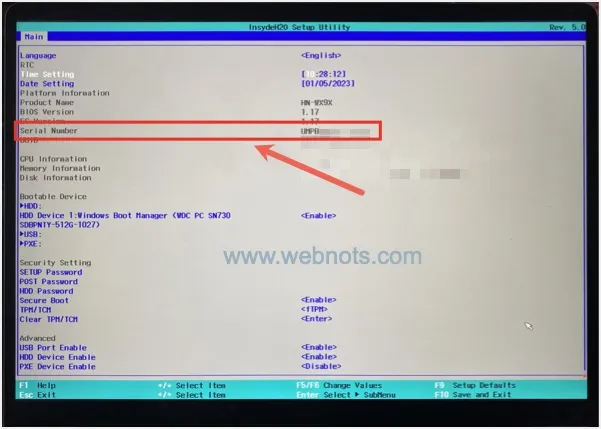 Finding serial number from BIOS/UEFI is a universal method and should work on all the models.
4. Check Manufacturer Supplied App
Most manufacturers supply a custom app with Windows computers for easy management of driver and app installation. In our case, the Huawei MateBook laptop comes with a Huawei PC Manager app which offers handy functions like taking screenshots, recording screen, installing updates and finding drivers. The app name could be different in your case, make sure to search and find the correct app. If there are no apps supplied by your manufacturer, then you cannot use this method and try to find the serial number using one of the above explained methods.
In our case, Huawei PC Manager app is always available in the system tray and we open it by right-clicking on it. If you are not able to find the app, go to "Windows Settings app (press Windows + I keys)" and navigate to "Apps > Installed apps" section to find if there are any installed apps from the device manufacturer.
You should find the serial number generally under the support or troubleshooting sections of the app. As you can see, Huawei PC Manager app shows the device serial number under "Quick services" section.
Note: Microsoft also offers a PC Manager app for scanning and protecting your computer. This is a completely different app and do not confuse it with the app supplied by your manufacturer.
5. Get Serial Number from Microsoft Account
Microsoft will link all your devices when you login using your account or install Windows and apps from your account. If your device is linked to your Microsoft account, then you can easily find its serial number online without the need of actual laptop or PC.
Login to your Microsoft account from the official website.
You should see all the linked devices under "Devices" section and click on "View details" link below the device that you want to find the serial number.
Alternatively, go to "Devices" menu to view the list of connected devices and each device will show its serial number.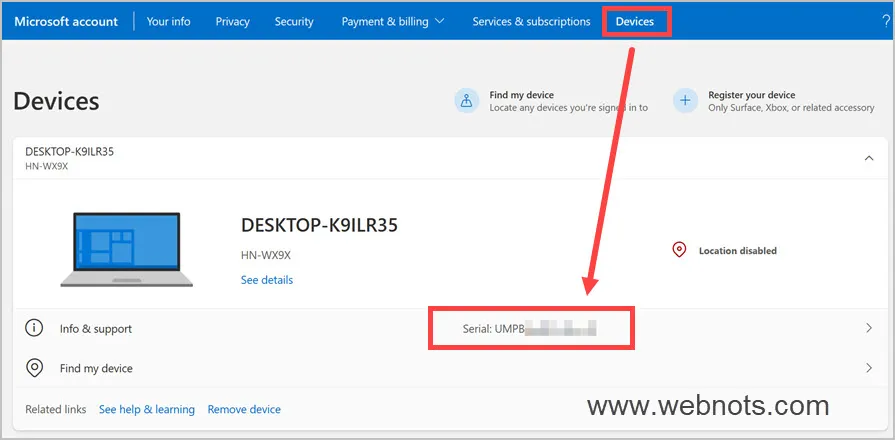 Click on the serial number to find other device details line Windows edition, version, build etc.