SiteGround and Bluehost are two of the best shared hosting companies for beginner level bloggers. The official WordPress.org site recommends both of these hosting providers. At start, we used Bluehost for hosting our site and then later we moved to SiteGround. We used SiteGround's GoGeek plan for sometime before moving to Cloud VPS platform. Therefore, you can be confident that scaling up your site is easy at later stage. However, choosing the good option for you between SiteGround and Bluehost is a challenging task. With our experience on both the shared hosting platforms, here is our experience.
SiteGround Vs Bluehost
Guys at SiteGround did a tremendous performance to scale up their platform in competitive hosting arena. Initially, they are not in the recommended list of WordPress.org. However, now they are part of official list due to their good service. On other hand, Bluehost lost their customers (like us) to SiteGround due to their poor customer service.
Both companies offer cPanel hosting with Softaculous one-click installer for installing popular packages like WordPress. Below table shows the current offerings by these companies:
| Feature | SiteGround StartUp | Bluehost Basic |
| --- | --- | --- |
| Domain | No | 1 includes for a year |
| Traffic | ~10K | No limit |
| SSL | Free | Free |
| Lowest Renew Price | $11.95 | $7.99 |
| Lowest Offer Price | $3.95 | $2.95 |
| Bandwidth | Unmetered | Unmetered |
| Number of sites | 1 | 1 |
| Caching | No | No |
| Website Transfer | No | No |
| CDN | Cloudflare Integrated | No |
| Backup | Daily | No |
| Storage | 10GB | 50GB |
Let us see the pros and cons of using SiteGround and Bluehost based on different factors.
Hosting Setup
Bluehost upgraded their hosting accounts to use better dashboard that helps to find apps easily. After login, you will directly land in the dashboard and access by clicking "Advanced" section. This is more user friendly as you don't need to login to cPanel one more time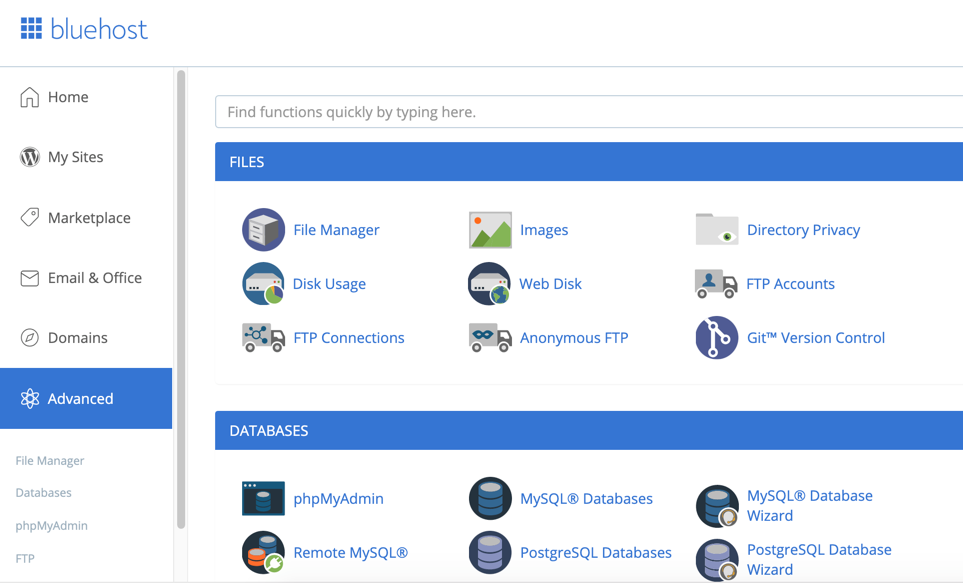 As of March 2020, SiteGround uses traditional hosting account where you will see account dashboard when logging. However, you have to one more time login to cPanel and it's a pain that you can't go back to hosting account from cPanel. This means you have to logout of cPanel and again login to view your hosting account.
Now, SiteGround upgraded their hosting account setup and allow to manage similar to Bluehost.
Site Speed
Site speed is always a concern when hosting on shared servers. As far as we have noticed, SiteGround limits the number of sites on the server thus allowing individual sites to load faster compared to Bluehost sites. Unfortunately, this comes with certain limitations and below is the limits for the highest shared hosting plan GoGeek.
Simultaneous Server Processes: 30
Simultaneous Connections from Single IP: 20
CPU Seconds / Program and Script Executions: 4000/hour, 40000/day, 800000/month
Average Process Execution Time per Day: 4 seconds
Shared Service CPU Usage: No more than 20% for a period longer than 10 seconds
Server Memory per Process: 768 MB
Inodes: 450,000
Minimum Cron Job Interval: 30mins
If you have resource intensive plugins like WooCommerce, forget about using SiteGround's StartUp plan. Probably, Bluehost can work in this case but we still recommend you to choose to high level plans for online store.
Uptime and Downtime
Both companies say 99% uptime while it may not be the case in practical. When we were on Bluehost, we used to receive plenty of downtime emails from the Jetpack monitoring.
This was the same case with SiteGround GoGeek plan. However, our current Google Cloud is superior in quality that we don't even remember when we got the last downtime email alert.
Traffic and Bandwidth
SiteGround has limitations on page view for their shared hosting plans. For example, the lowest SiteGround's plan StartUp has 10K as a limit. This is a soft limit and you will get warning when reaching this limit. Obviously, you have to upgrade to next plan to avoid service termination.
Bluehost does not have any limit on bandwidth and offers unmetered usage. But you should not abuse the shared server by installing plugins like W3 Total Cache that will exceed the file count limit.
Pricing Plans
SiteGround offers simple and plain pricing for shared hosting services. They have 3 plans starting from $11.95 per month for the StartUp plan.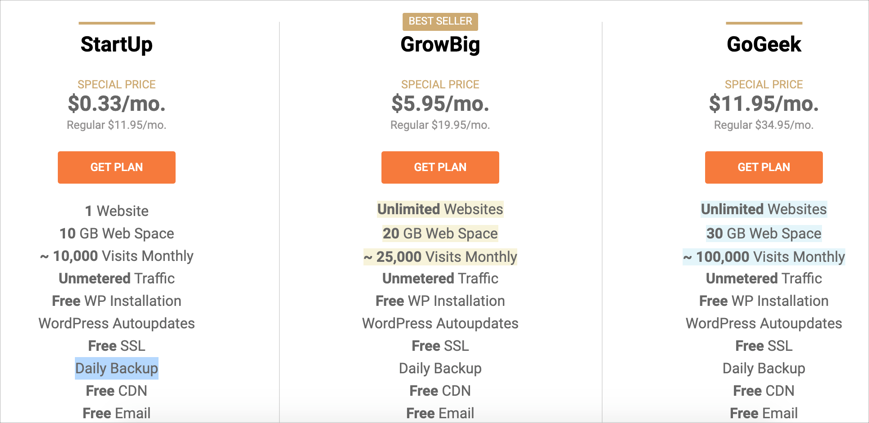 However, Bluehost has four plans and the lowest Basic plan will cost you $7.99 per month. In both cases, we talk about the contract renew prices and not the initial offer prices. Bluehost is a clear winner here for offering almost $4 less per month.
Server Capacity and Caching
Both these companies offer server side caching to speed up the websites only for high level plans. Bluehost offers varnish cache for WordPress hosting and you can use plugins like WP Super Cache for other purposes. SiteGround offers three levels of caching with SG CachePress at server side and have a dedicated SG Optimizer plugin for WordPress users. This is available only on GrowBig and GoGeek plans and not on StartUp plan.
So, for the lowest level plans, there will be no server site caching on both companies. However, you will not find any big difference in caching for a bare minimum sites having few pages. Considering the fact that you can't use bigger sites on shared servers, the caching will not play big role when choosing among one of these companies for the lowest plan.
Customer Support
Many people recommend to avoid all EIG companies due to the mode of their working. In general, EIG companies like Bluehost and HostGator will have an offshore support representatives attending customer issues. This will create lots of problem as the support representatives are employees without complete knowledge of their own platform. However, companies like SiteGround offers support with their own employees. Since we use SiteGround for almost 4 years, we can tell you the performance of customer support is deteriorating slowly. While Bluehost started offering live chat and focusing on improving the support process.
So, when a company becomes bigger it is evident that the support process gets diluted with offshore model. Hence, you can expect the SiteGround will follow the route in few years of time. However, at this point of time you don't need to wait for 20 minutes with Bluehost live chat and get some reference link to find solution for your problem. SiteGround is much better with pre-defined SLA to address the tickets and you can get decent answers with live chat.
Final Verdict
As you see, Bluehost offers $4 less per month on the starting plan while SiteGruond offers good customer support with high server speed. In our opinion, speed will not matter for a smaller sites and it can be like milliseconds difference. Therefore, the decision making depends on customer service versus price. If you want to start with lowest price then go for Bluehost with lower service level. If customer service is your priority then pay little more and go for SiteGround.