Though not the most popular browsers, both Microsoft Edge and Mozilla Firefox are among the top web browsers. The two provide wide range of features to facilitate smooth browsing for both casual and intensive users. In this article, we are going to explore Edge and Firefox by comparing their features to establish which option is best to use under different circumstances.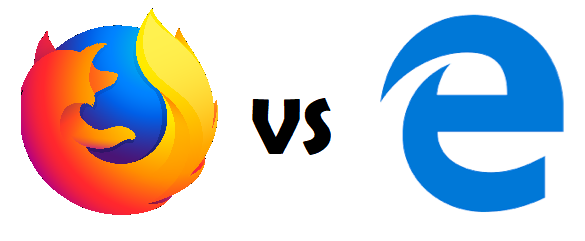 Especially, when you are not happy with Google Chrome in Windows then this article can help you in choosing the alternate browser.
Related: Google Chrome Vs. Mozilla Firefox comparison.
General Overview
With the release of Windows 10, Microsoft introduced Edge browser as the default browser for Windows. The new Microsoft Edge is shipped together with the OS and is limited to only Windows 10.
Firefox is a free web browser from the non-profit Mozilla Foundation. It is available for multiple platforms including Windows, Linux, macOS and Android. Both Firefox and Edge offers various advanced features for modern browsing needs.
User Interface and Usability Features
Microsoft Edge
Microsoft Edge has the simplest and slick user interface taking after the minimalistic Windows 10 design. The interface displays only the essential components to prevent distractions when browsing. It has slim borders, no status bar or menu as well as the integration of the title bar and tabs to maximize the display space for the main page content.
Other interesting features in Edge browser include:
Absence of right-clicks in the browser, making a suitable choice when you are browsing from a Windows 10 tablet.
Tabs Management button on the left edge of the tabs bar – Allows you to set tabs aside for later use.
A simple toolbar on the left side of the address bar – Offers quick access to "Share", "Menu", "Favorite" and "Notes" icons.
Navigation shortcuts, just before the address bar – Includes the back/forward arrows, refresh and home icons.
No Popups/ Dialog – Features and settings are accessible through a side panel that slides from the right edge of the browser window.
Mozilla Firefox
Mozilla Firefox has a comfortable UI but the looks and components vary with different themes and settings. You can choose to enable/disable the menu bar to increase the screen space for browsing. Besides, the browser supports complete theme customizations, which alters the interface in terms of icons, padding and elements.
Some of the interesting Firefox usability and UI features include:
Enable/ Disable "Search" and "Address" bar integration – Allowing you to separate or combine the search box and the address bar.
Page Actions – The 3-dots icon on the right end of the address bar. The feature allows you to perform several actions on the current page.

"Save to Pocket" – Similar to Edge "Set tabs aside".
"Sharing" options – Including sharing with contact, email or device.
"Bookmark" – Equivalent to "Favorite" in Edge.
"Take a Screenshot" feature.
Toolbar – Located on the right side of the address/search bar. This allows you to access the browser menu, enable sidebars or view browsing data in a single click. You can also customize the toolbar icons on the layout as per your convenient.
Sidebars – You can activate the sidebar on either the right or left side of the window to display "Bookmarks", "Sync Tabs" and "History" data.
Tab Grouping – The feature allows you to group and manage multiple tabs simultaneously.
Security and Privacy Features
Edge is harmless to your system as it is a component of Windows 10 running in a sandbox environment. It has a built-in SmartScreen that scans the reputation of sites you visit and blocks suspicious sites. To enhance privacy, Edge allows you to use Windows Live ID instead of passwords for online authentication.
However, the browser saves some of your private data, even when browsing in private mode and it is updated with Windows updates. In terms of online privacy, Firefox is the best bet. The browser has a built-in privacy feature that prevents websites from tracking your activities on the internet. Additionally, it supports HTTPS for all enabled sites and updates automatically in the background.
However, Firefox is open source, meaning its code is available to all including hackers. It also doesn't have a robust sandbox mechanism.
Other Features
Themes: With Edge, you can only switch between the dark and the light theme. Firefox offers a variety of both wallpaper and complete themes.
Extensions/ Add-ons: Edge has little to nothing to offer in terms of extensions, while Firefox offers over 10,000 Add-ons in the Mozilla repository.
Read Mode: Both Firefox and Edge supports the read mode making easy to browse without any distraction. In addition to the read mode, Edge offers the "Note" feature that allows you to highlight and make notes on a web page.
Speed of Browsing
With the same internet connection, both Firefox and Edge performs equal. However, you can notice Edge loads the webpage faster than Firefox in many occasions.
Edge is still under development browser and we can expect major changes with Microsoft adopting Chromium open source for building Edge. The advantage with Firefox is that you can use the browser on macOS also as an alternate to Safari.
Summary
While it may be hard to choose a better choice between Firefox and Edge, understanding their features can be helpful. Both the browser are ideal for different users depending on the situation and priorities. If you only use Windows OS then we recommend to go with Edge as it is a builtin component of Windows. However, if you want to use a same browser across platforms then Firefox is best for you.