Apple introduced a new feature called StandBy for iPhone with iOS 17. StandBy feature allows to display full lock screen with additional information in landscape mode and while charging. You can use Clock, Calendar, Photos and any other available widgets from default apps to quickly view them while sleeping on bed or focusing on other tasks. Whenever there are movements, iPhone will automatically turn the display on with StandBy lock screen mode and show the set widgets. Otherwise, the display will be turned off when there are no movements.
Enable StandBy in iPhone
First, make sure you have iOS version 17 or later to use StandBy feature. iPhone 14 Pro and later versions will have some additional features while older models will have limited options for StandBy.
Open Settings app and navigate to "StandBy" section.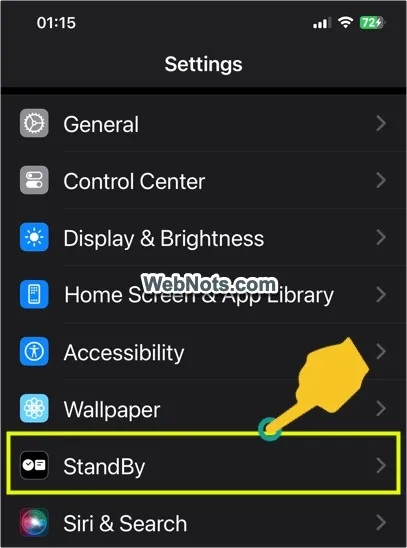 Tap on the switch against "StandBy" option to enable it.
Now dock the iPhone on wireless charger in landscape position. If you do not use wireless dock, keep it on the standing landscape position while charging with the cable and lock the phone.
You will see a "Welcome to StandBy" message since this is the first time you use the feature.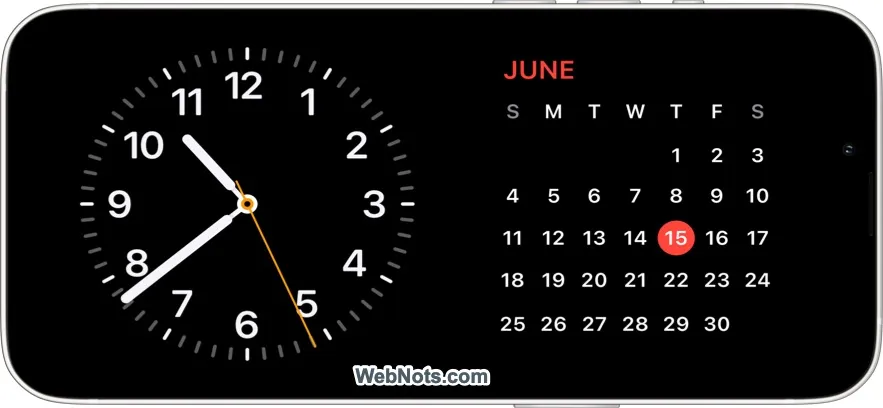 Night Mode in StandBy
By default, the widgets on the StandBy mode look brighter which may be distracting in night. Simply tap on "Night Mode" and enable it in StandBy settings page.
This will help to automatically change the display with red tint when in dark ambience. Below is how the StandBy screen in iPhone will look with night mode enabled.
Notifications in StandBy Mode
If you want to receive notifications in StandBy mode, simply turn on "Show Notifications" option in the settings page. This will allow to receive food livery and other news push notifications in full screen mode. Note that, you will still receive important notifications from apps though you disable the option here.
Additional StandBy Options for iPhone 14 Pro and Later
As mentioned, StandBy settings section will have two more additional features with the newer iPhone models.
Always On – with this option enabled, iPhone will automatically detect the movements and attention to keep the display on.
Motion to Wake – you can enable this option under "StandBy > Night Mode" setting. This will allow iPhone to turn on the display if it detects any motion during nighttime.
Note that the lower models also detect movements to show the StandBy lock screen while charging. For example, you can move the table where the phone is placed to turn the display on with StandBy mode.
Customizing the Widgets in StandBy Screen
By default, you may see widgets like clock and calendar appears when iPhone uses StandBy mode. Here is how you can customize the widgets and add your favorite items:
Lock and charge the iPhone to use StandBy mode.
Press and hold any widget that appears on the StandBy screen.
You will be prompted to unlock with Face ID or Passcode.
After unlocking the screen, the widgets will start jiggling with a minus icon on top left corner of each widget.
Tap on that minus icon and confirm the pop-up to remove the widget from screen.
Tap on the + button showing on top left corner of the screen to add a new widget.
You can search or use the suggestions from the sidebar to find your favorite widgets.
Some apps offer single widget like App Store while many apps offer multiple widget styles like Clock.
Select the style for your widget and then tap on "Add Widget" button.
Tap "Done" button showing on top right corner to add the widget to your StandBy screen.
Navigating Widgets and Other Options on StandBy Screen
StandBy mode will show one or two widgets depending upon the size/style you have selected. Swipe up, down, left or right to navigate through the available widgets on the screen. Some widgets are interactive like Reminders. You can tap on the item in Reminders widget to complete the task without opening the app.
Other widgets like full screen clock offers customization option on the display. You can long press on the widget and unlock the screen to view additional style and color options.
Smart Rotate and Widget Suggestions
You can see these two options on the right side when unlocking the StandBy widgets screen.
Smart Rotate – turning on this will allow your iPhone to show relevant widgets whenever StandBy is activated based on usage. Perhaps you will see a weather widget when it's expected to rain heavily in your area.
Widget Suggestions – this will show widget suggestions based on usage. Perhaps you can find a new widget based on Siri suggestions which you are not using it before.
Final Words
It is a good idea to make use of your iPhone as a clock or calendar when it is idly charging at nighttime. You can use interactive widgets like marking an item finished in Reminders or get full screen notifications about your food delivery. Soon we can also expect many third-party app developers to offer customizable widgets for StandBy screen. Only problem with StandBy is that it works better on a wireless charger dock. Otherwise, you probably need a phone dock and a power bank to keep the phone in standing position and charge it during night.