Apple introduced a new feature for locking private browsing tabs in Safari browser with iOS 17. However, Chrome iPhone app already offers this function for locking incognito tabs with Face ID. If you prefer Chrome over Safari, then it is a good idea to give the locking feature a try in Chrome.
Lock Incognito Browsing in Chrome iPhone
Open Chrome app and tap on three dots showing on bottom right corner of the app.
When you are on the settings page, tap on "Privacy and Security" option.
On the next page, turn on the switch against "Lock Incognito Tabs When You Close Chrome" option.
Check How it Works
Now that you have enabled the locking of incognito browsing tabs, let's see how it works.
Tap the tabs icon in Chrome app from the bottom navigation pane.
Select incognito icon and switch the browsing to private mode. Press the + icon showing at the bottom and open a new private tab.
Type any website URL and open the page in incognito mode. You can open one or few webpages in incognito tabs.
Swipe the screen in up direction to open the App Switcher. You can choose another open app or swipe the Chrome app up to close it (both are considered as closing the app).
Again, search and open Chrome app on your iPhone and go to incognito section.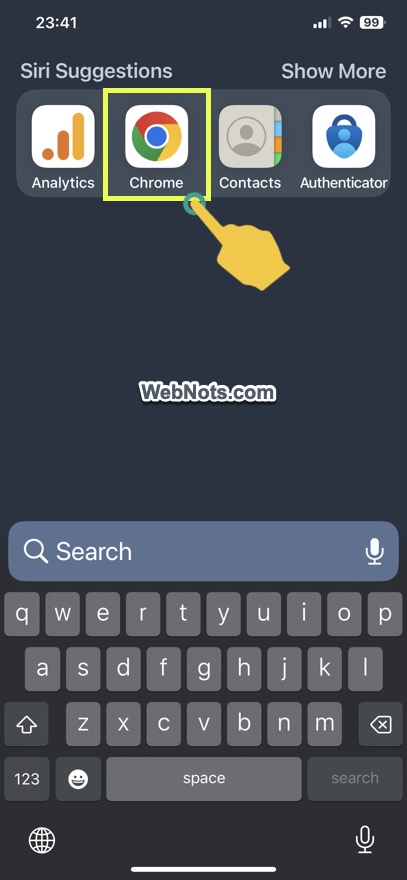 You will be prompted to lock the screen with Face ID or view other normal tabs. Unlock the screen with Face ID to view previously opened incognito tabs.
Note that you can also open incognito tab by tapping on the three dots icon or by long pressing the tabs icon. Whatsoever is the way you try; you should unlock the screen with Face ID when opening Chrome afresh.
Locking Chrome Incognito Vs Safari Private Browsing
Though both Chrome and Safari apps have the same function there are few reasons why Chrome is better with locking feature:
On Chrome, tabs will be locked only when you close and reopen the app. however, Safari will lock private tabs when you switch between normal and private browsing modes. This may be annoying if you frequently switch the modes.
In addition, you do not need iOS 17 to lock incognito browsing in Chrome app. Chrome also works on previous iOS versions having Face ID setup.