You may not believe that Apple was the first company to introduce private browsing mode in Safari during 2005. It helps to prevent browser from storing your history and keep the activities separate from main browsing window. Now that in 2023, Apple added an additional option to lock the private browsing tabs in Safari with Face ID or Touch ID. Here is how you can enable that option in iPhone and Mac to protect someone accidentally not viewing your private browsing windows.
Locking Private Browsing Tabs in Safari
The feature is available as part of iOS 17, iPadOS 17 and macOS Sonoma. Therefore, make sure to update your system to use the latest OS for enable locking feature. Your iPhone must support Face ID and Mac should have Touch ID keyboard.
Lock Safari Private Tabs in iPhone
Open Settings app and navigate to "Safari" section.
Scroll down to "Privacy & Security" section.
Turn on "Require Face ID to Unlock Private Browsing" option.
Using Safari Lock Mode in iPhone
Now that you have enabled the feature, it's time to check how it works in Safari browser.
Open Safari app and tap on the tabs icon showing on bottom right corner.
You will see buttons at the bottom showing your tab group names, Start Page and Private.
Tap on the "Private" button to see the private browsing window.
Unlike before, you will be shown a "Private Browsing is Locked" message on the screen.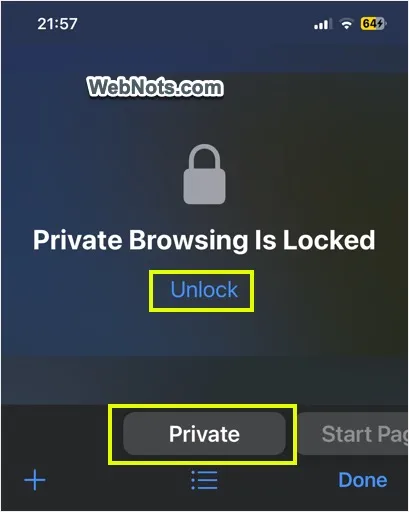 Tap on "Unlock" link and use Face ID to unlock the tabs.
You will see all your private tabs previously you are working on or the Start Page.
Safari will automatically lock private tabs whenever you move to regular tabs / tab groups. So, it may be bit annoying to unlock the private screen every time if you are switching across regular and private tabs frequently.
Lock Private Tabs in Safari Mac
Open Safari app and go to "Safari > Settings…" menu.
This will open Safari settings dialog box and go to "Privacy" tab.
Check "Require Touch ID to view locked tabs" option against "Private Browsing" heading.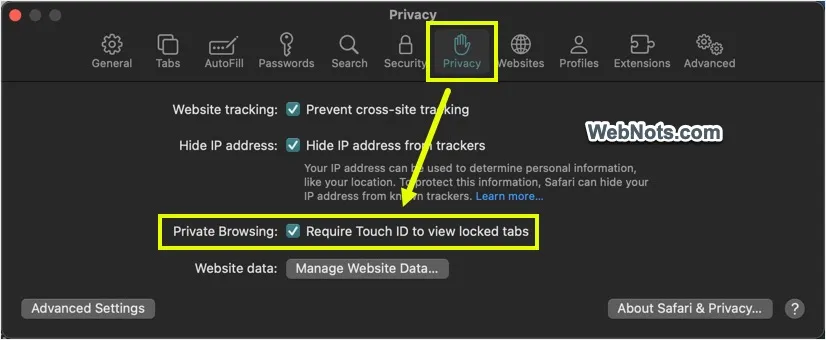 Using Safari Lock Mode in Mac
Close the settings pop-up and follow the below steps:
Go to "File" menu and select "New Private Window" option. Alternatively, press "Command + Shift + N" shortcut keys to open a private browsing window.
Go to "Window" menu and select "Lock All Private Windows" option. Alternatively, press "Control + Command + L" shortcut keys.
This will lock all private windows and use your Touch ID to unlock the screen again and see the open tabs.