Though Edge is the default browser in Windows, most users still use Google Chrome. However, Chrome will also show various errors and frequently crash while browsing. It could be due to the issue in the app or compatibility problem with Windows. If you are stuck with Chrome not working in Windows 11, here are the solutions you can try. In case if you fed up with slow Google Chrome, then check out solutions in this article.
1. Troubleshoot Chrome in Windows 11
First, close Chrome app if you are doing any browsing activity. Click on the search icon in taskbar and search for "chrome". Click "Open file location" to open Chrome installation or shortcut file's location in File Explorer.
Alternatively, you can directly navigate to "C:\ProgramData\Microsoft\Windows\Start Menu\Programs" in File Explorer which is the Chrome Start meu shortcut location in Windows. Right-click on Google Chrome file and select "Properties" from the context menu that appears.
This will open "Google Chrome Properties" dialog and go to "Compatibility" tab. Click on "Run compatibility troubleshooter" button to start the troubleshooting process.
You will see two options to choose either recommender settings or manually troubleshoot the program. Click on "Troubleshoot program" option to continue further.
On the next screen, select the program and Windows will automatically scan for compatibility and suggest the solution for your problem.
Click on the "Test the program…" button to launch Chrome with the suggested settings change applied. Check if Chrome is working properly and then click "Next" button.
If the problem is resolved, you can save the settings to Chrome app. Otherwise, you can try to run the troubleshooter again to find suggested solutions for other issues.
2. Clear Browsing History
If troubleshooter did not fix the issues, then the next option is to delete all browsing history of Chrome app. Over period, Chrome might have accumulated large number of files in the cache. Sometimes, these files might have outdated and cause problem when trying to access the websites.
First, save your work and log out of all sessions in Chrome.
Press "Alt + F" shortcut keys to open the menu.
Select "Settings" from the list of menu items.
When you are in Chrome settings page, go to "Privacy and security" section.
Scroll down a bit and click on "Clear browsing data" option.
On the pop-up, go to "Advanced" tab and select the time range as "All time".
Select browsing history, download history, cookies and other site data and cached images and files options.
Click on "Clear data" button to delete all historical data stored in Chrome's cache.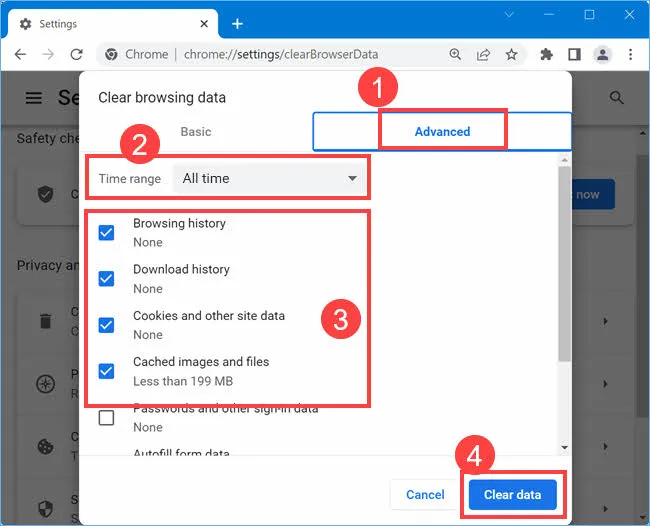 3. Update Chrome
Chrome will be automatically updated to latest available version when you are connected to the internet. To make sure that you are in the latest version, go to Chrome menu by pressing "Alt + F" keys. Navigate to "Help > About Google Chrome" section from the menu.
You can see the update process starts running automatically and show the status. If there are problems, you will see errors like below indicating "An error occurred while checking for update…." with the reason.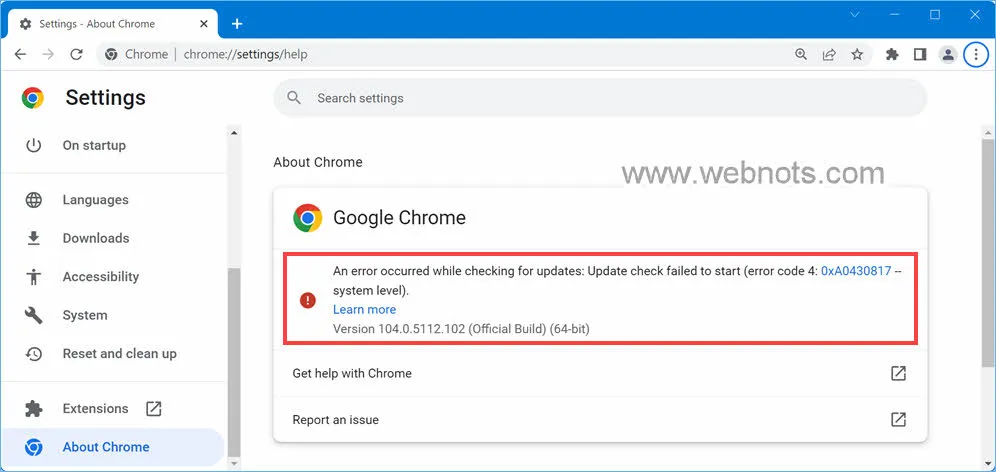 In most cases, update fails due to the reasons like not connected internet, Google services are blocked in your location, you are using proxy or VPN or you deleted Chrome update folder to stop the automatic updates. You can check all these reasons and also try to get online help using the shown error code. Once you have the latest Chrome app, most probably the problem will be resolved and Chrome will start working normally.
4. Scan for Malware
Next is the problem with virus or malware that hijacked your browser. You can find the symptoms like automatically redirecting to pages which you do not open or show irrelevant pop-up ads. Fortunately, Chrome offers an in-built tool for scanning harmful programs that affects the browsing.
When you are Chrome settings page, go to "Reset and clean up" section.
Click on "Find" button showing against "Find harmful software" heading.
Now, Chrome will start scanning your computer for malware. This will take longer time depending upon the size of your disk and number of files. However, you can continue your browsing while the scanning is in progress.
If there are any harmful programs find, you can delete them to restore Chrome to working condition.
5. Allow Chrome to Pass Firewall in Windows Security
If you are not able to access the internet from Chrome, then your antivirus could be the most probable reason. Make sure to allow Google Chrome app for incoming and outgoing network connections. Here is the process for Windows Security which comes as a default app in Windows 11.
Use search and open Windows Security app.
Go to "Firewall & network protection" section.
Scroll down and note which network is active on your computer, generally, it should be a private network.
Click "Allow an app through firewall" link.
This will take you to Control Panel's "System and Security > Windows Defender Firewall > Allowed apps" path.
Click on "Change settings" button to allow editing the screen.
Check Google Chrome app and check the box for your active network (private network in our case which is the active one)
If you do not find Google Chrome app in the list, click on "Allow another app…" button. Browse to "C:\Program Files\Google\Chrome\Application" location and add Chrome app in the list. Select the required checkboxes to allow Chrome for using network passing through the firewall connection.
Click "OK" button to apply your changes.
After checking/changing the setting in Windows Security, check your antivirus app and allow Chrome to pass through the app's firewall setting.
6. Try Public DNS
If you are always noticing messages like resolving host in Chrome status bar, then using public DNS can help to fix the issue. This will help to bypass your ISP's DNS and allow resolving domain names faster.
Press "Win + I" and open Windows Settings app.
Go to "Network & internet" section and click "Wi-Fi" option.
On the next page, click the properties of the connected wireless network.
You should see the "DNS server assignment" is showing as "Automatic (DHCP)". Click the "Edit" button to change automatic servers to manual servers.
On the pop-up that appears, select "Manual" option from the dropdown.
Enable IPv4 and enter 8.8.8.8 as preferred DNS and 8.8.4.4 as alternate DNS.
If required, enable IPv6 and add preferred and alternate DNS detail. You can get the complete process and DNS details in this article.
Click "Save" button to apply your changes.
Now, open Chrome and delete the browsing history as explained in section 2. Check whether you can freely access the websites those were not working before.
7. Reset Chrome
Changing Chrome settings without understanding can affect the working status of the browser. If you do not know what exactly you have done, then the best solution is to reset Chrome to factory settings. When you in the settings page, go to "Reset and clean up" section and click on "Restore settings to their original defaults" option. Read the pop-up and click on "Reset settings" button to restore Chrome to factory settings. This should solve all problems related to custom settings.
8. Update Windows 11
If you notice a problem after recent Windows update, then check if there any fixes available from Microsoft. When you are Windows Settings app, go to "Windows Update" section. Click on "Check for updates" button to download and install the latest Windows version on your computer.
On other hand, you can also revert back the latest Windows update to previous state if you suspect the last update caused the problem. Go to "Programs > Programs and Features > Installed Updates" section in Control Panel. Select the latest Windows update and click "Uninstall" option.
9. Uninstall and Reinstall Chrome
If none of the above solutions fixed Google Chrome, then the last option is to delete the app and reinstall it again. You can uninstall Chrome from Windows Settings app by navigating to "Apps > Apps & features" section. Search for "chrome" under "app list" section and click on the three vertical dots icon. Select "Uninstall" option to launch the uninstaller and delete Chrome and all its files from your computer.
After deleting, you need to download the Chrome app from Google official website and reinstall again.
Final Words
In most cases, you can fix Chrome not working issue with one of the above listed solutions. Keep the resetting and uninstalling options as last resorts as you will lose the settings and date with these options.