Google Chrome offers lot of settings that you can change to customize the appearance. In addition, there are thousands of extensions for Chrome to enhance your browsing experience. However, playing around with installing many apps and extensions on Chrome browser may affect the settings and results in different errors or unexpected behavior. By default, Chrome checks the settings on launch and revert back to the original settings if something is wrong. But this may not help always, and at time, when no solutions fix your problem the last option is to reset Chrome browser. Fortunately, Google makes it very easy to reset Chrome.
When You Need to Reset Chrome?
In general, you should not reset the browser as it can delete all your customizations. However, below are some of the problems resetting can help to fix.
Some random search engine took place of your default search engine and you are not able to change it back.
You modified some settings that changed the browser's appearance and forgot how to revert back to initial state.
Installed an extension that changed the behavior of Chrome and uninstalling did not fix the issue.
Suddenly facing browser errors and not able fix them.
Before Resetting Chrome
Though resetting Chrome is an easy task, remember and be aware that resetting the browser to factory defaults will change or delete the followings in Chrome:
Delete all your stored cookies and site specific content settings like blocking popups, disable notifications, etc.
Change your search engine back to default search engine (Generally, Google Search).
Reset your custom installed themes, customizations on the new tab page and home page.
Remove all pinned tabs and shortcuts on new tab page.
Disable all your extensions, still they will not get deleted and you can enable them after resetting.
The good part is, Chrome will still retain the following things:
All your bookmarked and Reading List items will be retained.
All saved passwords will be available after resetting Chrome.
Your personal data and browsing history will be safe and won't be deleted.
If you are not signed in, resetting Chrome will only affect the specific profile on your device. However, if you are logged into your account on multiple devices, it will reset the settings to default on all devices.
Now that you know what will get deleted and what will be retained. If you are sure to reset then proceed further.
How to Reset Google Chrome?
Start your Chrome and click on the three vertical dots symbol showing on the top right corner. You will see a list of menu items and select "Settings" menu. Alternatively, type the URL command chrome://settings in the address bar to open Chrome settings panel.
When you are on the settings page, find the "Advanced" option from the sidebar and click on it.
It will expand and show further advanced setting menus. Scroll down to the end of the page and click on "Reset and clean up" option. On the right side, click on "Restore settings to their original defaults"
You will see a prompt with two buttons – "Reset settings" and "Cancel". Press on the "Reset" button and Chrome will start resetting your current settings to the default factory settings.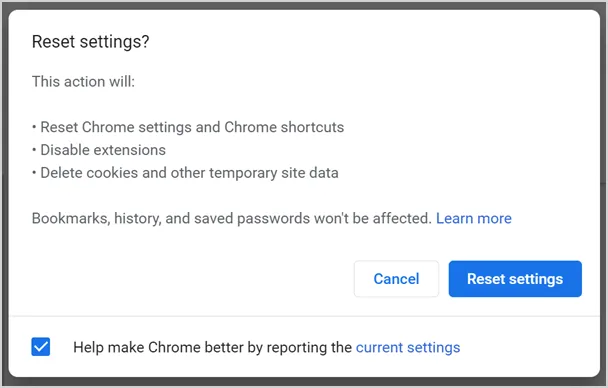 If you check the "Help make Chrome better by reporting the current settings" box, Chrome will send your current settings to Google for analysis. You can disable this checkbox before clicking on "Reset settings" button to stop sending any data to Google.
Learn how to fix err_connection_reset, err_internet_disconnected, err_network_changed, err_connection_refused, DNS_probe_finished_nxdomain and err_connection_closed errors in Google Chrome.
Alternate Way
Open Chrome browser, type chrome://settings/resetProfileSettings in the address bar and hit enter. You will see the same prompt like above asking you with "Reset settings" and "Cancel" options. Simply click on "Reset settings" and it will start resetting your Google Chrome browser.
It may take few seconds for Chrome to reset the settings. Remember, you will not see any warning after clicking on "Reset settings" button neither you will see a success message after the completion of resetting. The first thing you should do after resetting Chrome is to check whether your problem is resolved. If yes, then you can go to chrome://extensions URL and enable all your extensions.
Reset Chrome in Mac Version
On Chrome Mac version, you can go to chrome://settings page and click on "Advanced" settings similar to Windows version. However, when you scroll down the advanced settings menu, you will find the reset option with different name as "Reset settings". Click on that and you will see only one option for "Restore settings to their original defaults" in the right side.
When you click on the restore settings option, Chrome will see show you prompt which you can confirm by clicking on "Reset settings" button.
As you can see, Chrome offers a cleanup tool for checking malware and fixing the related issues in Windows version. If you are suspecting a browser adware or virus on your computer that affects the browsing activities, you can try using the clean up tool under "Reset and clean up > Clean up computer" section. However, this feature is not available on Mac version and the only option for you is to reset the browser.
Reset Chrome in Android
If you are using Android, here are simple steps to reset your favorite mobile browser.
Go to "Settings" section and navigate to "Apps" option.
Tap the target browser app to open the information section.
You can delete storage and cached data under relevant sections.
The browser will reset to default settings.
If you see the issues are not fixed after resetting, you may need to delete the app (including its data) and reinstall the latest version from the Google Play Store again.
Reset Chrome in iOS
Unfortunately, there are no options in Chrome iOS mobile apps for resetting the browser. What you can do is to clear the browsing history from the app's settings page.
If that does not help, you may need to delete the Chrome app and reinstall from the App Store. You can continue to access bookmarks and passwords by login to your profile and synchronizing the detail across your devices.