Apple's iOS is the most powerful mobile operating system for iPhones. However, it does not offer much customization features like Android. This is especially true when you want to customize your home screen. If you are bored with looking at the default icon styles, here are some options to customize home screen in iPhone.
What You Can and Can't?
If you have noticed, home screen of the iPhone did not change much starting from iPhone 6 to the latest models. It has a grid layout of 6×4 with 6 rows and 4 columns which can fit 24 app icons on each screen. In addition, you can add 4 apps on the dock which will appear across all home screens. You can't change this grid layout by adjusting the icon spacing/size on your home screen.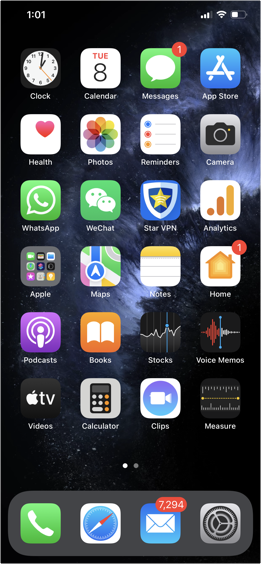 However, what you can do is to combine multiple grid blocks and use them to add widgets. Combining with custom wallpaper and icons set, you can completely change the outlook of the iPhone home screen.
Apps to Customize Home Screen
There are hundreds of free and premium apps available in iPhone App Store for customizing your home screen. In this article, we will explain with the free features of Color Widgets app. You can do three things with this app:
Add custom widgets
Replace default icons with custom icons set
Setup custom theme by combining wallpapers, widgets and icons set
Setting Up Custom Home Screen with Color Widgets
After installing the app, tap on it to view the themes, widgets and icons it offer. First go to "Settings" section where you can customize few things that appear on your widgets:
Show time in 12 hours or 24 hours format
Use Celsius or Fahrenheit for temperature
Show or hide the battery
Use original or darker photos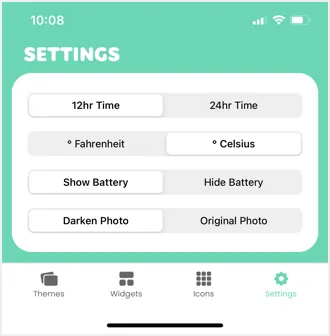 That's all the settings available on the app.
Download Icons, Widgets and Themes
Tap on "Icons", "Widgets" or "Themes" section to download your favorite items. The icons section allow you to replace the default iPhone app icons with custom icons. You can browse through and find the set of icons you like. The app allows you to preview the icons, edit and download to your phone. Remember, the set of icons include all Apple apps and other popular apps. You may not find corresponding icons for all the apps you use on your iPhone.
Similarly, you can go to "Widgets" section and edit the widgets with the required font, theme and background before adding them to your phone.
Instead of using icons and widgets separately, we recommend using custom themes that include all items as a package. Go to "Themes" section and use the top filters to find your favorite theme. You can also scroll down to preview each theme before downloading. When you find your favorite theme, just tap on it. You will find three options to download the items:
Set All Widgets – this will download the widgets required for your theme. If you are already using any widgets on your home screen, you will see a warning message when you tap on "Set All Widgets" button. It will show that the new setup will replace any existing widgets on your current home screen. Tap on "Replace" to download the widgets. Don't worry, it will not actually replace the widgets, you have to manually use the new widgets or continue with the old widgets on new theme setup.
Wallpaper – simply hit the download button to save the wallpaper image to your Photos app.
Set Icons – tap on this button to view the available list of icons for the apps installed on your phone. You can choose to download all the icons and select only the icons that you want to use. You can deselect the apps not available on your phone and select only the needed icons.
Setup Custom Theme for Your Home Screen
As mentioned, Apple does not allow developers to simply change the home screen setup. It means the downloaded widgets, wallpaper and icons will NOT automatically apply as you can see in the theme preview of Color Widgets app. You have to setup each item manually to make the home screen looks like the theme preview. Though this is time consuming, it also allows you to use only the items you need and not the entire theme.
First, go to your Photos app and open the downloaded wallpaper. Tap on the "Share" icon and scroll down to find "Use as Wallpaper". Tap on that and set the picture as your home screen home screen wallpaper. Learn more on how to setup wallpaper in iPhone.
Second, swipe left to the first home screen to view all available widgets on your iPhone. Alternatively, you can also tap and hold on the empty area on your home screen to see the icons are started joggling. Now, tap on the + icon on top left corner to view different group of widgets.
Find and tap on "Color Widgets" to open the widgets you downloaded from the app. After finding your widget, tap "Add Widget" button to insert it on your home screen.
Viewing Custom Theme
Now that you have completed the setup process and the home screen should looks something like below based on the theme items you have downloaded/added.
As you see, it looks the screen is vertically divided in two sections. However, it is simply the background wallpaper image with two sections and nothing to do with the screen. You can drag and rearrange the widgets to fit within the 6×4 grid layout. Depending upon your background, you can use the longer widget to occupy 2×4 grid or use smaller widget in 2×2 grid.
Additional Tips to Customize Home Screen in iPhone
Besides setting up a custom theme, you can also use the following tricks on your home screen.
Create folders and group similar apps to avoid each app occupying space on the grid. You can simply drag and drop an app on another to create a folder. For example, you can put all game apps in a single "Games" folder to access it easily.
Long hold on any app icon and select "Delete App". On the pop-up that appears, select "Remove from Home Screen". This will hide the selected app from your home screen instead of deleting it from your iPhone. In this way, you can keep your home screen clean without clutter without deleting the apps. Learn more on managing apps in iPhone.
Swipe to the right section on the last home screen to find the app list. Here, you can find all apps available on your phone including those hidden apps not shown on the home screen. If required, you can also swipe down on the screen to open the search box to find the hidden apps on your iPhone.
Final Words
As mentioned, iOS is so rigid, it neither offers customization features nor allows app developers to directly change the settings. You have to follow the lengthy process to setup each item on the home screen. Also, the customization is possible only on latest iOS version since widgets are not available prior to iOS 14. However, it makes iPhone more secured and you can setup once and start making the home screen different by adjusting the widgets.