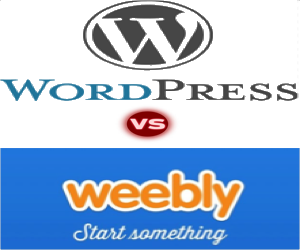 It is a common confusion among all new webmasters whether to choose Weebly or WordPress to start building a website. After migrating our whole site from Weebly to WordPress.org we can clearly see that Weebly and self-hosted WordPress platforms target at different market segments in the competitive site-building arena. Hence, comparing each feature of Weebly Vs WordPress will not have a meaning.
With our live experience we provide you information comparing various factors where Weebly would be a best choice and where WordPress would be.
This article compares Weebly with self hosted WordPress.org and not with hosted WordPress.com. You can check out separate article on Weebly Vs WordPress.com comparison.
Weebly Vs WordPress.org Comparison and Review
Here is the quick summary before we start detailed discussion. Weebly offers a great start but WordPress offers a slow and steady start.
| Factor | Weebly | WordPress |
| --- | --- | --- |
| Fun | Lots of fun. | No time for fun. |
| Skill | Quick – you can publish a site in hours. | Difficult – you need to understand various factors. |
| Size | Recommended for small business and small content sites. Blogging and forum is not recommended. | World class blogging platform. Also can built content site and forums. |
| Editor | Real WYSIWYG editor. | Dull traditional text editor. |
| Backup | Manual as a zip file. | Manual or automatic as a XML feed or SQL database file. |
| Migration | Highly difficult especially from Weebly sub-domain to custom domain hosted with other company. | No need to worry about migration. At the maximum you may need to pay for the setup. |
| Reliability | Though we did not see any downtime during our usage, relatively less reliable due to free hosting. | Highly reliable if you setup properly and use reliable resources. |
| Features | Limited and Weebly is one of the slowest provider introducing new features. | Unlimited. |
| Support | Weebly does not have own support forum. Premium users will get quick response whereas free users may not even get a response. | Open source and lot of support forums available. |
| SEO | Though no impact on ranking, difficult to build a search engine friendly site due to lack of tools. | Easy to build a search engine friendly site with various tools available. |
| Cost | Not cost effective compared to the features offered. | Highly cost effective with the option to choose among various themes and plugins. |
WordPress.org Vs Weebly » Cool Factor
Undoubtedly you will have an amazing experience when creating a site with Weebly, especially if you are new to site building. With the live view and drag and drop features you will instantly start thinking Weebly is the best in this field. Your fun will increase when you start exploring more Weebly features.
On the other hand WordPress offers a tailor made solutions to meet individual site owner's need. You will not find any fun factor with WordPress, even if you find it will soon disappear.
Cool Factor: Winner – Weebly
WordPress.org Vs Weebly » Skill Level
Creating a Weebly site does not need any technical knowledge of how it works. Within a week time you will be able to leverage majority of the Weebly Features and can make your site looks professional. Even you want to modify source code, it is as simple with few clicks.
WordPress has relatively steep learning curve and needs a basic knowledge of site building without which you will find yourself being lost. Even experts need to spend lot of time to build a site what they want.
Skill Level: Winner – Weebly
WordPress.org Vs Weebly » Editor Interface
You will understand the meaning of WYSIWYG (What You See Is What You Get) editor when editing site on Weebly. WordPress offers traditional editor with a dull look. For a new webmaster, the editor interface makes a whole lot of difference since this is the deciding factor for quickly building and modifying a site.
So we strongly recommend to go ahead with Weebly if your needs are simple and can be met with Weebly.
Editor Interface: Winner – Weebly
WordPress.org Vs Weebly » Comparing Features
If Weebly is cool, no technical skills needed and has wonderful editor then what is WordPress and why people go for it? The answer lies in unlimited features offered by WordPress.
Weebly is closed box with limited features whereas WordPress is an open source system offers unlimited features. For example here is the list of major features offered by WordPress that are not available with Weebly:
End to end user management, Akismet spam protection, excellent documentation and Support, world class blogging platform, drag and drop sidebar widgets, import from several different Platforms, export entire content in XML, huge professional themes, search engine friendly SEO, responsive layouts, related/popular/features posts, etc.
While the presence of so many features with WordPress is great for flexibility, it could take quite some time to figure out how to use these features. Weebly, though with less number of features, is geared more towards people who would like to quickly put up a website without having to learn much. Other aspect is the introduction of new features – Weebly is one of the slowest company offering new features.
Features: Winner – WordPress
WordPress.org Vs Weebly » Reliability Factor
WordPress is a corporate class CMS and is highly dependable. But Weebly is a bit unstable and at times seems like a work in progress. If you are ok with a few hiccups here and there and ok with your site not being available to your visitors at times, then Weebly should be fine for you. If your site is mission critical and must be available all the times, then WordPress would be a better choice. It is worthwhile going through the initial learning curve with WordPress if reliability is high on your list.
The fact of reliability lies with the hosting. Since WordPress needs paid hosting service it has always with high reliability and downtime monitoring facilities. On the other hand Weebly's free hosting may have fluctuations in uptime.
Reliability: Winner – WordPress
WordPress.org Vs Weebly » Backup
WordPress lets you export your content in XML format and is compatible with many other CMSs. You can also download database backup of your site in SQL format. It works perfectly for backing up and retrieval of your previous versions which can be restored easily. Most of the hosting companies offer automatic backup and emergency restore as part of hosting package. So you get complete flexibility with WordPress with your backup data.
Weebly site can be manually backed up as zip file containing HTML pages. The biggest problem here is that the backup can't be again restored back into your Weebly site making the backup less useful.
Site Backup: Winner – WordPress
WordPress.org Vs Weebly » Migration
When you start building a site, migration should always be considered as an important factor to decide the platform. If your site has hundreds of posts and pages, WordPress saves you a lot of time and money when you decide to migrate to other equivalent platform. If your site has fewer pages, then you could go with Weebly which lets you backup your content but you will have to migrate manually to other platforms.
Also Weebly does not offer 301 redirection to external pages, so be aware of the risk of using a Weebly sub-domain. WordPress provides multiple ways to setup redirection, which is very critical if you are moving from a sub-domain to domain anywhere else. WordPress makes sure that you are not locked in and makes it convenient for migration when your business needs a change.
Site Migration: Winner – WordPress
WordPress.org Vs Weebly » Support System
You can find help for WordPress any where in the world. There are several tutorials available to assist you with anything you may required. The forums are rich and are full of quality information. Many training institutions offer WordPress courses on a regular basis, should you need to go through training. With WordPress, you are in safe hands.
With Weebly, you are dependent on Weebly support and may be left un-answered lot more often than you imagined, especially if you are a free user.
Support: Winner – WordPress
WordPress.org Vs Weebly » SEO
Having used both Weebly and WordPress, we do not see any ranking differences against the general assumption of WordPress sites ranks better in search engines. But, no doubt WordPress has the best measurement tools to see how your site will look like in search engines, managing images, keyword density check and page analysis. It gives an opportunity to build a search engine friendly site, which is not possible with Weebly.
SEO: Winner – WordPress
Download free Weebly SEO and WordPress SEO guides.
WordPress.org Vs Weebly » Cost
Cost depends on may factors like which Weebly plan you choose. Assuming you choose Weebly pro plan which will cost you around $8 per month for a yearly plan with no members login, limited membership, no ecommerce features. You still need paid third party integration services for getting additional features. Undoubtedly a equivalent Weebly pro site can be easily build with free WordPress theme / plugins and you need to pay only for a hosting which will cost you not more than $8 per month.
The problem with Weebly is, even you are ready to pay more there will be no companies offering reliable third party integration with Weebly.
Cost Vs Features: Winner – WordPress
Our Recommendation
While WordPress.org is several times more powerful than Weebly it is also more complex to deal with. You host the software on your own server, update the patches, and take care of issues all by yourself. But you are in total control. The functionalities you can add to your WordPress.org site are limitless. But it also comes with the burden of ensuring that all the pieces work in cohesion without conflict.
If you have small site having less than 50 pages then you can go with Weebly, since it will not be a good idea to spend couple of months to build a small site. If you have mission and vision statement to build a large scale site and ready to dedicate time then go with WordPress.
Note that, we initially build this site with Weebly and now migrated to self hosted WordPress.org.