There are different types of temporary files accumulated over period when using Windows computer. Though some temporary files are needed for the apps to work properly, you can delete most others without affecting system's functions. In fact, you should get rid of them to improve the performance and regain the storage space. For example, you might have downloaded a large installation file and forgot that or have huge deleted files in Recycle Bin simply occupying storage space. If you worry about these temporary files, here are different methods to delete them in Windows 11. If you are still using Windows 10, check our earlier article on how to cleanup temporary files in Windows 10 PC.
Methods to Delete Temporary Files in Windows 11
Windows 11 offers many default options to clean up the system. However, those options will not help to remove hidden and residual app data. In that case, using third-party apps can help to gain the storage space.
1. Delete Temporary Files Using Settings App
Settings app shows variety of temporary files stored in Windows which you can check and delete.
Press "Windows + I" keys to open the Settings app.
The app by default will open with "System" section and select "Storage" option from the right pane.
Here you will see category wise system's storage usage by apps, temporary files, documents, etc. along with space occupied by them (click "Show more categories" link to view the complete details).
As you can see, "Temporary files" are using 19.7 GB out of total 109 GB used space in the below screenshot. This is around 18% of the used storage which can easily slow down entire system. Click on the "Temporary files" option to see further details.
Check all category items that you want to remove and then click on "Remove files" button. Confirm the pop-up by clicking on "Continue" button to permanently delete the selected items.
Remember, the available items in "Temporary files" category may vary depending up on the situation. Here are some of the commonly available items and make sure to select only those files you want to delete permanently.
Previous Windows installations
Windows Update Cleanup
Windows upgrade log files
Downloads
Temporary Windows installation files
Delivery Optimization Files
Thumbnails – image, video and document thumbnails
Microsoft Defender Antivirus – non-critical files used by Defender
Windows error report and feedback diagnostics
DirectX Shared Cache
Temporary Internet Files
Some of the items like thumbnails will be regenerated when you start using the system. For deleting some items like "Windows update files" need system restart, while other files can be deleted without restarting.
2. Using Storage Sense to Schedule Cleanup
Storage Sense is an additional feature found in the Settings app. Though the purpose of this feature is to regain some space on your system, it helps to automatically delete unnecessary files.
Press "Windows + I" keys to open the Settings app and navigate to "System > Storage" section.
First, turn the toggle of "Storage Sense" to "On" position.
Then click on the "Storage Sense" option to configure its settings. Here, you can choose two important options for scheduling automatic cleaning up of – recycle bin and downloads folder. Since recycle bin and downloads folder often contain unnecessary/temporary files you have deleted/downloaded, it is a good idea to enable these options. You can select 1, 14, 30 or 60 days schedule for each option. In addition, you can also select similar duration for moving all unused content to OneDrive.  
After configuration, click on Run Storage Sense now to delete all temporary files. System will show how much storage space was regained with the cleanup action.
3. Manually Empty Recycle Bin
By default, Windows will move the files to Recycle Bin whenever you delete them. As you can see in the above Storage Sense screenshot, Windows will automatically cleanup deleted files in Recycle Bin every 30 days. However, you can also manually delete the files to permanently remove them from your system.
For that, right-click on the Recycle Bin icon on your desktop and select "Empty Recycle Bin" option.
Confirm your action by clicking on "Yes" button.
Alternatively, open recycle bin and click "Empty Recycle Bin" option from top bar in File Explorer.
4. Using Disk Cleanup
Disk Cleanup is a built-in utility in Windows 11 which you can use to free up disk space by removing unnecessary files. It scans your hard disk and finds internet cache files, temporary files and other unimportant program files which can be safely removed. You can either choose to delete only selected files or all the files as per your requirement.
Go to Start menu and type "disk cleanup" in search bar. Find Disk Cleanup app from results and open it.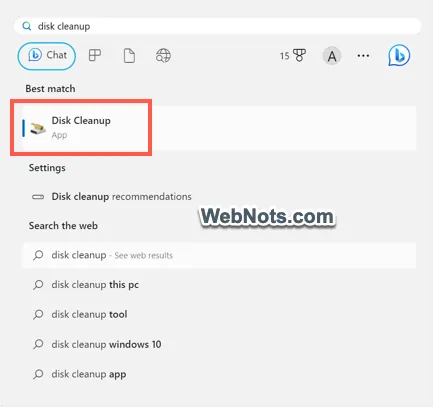 The next step is to select the drive you want to cleanup. For example, select C drive and click "OK" button.
The app will start scanning the selected drive and list various categories of "File to delete" like Settings app.
Choose the items you want to remove and press "OK" button.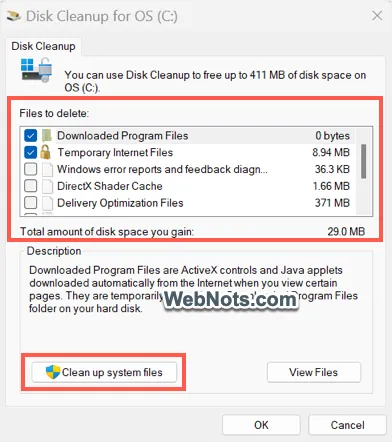 If you want to free up some more space, click on "Clean up system files" button. The app will re-scan and include additional system categories like Windows Update Cleanup, Microsoft Defender Antivirus and other system files. Select those items and click "OK" button to delete them.
5. Delete Temp Folder Content from File Explorer
Windows computer has a folder called "Temp" to keep logs, debug data and other temporary files. This is a hidden folder and hence you will not find it in File Explorer. Follow the below trick to open Temp folder and delete its data.
Press "Windows + R" keys and open the Run dialog box.
Type %temp% in the text box and click "OK" button.
This will open File Explorer with Temp folder showing all temporary files.
Press "Control + A" to select all the files, right-click on them and select "Delete" icon.
6. Deleting Temp Files from Command Prompt
Using Command Prompt is another option to delete all files in Temp folder.
Go to the Start menu and type cmd in the search bar.
Right-click on Command Prompt app and select "Run as administrator" option.
Type the command del /q/f/s %TEMP%\* in the prompt and press enter.
This command will try to delete each file in Temp folder and show the status as "Deleted file". As you can see, some files can't be deleted as they are used by another process. You can ignore those temporary files or try again later.
7. Delete Cached Files in Browser
Whether you are using Edge, Chrome or Firefox, all browser apps will cache the webpage files to speed up your browsing. These files include CSS, JavaScript and images and not only occupy space but also create problems when the webpage content is changed. It is a good idea to delete these temporary files frequently to keep your browser clean.
All you need to do is to simply press "Control + Shift + Delete" keys when you are on the browser app.
Alternatively, go to "edge://settings/clearBrowserData" URL in Edge and "chrome://settings/clearBrowserData" URL in Chrome.
This will open "Clear browsing data" pop-up and select "All time" for time range.
Check Browsing history, Download history, Cookies and other site data and Cached images and files items.
Click "Clear now" button in Edge (Clear data button in Chrome) to delete these temporary files stored in your browser app.
8. Using Third-party Apps
Though all the above options are easy, one problem is that they will not help in deleting residual files left over by apps and other hidden DNS cache. You need a reliable third-party application to clean these unwanted and temporary files. There are countless disk cleaner apps available on the internet and here we will explain with two apps – CCleaner and Wise Disk Cleaner.
8.1. CCleaner:
Download CCleaner app from Microsoft Store or from their official website and install it on your system.
Open the application and choose "Custom Clean" from the menu on the left side.
Then scroll down to the "System" category and check the "Temporary files" option and click on "Run Cleaner".
You can also select other options under "Windows" and "Applications" tab to clean up them.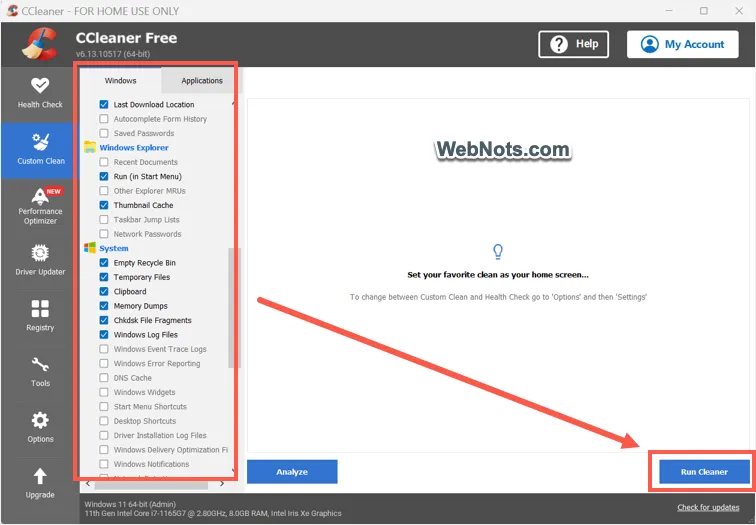 Within a few minutes, the app will clean all the temporary files and shows you the results.
8.2. Wise Disk Cleaner
Search Wise Disk Cleaner on Google and download it for free. Then install the app on your system and open it.
Go to "Common Cleaner" option and click on the arrow next to "Windows System" section to expand it.
Check the boxes for "Temp files created by Windows" and "Temp files created by Applications" and then click on the "Scan" button. You can also select any other items like "Windows System Cache", "Windows Font Cache", etc.
Once the scanning process is completed, now click on the "Clean" button to delete all the temporary files.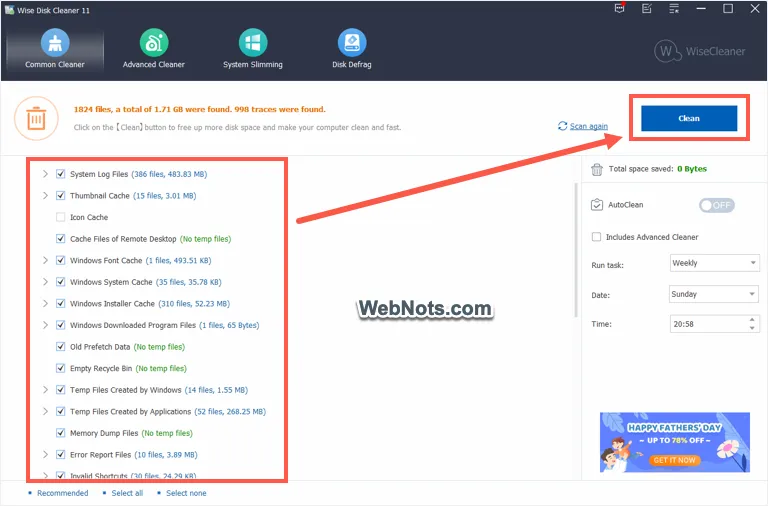 Wrapping Up
We recommend using the Windows 11 default options to delete temporary files. However, if you are frequently installing and uninstalling apps, then third-party cleaner apps can help to delete app cache and residual files which can't be deleted with default options.