Google Chrome is the king of browser world having more than 60% of market share. The popularity comes with the integration of Chrome with other Google services like Search, Gmail and Docs. Microsoft was initially struggling with the retirement of their iconic Internet Explorer and own Edge browser. However, things are changing with the Chromium based Edge browser as Microsoft is ramping up new features to grab their lost market share. If you are not happy with Chrome, then it's a time for you to look back using Edge which comes default with Windows 11.
Chromium Based Edge Browser
The latest Edge browser uses the same Chromium backend like Google Chrome browser. So, you will see the setting pages (edge://settings and chrome://settings) look similar in both browsers. However, the functionalities are different and Edge is scoring high with lot of features.
1. Adding New Features
There are no noticeable new features added in Chrome in recent years. In fact, the memory and energy saver options added in the "Performance" settings are also to catchup Edge's sleeping tabs feature. On other hand, Microsoft is consistently adding new features in Edge like Web Capture for taking screenshots, finding the best deals online with price comparison, Sidebar widgets, Math Solver for solving math problems online and Kids Mode to protect ensure your kids online safety. If you need any of these features, then Edge is the way ahead for you.
2. Edge Uses Less System Resources
Whether you are using Windows or Mac, you will find Chrome is the consistent memory and CPU dragger and drain your battery. Though memory/energy saver options help to release system resources by unused tabs, it does not work on old computers. Since Apple and Microsoft optimize the system for Safari and Edge, you will always find performance problems when using third-party browsers like Google Chrome. If you have old computer with less RAM, then Edge is the best option compared to Chrome. Remember, you can also use Edge app on Mac instead of using Safari.
3. Bing AI Chat in Edge
If you frequently need to use AI on your work, then Bing AI integration in Edge can help you to simplify your workflows and tasks. The icon appears nearer to top right corner on the Edge sidebar. You can use the AI for chatting, creating blog posts and for composing emails. After creating the content, you can straightway add to the website or where you want to insert. Unfortunately, you can't expect any AI integration in Chrome from Google in near future.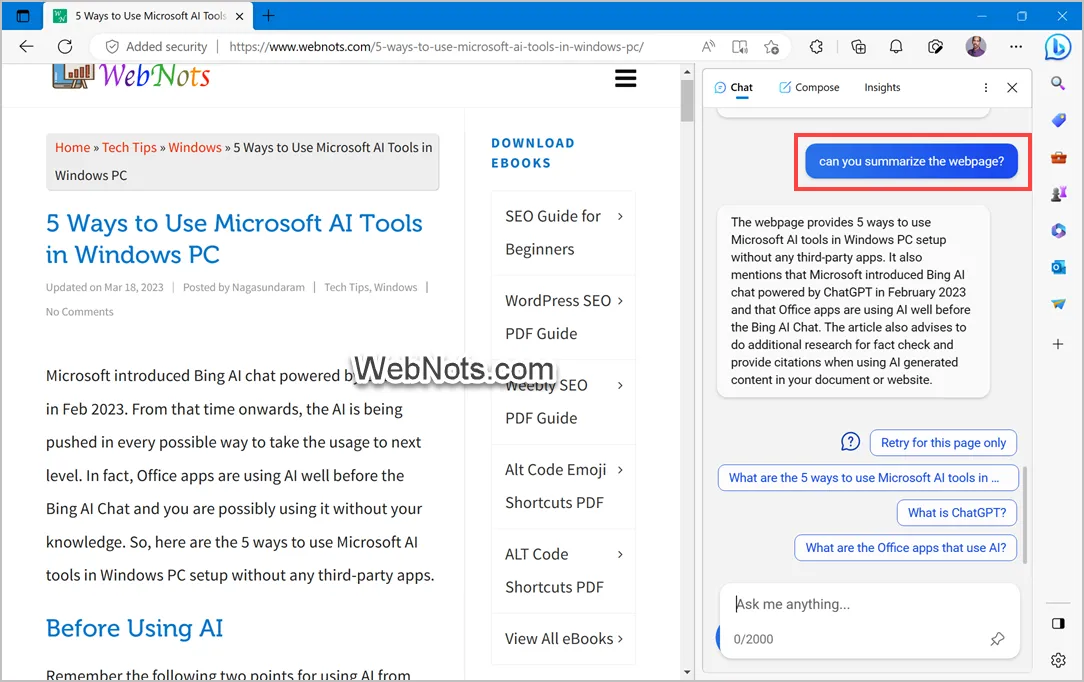 4. Install Chrome Extensions on Edge
Chrome Web Store has thousands of free extensions offering almost any kind of enhancement in the browser. This is also one of the major reasons for users to stick with Chrome. However, what many users do not know is that you can install extensions from Chrome Web Store on Edge also. As mentioned, both browsers use the same Chromium backend which makes this possible. In addition, Edge also has its own add-on store for getting extensions. So, you can double down with both Chrome and Edge extensions and get anything you like.  
5. Security with Defender SmartScreen
Though Chrome has in-built security features, most of the time it does not stop downloading malicious files. On other hand, Edge uses Microsoft Defender SmartScreen and warn/block when you download malicious files (generally with .exe extension). Edge also has other security features to protect you from malicious sites, phishing, malware and trackers.
6. Edge is Better in Privacy
Google is infamous for collecting user data without concern primarily when you use Google Search engine in Chrome. If you do not like to use Google Search, then Edge is the ultimate option available for you. Though Microsoft also collects data, you can turn off those options in Edge settings page. In addition, one important feature I like in Edge (and Chrome does not offer) is clearing your browsing data on exit. Simply enable this option and Edge will never store your browsing history and you no more need to remember using InPrivate mode.
7. IE mode for Legacy Websites
You will be wondering why I mention IE at this point when Microsoft officially retired the browser. If you are working or worked in large organizations, you will know that there are internal websites and applications (on company's intranet) developed for IE. These sites and apps will not work on modern browsers even on Edge and redesigning them need lot of budget/time. The only option is to use IE mode in Edge to open those apps/sites and continue to work. Unfortunately, Chrome will not help in this in anyway.
8. Integration with Microsoft Products
Since Edge is the default browser in Windows it works seamlessly without slowing down your system. Microsoft 365 products like Word and Outlook works better in Edge than on third-party apps like Chrome. With features like collections and file transfer (Drop), you can sync all activities in your Microsoft account and access across devices using Edge.
9. Vertical Tabs and Split Screen in Edge
Managing tabs in Edge is more efficient and fun compared to Chrome.
As mentioned, sleeping tabs help to reduce usage of system resources.
If you are bored with horizontal tabs, you can use vertical tabs and manage them with smaller space.
Another cool thing is to use split screen view (use Alt + Shift + S shortcut) to quickly split the browser and view all open tabs.
Chrome does not have vertical tabs and split screen features.
10. Microsoft Reward Points
Finally, you can earn reward points when using Bing search in Edge by logging into your Microsoft account. You can redeem the earned points for gifts or simply donate to charity if you are generous. Most importantly, you can learn with quiz, polls and other seasonal topics while earning points.
Final Words
It seems Google is out of ideas and forcing users to use Chrome as a traditional web browser. On other hand, Microsoft suddenly became innovative and added many useful features in Edge. So, if you are fed up with Chrome for any reason it's time to give another chance to the new Edge browser. Mostly, you will not be disappointed with the switch.