Over period, you will end up installing lot of apps in your Windows computer. Did you ever wonder how to view or download a list of all installed apps in your system? Depending upon whether you just want to view or download the list, you can follow one of the below methods. Also, learn how to check tree view of folder in Windows.
Installed Apps in Windows 11
Most third-party and Microsoft Store apps create an installation path in registry and folder in the system. However, there are some executable files you can run anywhere from the system without the need of installing it. Below methods will only show installed apps and not the standalone application files you may have in your system.
1. View All Installed Apps from Settings
Windows 11 moved away from the old Control Panel and offers a Settings app. You can view all installed apps from Settings and uninstall if you do not need them.
Press "Window + I" keys to open Settings app.
Go to "Apps" section and click "Installed apps" option.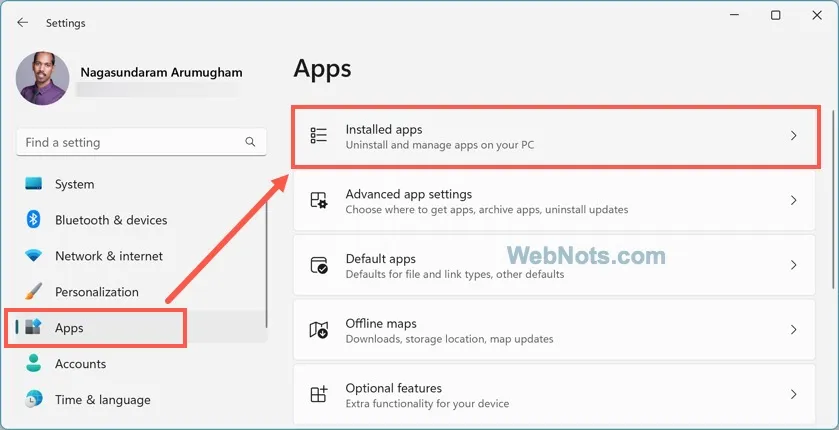 Here, you can find all the installed apps in your system. You can change the view to list, grid or tile to arrange the items as per your convenient. It is also possible to search for apps with name or filter based on drive.
You can take a screen capture and share the list of apps with others.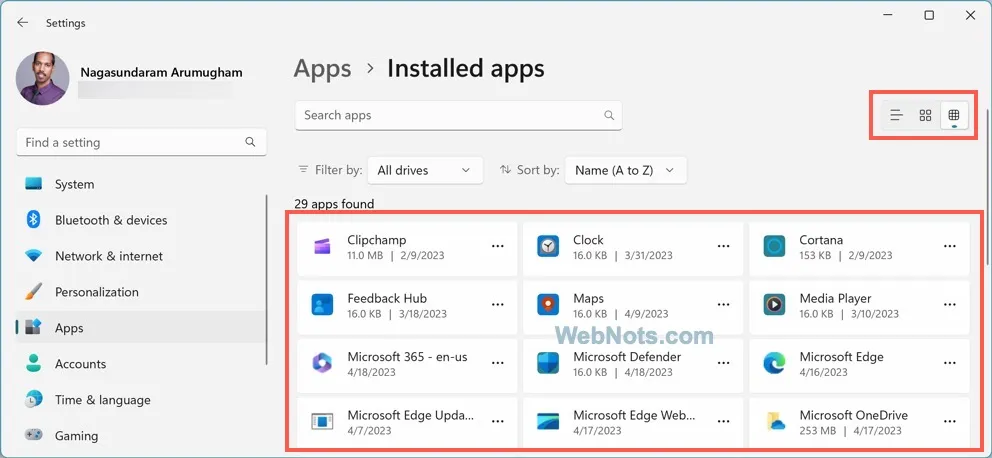 2. Download Installed Apps List Using PowerShell
Though you can easily view installed apps from Settings, unfortunately, you can't download it as a list. For that, you can use the Windows PowerShell command from Terminal app as explained below.
Right-click on the Start button in taskbar and select "Terminal (Admin)" option.
If the Terminal app opens with Command Prompt, click the small down arrow in the title bar and open Windows PowerShell tab.
First type wmic and press enter to change the prompt.
After that type product get name, version and press enter to display the list of all installed programs on your computer. The list will show with the app names along with its version number.

If you want to download the list to a text file type the following command and press enter. This will download the apps.txt file in C: drive. If you want to change the location, give the full path instead of c:\apps.txt in the command.
/output:c:\apps.txt product get name, version
Open the file and it should look like below.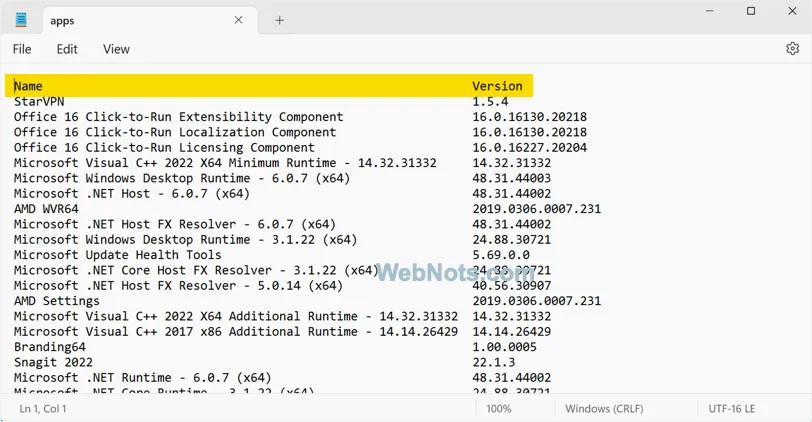 3. Download Installed Apps List Using UninstallView App
If you want find the complete details like app installation date, registry path, installed location, folder creation date, etc. then you can use UninstallView app for that purpose. This is a standalone app which does not require any installation. However, you should have an administrator privilege to open downloaded application file. Though the purpose of the app is to uninstall any app on your system, you can use it for downloading the installed app list as a HTML file.
Go to NirSoft UninstallView app details page.
Scroll down to the bottom and download UninstallView app for 64-bit below the "Feedback" section. The app is also available in few other languages, check the list showing and download the particular language version if you need.
This will download the "uninstallview-x64" zip file. Right-click on the file and select "Extract All" option.
Provide the location where you want to extract the zip file's content.
Go to the extracted location and open UninstallView application file.
The app will open and you will see the complete list of all installed apps on your system.
Go to "View > Choose Columns" and select the columns you want to download in the file.
After that, go to "View > HTML Report – All Items" and download the file.
You will see the list opens in your browser as a HTML file. You can right-click and save the file in your computer. Alternatively, copy all content and paste in an Excel spreadsheet to save it as a CSV or Excel file.
Anytime, you can delete the UninstallView app just by deleting the extracted folder's content.
Conclusion
Using Windows Settings app is the easiest way to view all installed apps in your system. Though you can't download the list, you can simply take a screen capture if that is what you need. You can try PowerShell command which does not show all the apps. If you want accurate list of installed apps with registry entries and other details, then UninstallView is the best option.