Safari is the default browser in iPhone. It comes with decent features to open webpages and customize the readability. Though Apple always claims Safari is the fastest browser in iOS, most times you will feel it loads pages like a snail. Fortunately, there are many alternate browsers available in App Store that you can try.
Related: 16 Safari tips for iPhone.
Top 5 Safari Browser Alternatives in iPhone
We have tried the below five browsers and consider they are good fit to replace Safari. They are also most popular as well as secure browsers.
Firefox Focus
Google Chrome
Microsoft Edge
Mozilla Firefox
DuckDuckGo
1. Firefox Focus: Privacy Browser
Firefox Focus is a browser app completely meant for private use. It opens in a private browsing mode and automatically deletes history when you close the tab. It blocks the following tackers to keep your browsing safe:
Disable web fonts
Does not store any cookies
Stops advertisement trackers
Stops analytics tracking
Blocks social tracking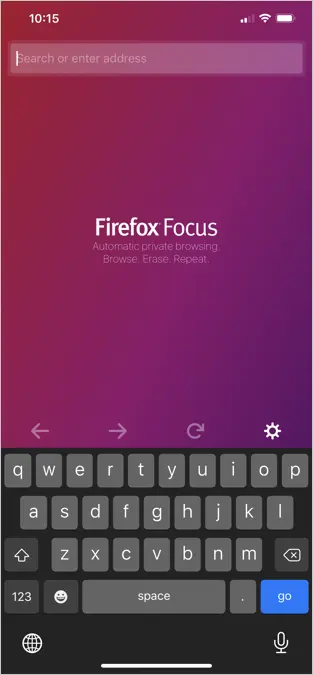 Web pages will load faster without advertisements and content trackers. However, some sites may not load properly when you block the tracking codes. You can also integrate Firefox Focus with Safari to work seamlessly.
2. Google Chrome
At this point, Chrome is the king of browsers in all platforms like Windows, macOS, Android and iOS. Therefore, no doubt Google Chrome is the number 1 app in iOS "Utilities" category.
Use address bar to quickly search with Google. When you are signed with your account, it is also possible to get last 5 search queries by tapping on the address bar.
Collects your browsing behavior and shows related content.
Chrome automatically offer translation using Google Translate.
Support large number of tabs without crashing.
Works seamlessly with voice search so that you don't need to type anymore.
3. Microsoft Edge
Many users do not aware Microsoft has an iOS application for Edge browser. That's mainly because of late release of the app in App Store.
Sync browsing activities across your Microsoft account. This will help you to continue browsing with your PC and iPhone.
Privacy protection with AdBlock Plus and incognito mode.
You can earn Bing rewards when using Edge with Bing.
Edge is a suitable alternative for Safari, especially when you work with Windows laptop in parallel.
4. Firefox: Private Safe Browser
If Firefox Focus does not work for you then checkout the default Firefox app.
Works across your devices and sync browsing activities when you logged in.
Protect your privacy and block content trackers.
Quickly get search results from address bar with search engines like Wikipedia, Twitter or Amazon.
App allows you to share content with social platforms quickly.
5. DuckDuckGo
DuckDuckGo is another browser popular for its privacy features.
It offers smart encryption, private search and tracker blocking.
You can delete all browsing history with one tap on the fir icon.
Forces HTTPS connection whenever available.
Provide grade between A to F for sites so that you can understand how the site tracks you.
Other Options
Other than the above-listed browser apps, you can also find Opera, Aloha, Turbo VPN, Dolphin and Yandex Browser. Most of these browser focus on privacy feature by offering ad blocking and content trackers blocking. If you choose to sync browsing activities using personal account login then we recommend you to try popular browsers to safeguard your data.