China is the number 1 country in technological world. No wonder, Chinese smartphones dominate the entire world due to the fact that they have excellent performance at a fairly low cost. In their functions, they can compete with flagships like Samsung Galaxy series and iPhone. You probably already heard about such brands as Huawei, Xiaomi and OnePlus. The problem with many Chinese phones is that they are not always available for purchase outside of China. In order to buy a Chinese phone, you must order it directly from Chinese store or buy from a reseller in you area.
Top 11 Chinese Smartphones
Here are the top 10 Chinese smartphones you can try.
1. Huawei P30 Pro
P30 Pro is the latest model from the Huawei P series integrated with three cameras. It has partnership with the German camera manufacturer Leica to have Leica Quad Camera System. P 30 has a 40MP camera, 20MP angle lens and a Huawei Time-of-Flight camera. The company guarantees that the phone's camera can see the colors even in extreme dark more suitable for photographers. With such a complex of cameras, Huawei P allows you to make excellent pictures under any conditions. The smartphone comes with maximum capacity of 7NM processor, 512GB of storage and 8GB RAM. It has advanced features like reverse charging of another phone, powerful AR toolkit and share with Huawei MateBook.
At the same time, the smartphone is much more expensive than its competitors, which can be attributed to shortcomings. Huawei products have already established themselves throughout the world and are distributed in all countries of Europe and the USA. The smartphone is sold with a pre-installed EMUI 9.1 (modified Android version) with a battery capacity of 4200mAh.
2. OnePlus 7 Pro
OnePlus 7 Pro is the latest top-end smartphone sold all over the world. Many do not even know that a Chinese company produces it. This smartphone price starts from $669 in United States store. The price is worth for the design, performance, and quality of OnePlus 7 Pro. It also comes with triple camera technology similar to Huawei P30 Pro and Elephone U2. In many ways, OnePlus 7 Pro is ahead of the flagship Samsung Galaxy series and the iPhone X. It comes with high-resolution screen with 90Hz refresh rate and whooping 48MP camera. Most impressive is the performance of the OnePlus 7 Pro smartphone with a Snapdragon 855 processor, 12GB RAM, up to 256GB storage and OxygenOS.
3. Huawei Honor View20
Honor is a sub-brand of the parent company Huawei. Honor View20 is a fantastic smartphone, whose price is cheaper than many of its competitor. Nevertheless, for around $ 460 you get an excellent 48MP camera, stylish design, a fast fingerprint sensor and a quality display. You can get full screen view, 128GB ROM and 6GB RAM with EMUI 8 OS based on Android 8.0. All this makes Honor View10 a worthy competitor to the OnePlus smartphone models. Unfortunately, you may not get View20 models in many countries like United States. You may need to order from a Chinese store or find other way of buying through authorized resellers.
4. Xiaomi Mi 9T (Redmi K20)
Xiaomi Mi 9T is the latest smartphone from the flagship company Xiaomi. It comes with powerful 48MP triple camera with holographic 3D burning effect. It also has a separate 20MP pop-up camera dedicated for taking selfies. The phone is suitable for playing games and comes with Android Pie (MIUI 10). It has a full screen display and 4000mAh battery.
5. Elephone U2
Elephone is a Shenzhen based Chinese company that produces different series of smartphone models. Elephone U2 is the latest and most advanced model that you can buy. It has similar features like iPhone X with full screen display and narrow body design. It comes with the latest Android OS and a pop-up camera with triple camera technology. It also offers stunning color display, cool for your eyes. This is one of the best Chinese smartphones that you can order right now.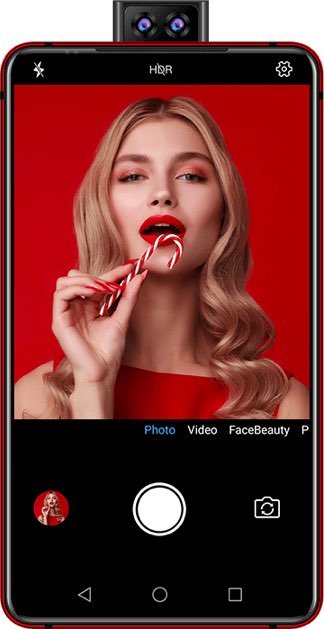 6. OnePlus 6T
OnePlus 6T will cost your around $469 to get high-speed smartphone. It comes with specifications similar to any other popular smartphone that you will buy for $1000+. You can get a Snapdragon 845 processor, up to 256GB storage and up to 8GB RAM. The battery is powerful with 3700 mAh capacity and OxygenOS powered by Android Pie.
7. Xiaomi Mi Mix 3
Mi Mix 3 is one of the 5G network smartphones available in the market. If you want a large smartphone, but do not want to pay a lot of money for it – pay attention to Xiaomi Mi Mix 3. It has 24MP + 2MP front camera and 12MP + 12MP rear camera. The smartphones uses AI technology to capture scene detection for taking high quality pictures. This has very interesting options with a large display, high performance, good battery and number of other advantages. In the wide line of phones of the popular Chinese manufacturer, this device occupies one of the top places.
8. ASUS ZenFone 6
ASUS ZenFone 6 was recognized as one of the best smartphones in terms of specifications. It comes with premium features like 48MP Sony camera, all-screen NanoEdge display and supports Near-field Communication (NFC). It has a monster 5000mAh battery that supports almost 2 days of non-stop use. This eliminates the need of carrying your charger or power bank everywhere.
9. Elephone P11 3D
You will be impressed with the smartphone Elephone P11 3D with advanced features. It comes with glass free 3D experience and full screen. This is most suitable smartphone, if you are movie lover. You can either choose dual SIM or additional memory card up to 512GB. It comes with Android system and nice price tag of less than $200. The system works quickly, the battery holds the charge for a long time, and many functions allow you to customize everything for yourself. There is even a function of fast wireless charging and fingerprint scanner with 0.1 second unlock speed and facial retouch for taking selfie.
10. Ulefone Armor 6E
Armor 6E is a rugged phone that withstand rough handling conditions. It comes with mega 5000mAh battery and wireless charger feature. The phone looks like an army phone model that really meets military conditions like shock and temperature extremes. It holds a drop from 1.2M and drop inside 2 meter deep water. Check out this model, if you are looking for a rough and tough and having different design from others.
11. Meizu 16 Xs
Meizu 16 Xs is another smartphone model you can try other than Huawei, Xiaomi and OnePlus. It has similar specifications like other phones having 48MP triple lens camera, infinite full screen display and 4000mAh battery. You will also have a separate 16MP front facing selfie camera with AI technology to capture quality selfies. It comes with Flyme OS based on Android and has a built-in One Mind 3.0 engine that supports smooth gaming experience.
Conclusion
Important thing you need to check is the availability of the models in your country and area. If you are not able to get above listed Chinese smartphone models, checkout the available models in your area. There are also many other popular models available from Xiaomi and Huawei for cheaper price. We recommend you to go with other models instead of trying to buy in the gray market.