Using Mac will be difficult at the beginning especially when you just switched from Windows to Mac. However, it will become fun when you know how to use it effectively. The most important part of using the macOS is to understand the keyboard shortcuts to quickly access apps and functions. We have explained the complete list of macOS keyboard shortcuts in our earlier article. However, you can remember the following top 10 shortcuts to get more out of your Mac.
Top 10 Keyboard Shortcuts for Mac
1. Command + Space (Spotlight Search)
It's obvious that you can't remember all the files and folders on your Mac. As a new user, you may be clicking on the lens icon on the top Apple menu bar to open the Spotlight Search. Next time whenever you want to search a file or folder, press "Command + Spacebar" keys to open Spotlight Search box.
There could be situations you have multiple files or folders with the same name under different folders. Simply click on the file and press command key to show the full file path on the bottom. Now, hold the command key and double click on the file if you want to open it in Finder.
2. Control + Command + Space (Emoji Keyboard)
Emoji are everywhere 😀. You can use these pictorial symbols on any apps like Facebook, Twitter and WhatsApp using the built-in keyboard in Mac. Press, "Control + Command + Space" to open the Character Viewer app. Here you can find all Unicode emoji that you can easily search and insert.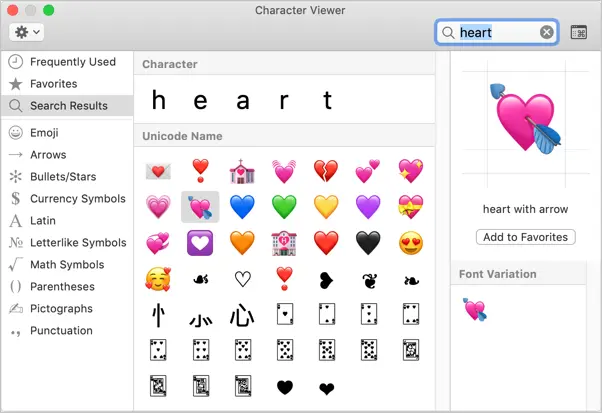 You can also use alternate shortcuts like "Fn + E" keys or Globe key (if your keyboard has it) to open Character Viewer in Mac.
3. Command + , (Preferences or Settings)
Each app in Mac has preferences section to customize the settings. You can press "Command + ," keys to open the preferences section of an app quickly. Mac also has its own preferences section similar to Windows Control Panel. You can access Mac preferences by going to "Apple Menu > System Preferences…" menu.
If you are using macOS Ventura or later, then you will see System Settings in Apple menu and Settings in app's menu instead of System Preferences and Settings.
4. Command + Shift + 5 (Screenshot App)
There are good screenshot apps for Mac like Snagit. However, you can use the default Screenshot app to capture the screens. Press, "Command + Shift + 5" shortcut keys to open the "Shortcut" app. This will give you lots of options to capture entire screen, selected potion or the window. You can also use the app for record your screen and share on social media.
5. Control + Power (Shutdown or Restart Prompt)
Many Mac users miss the shutdown menu that appears on Windows when pressing "Control + Alt + Delete" keys. You can get similar shutdown menu in Mac by using the "Control + Power" shortcut keys. This will show you a prompt like below offering restart, sleep and shutdown functions.
Note, you can use "Control + Command + Power" keys to force restart your Mac without asking. Use this option after saving all your current work to avoid data loss.
6. Command + F3 or Mission Control (Show Desktop)
Unlike Windows, you don't need to go to the desktop for many times to open items. However, if you have lots of shortcuts or items on the desktop then you have a quick shortcut to reach your desktop. Use, Command + F3" button to view the desktop. From there you can click and open the items or again press "Command + F3" to go back to your previously working application. Remember, the F3 button on Mac is a Mission Control which will show you all desktops and apps on the active desktop.
In addition to "Command + F3" shortcut, you can also setup hot corners in Mac to view the desktop similar to Windows PC.
7. Option + Command + D (Show or Hide Dock)
Did you ever feel that the dock on your Mac is disturbing your work? It's quite easy to toggle the display by using "Option + Command + D" shortcut keys. You can show or hide the dock when you need with the same keys.
8. Option + Command + Esc (Force Quit)
Stuck with frozen applications on Mac? Simply press "Option + Command + Esc" keys to open the "Force Quit Applications" dialog box. You can select the app and click on "Force Quit" button to close the unresponsive apps.
9. Command + 1 to 4 (Change View in Finder)
Finder allows you to view the items in different views. You can manually select the views from the toolbar to quickly view the files and folders. However, you can also use the keyboard shortcuts "Command + 1 to 4" to toggle the views.
Command + 1 – Show items as icons view
Command + 2 – Show items as list view
Command + 3 – Show items in column view
Command + 4 – Show items in gallery view
For example, you can press "Command + 4" to change to gallery view to quickly view the images as a gallery.
10. Control + Command + Q (Lock Screen)
If you are familiar with Win + L shortcut in Windows PC, then this will help you with Mac. Press, "Control + Command + Q" shortcut keys to immediately lock the Mac without any prompt. You need to enter the password or use Touch ID to unlock and login again. In addition, you can use "Shift + Command + Q" keys to logout of your Mac with a prompt.
Conclusion
Mac has hundreds of keyboard shortcuts and you can also setup custom keyboard shortcuts for apps. However, the above listed top 10 keyboard shortcuts for Mac are much useful for your daily work. Leave your shortcut in the comment section, if you have any other shortcut that you use frequently.