All of us have a habit of saving webpage URLs for future use in browsers. It is important that these favorites are protected even if you are switching browsers. Microsoft Edge and Mozilla Firefox are top ranked internet browsers, as they are well known for their performance, features and security. So you may be interested in moving out of Edge and using Firefox as your browser. In such scenario, it is necessary to export all the saved URLs from Edge and import in Firefox to continuity your browsing smoothly. Microsoft Edge refers the saved website links as "Favorites" whereas Mozilla Firefox name them as "Bookmarks".
Related: Import favorites from Edge to Chrome.
There are two ways of import favorites from Microsoft Edge to Firefox. One is the have both of these browsers on the same computer. The second is when you have two different computers and try to merge the bookmarks in Firefox.
Import Directly from Edge to Firefox
All modern browsers offer built-in importing function to grab the stored content from other browsers installed on the same computer. Follow the below instructions to import favorites in Firefox.
Open Mozilla Firefox browser and go to "Bookmarks > Show All Bookmarks" menu. Alternatively you can also press "Ctrl + Shift + B" in Windows 10 and "Cmd + Shift + B" in macOS to open bookmarks library.
This will open Firefox bookmarks library as shown below. Next, choose "Import and Backup" tab present at the top bar and select "Import Data from Another Browser" option.
The Import Vizard will open shortly and you can select Microsoft Edge browser to import Bookmark, Passwords, History or other required data.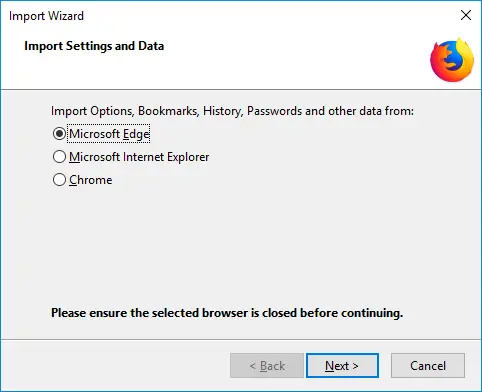 To start with the procedure, click on the Next button and select the "Bookmarks" checkbox for importing.
After that, Firefox will show you import complete message like below. All your Favorites will be automatically imported from Edge to Firefox.
Related: Import bookmarks from Chrome to Firefox.
Using HTML Import Method
The above method will work seamlessly if you are having both Microsoft Edge and Firefox browsers installed on the same computer. In case of migrating to different computers or moving from Windows to Mac, then you need to first export favorites from Edge as HTML file and then import in to Mozilla Firefox.
Export Favorites from Microsoft Edge
Open Microsoft Edge and access settings from the right most corner of your screen. You can also press "Alt + X" keys to open the menu in Edge and then click on "Settings" option.
Click on "Import from another browser" button under "Import favorites and other info" section.
On the next screen, click on the "Export to file" option and choose the place to save your favorites file.
Note this will be a HTML file you can use to import the favorites data on any modern browsers. We also recommend saving the file in removable USB or cloud storage so that it will be easy to use on different computers.
Related: Manage favorites in Microsoft Edge.
Importing in Firefox
After saving HTML favorites, open Firefox and go to import wizard as explained above. Select "Import bookmarks from HTML…" and choose the HTML favorites file you have downloaded from Edge. Complete the wizard steps and you will see all Edges favorites are now available in Firefox.
Conclusion
Although every internet user has their own browser functionality requirements and considerations, importing or exporting bookmarks, passwords, and history or saved data is certainly not a difficult task anymore. By following any of the methods explained in this article, you can simply import favorites from Edge to Firefox without any inconvenience.