Users always concern about the internet speed promised by the service provider is much lower than what they can use on their computers. There are multiple factors affect internet speed starting from the cables you use to the physical location of modem/router. However, there is a term called "Link Speed" in Windows computers which many users confuse with the internet speed. In this article, we will explain what link speed is and how it is different from internet speed.
Link Speed and Internet Speed – Definition
Link speed is a maximum theoretical speed of wireless data transmission between your device and the router. It depends on the router's capacity, distance between the device and router, number of connected devices, etc. This data communication happens on the physical layer.
Internet or browsing speed is the amount of data transferred when you browse or download files from the web. This data communication happens on the application layer.
Mbps Link Speed Vs MBps Internet Speeds
Windows shows the link speed like 72/72 Mbps indicating the speed of sending/receiving data communication. You can also find single value like 72 Mbps indicating the link rate. The Mbps here is Megabits per second. Some internet service providers mention the speed in MBps. You can also see the file transfer rate in MBps when downloading a file. The MBps here indicates Megabytes per second.
Do not confuse Mbps and MBps. If your ISP provide internet speed in MBps, make sure to convert it into Mbps as the link speed you see in Windows is in Mbps. Since 1 byte = 8 bits, all what you need is to multiple by 8 to convert MBps to Mbps. So, if you see 5 MBps as file transfer rate, it is equal to 40 Mpbs.
Comparing Link and Internet Speed in Real-Time
You can find the link speed from your network connection properties in Windows computer. For example, it shows as 866/866 Mbps as shown below.
Let's head on to speedtest.net website to find the real-time download and upload internet file transfer speed. The result shows 34.02/27.23 Mbps for downloading/uploading. Since speedtest.net site shows speed in Mbps, there is no need to convert this again.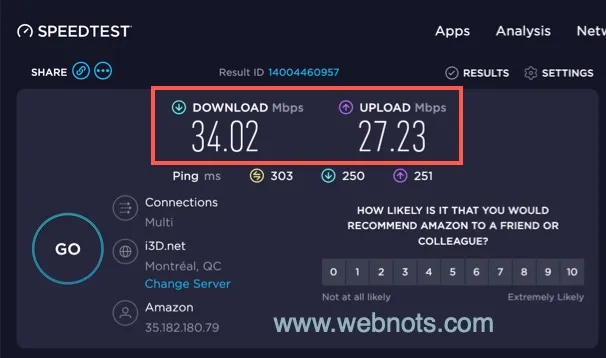 As you can see, the real-time internet speed is much lower than actual link speed.
Why is Internet Speed Slower Compared to Link Speed?
First, it is not correct to compare link speed and internet speed as they are two different things. However, link speed helps to understand the maximum speed you can use on the devices regardless of offered ISP speed. For example, your link speed is 72 Mbps and you confirmed with your ISP that they offer 1 GBps internet speed. In this case, you can get the maximum speed of 72 Mbps as the router will not support higher speed.
Next, link speed is the measurement in physical layer which does not consider any other factors. However, there are many overhead technical information transferred in real-time internet connection causing slow speed compared to link speed. It is common to have internet speed 4 or 5 times lower than the link speed.
Finally, the download or transfer rate also need a fast web server which means the website should use a quality hosting server.
How to Improve Link/Internet Speed?
Here are some of the factors you can try to improve the overall connection speed:
Use proper hardware devices like replacing your router with higher link speed and using quality cables.
Keep the devices nearby your router without barriers.
Use public DNS so that host name resolving process works faster.
Contact your ISP and discuss about the slow connection.
If you find a specific site or app is slower, then it could be due to the hosting server at their site. In this case, having faster connection at your end will not help. The only thing you can do is to inform the site owner about the slowness.
Final Words
Slow internet connection is one of the headaches for many users as it can affect routine online works. Windows computers show a link speed which many users confuse with the internet speed. These two are completely different factors though link speed can directly affect the internet speed. We hope this article provided you an overall idea of link and internet speeds and how to improve them in your device.