Microsoft guys renamed the iconic Office apps to Microsoft 365 apps. The bundled app icon for Office is also changed along with the new interface. In the earlier article, I have explained how to access these Microsoft 365 apps using free online editor. That is pretty cool since you can use any browser to access the content online. However, if you are using Edge as your default browser then you can access all your Office documents within Edge browser from OneDrive. It is also possible to create and edit documents online without the desktop apps installed on your computer.
Note: Free online editor comes with limited functions and 5GB OneDrive space. You may miss functionalities in the editor as a free user. You can use this from Edge to quickly edit the documents. However, I personally recommend having a Microsoft 365 subscription and desktop apps for better utilization along with online editing option. 
Microsoft Edge Sidebar
The sidebar option in Edge allows you to keep handy tools in the browser's sidebar so that you can easily access them when needed. It seems Microsoft is also planning to add the new Bing AI chat to the Edge sidebar making it as an unavoidable tool to enable when using Edge. You can add Microsoft 365 apps to the Edge sidebar and access them quickly from a dashboard.
Enable Sidebar in Edge
By default, sidebar is disabled in Edge, and you can enable it from the settings.
Launch Edge and press "Alt + F" keys (Option + F in Mac) to open the menu list. Alternatively, click on the three dots icon showing on top right corner of the Edge app.
Select "Settings" from the long list of menu items.
This will open Edge settings and go to "Sidebar" option. Turn on "Show sidebar" option to see the sidebar appears on the right side of the browser.
Enable Microsoft 365 Apps in Edge Sidebar
After enabling the sidebar, click on the "Customize sidebar" button and you will see a list of apps under "Manage" section. Make sure "Microsoft 365" option is enabled to start using the Office documents within Edge.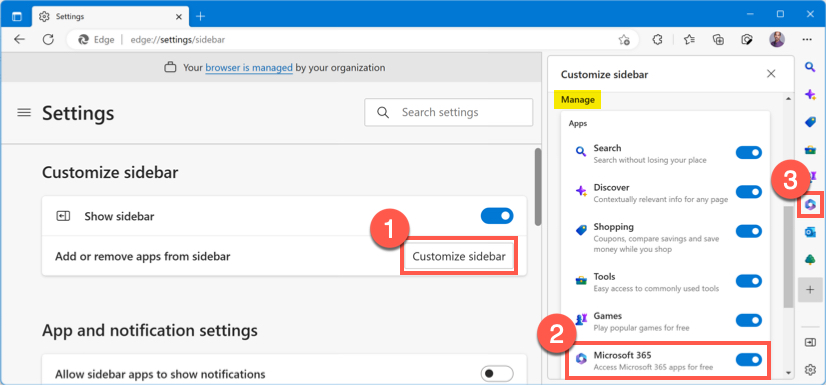 Accessing Office Documents in Edge
Click the Microsoft 365 icon showing in the Edge sidebar. It will show two sections – Apps and Recent.
Apps – here you can find all Office apps like Word, Excel, PowerPoint, Outlook, Teams, etc. Select Home to view overall dashboard or click any app to open the app's online dashboard. From there you can either create a new document or open your recent documents from OneDrive. As mentioned, Edge will use the online editor to view and edit documents though you have desktop apps installed.
Recent – under this section, you will find all synced Word, Excel, and PowerPoint files. You can select the App name to filter relevant documents and click any document to open it using the online editor. Online editor with premium subscription will have cool templates to change your document's appearance completely.
Final Words
Using Office apps in Microsoft Edge is useful to quickly access your recent documents from the dashboard. Edge will load office.com or microsoft365.com dashboard and login automatically if you are already logged into browser. You can edit or create document using online editor and then download the file to your computer if required.