Live Caption allows you to dynamically convert audio inputs to text and shows on the display. Though it is similar to subtitles you see on YouTube videos, Live Caption works independently when you play any media file with audio. You can use Live Caption to read the transcript when it is difficult to follow the video content. In this article, I will explain how to enable Live Caption in Google Chrome and its features.
Live Caption in Chrome
Here are the things you need to understand before using Live Caption in Chrome:
Both Mac and Windows operating systems have their own Live Caption settings. However, enabling the feature in Chrome will work independently. This essentially means, you should use one option at a time.
The function ONLY works in USA English and you need to download a speech recognition file for that.
Since the conversion file is downloaded to your computer, no data is sent to Google and it works offline without internet connection also.
Enable Live Caption in Google Chrome
By default, Live Caption is disabled in Chrome and follow the below steps to enable it. You can use the same steps in both Chrome Windows and macOS desktop versions:
Launch Chrome and go to "chrome://settings/" command URL. Alternatively, click on the vertical three dots icon (that says, "Customize and control Google Chrome") showing on top right corner and select "Settings" option.
Scroll down and select "Accessibility" option from the left sidebar.
On the right side, turn on the switch against "Live Caption" under "Accessibility" heading.
This will download speech recognition file and show "Speech file downloaded" below "Live Caption" heading.
Using Live Caption in Chrome
Now that you have enable the option, you can test it by opening any audio content. Let me open a YouTube video to show how it works.
When the audio plays, you will see a box appearing on the bottom of the display showing the live transcript.
You can drag and move the Live Caption box anywhere on the screen as per your convenient. Click the small arrow showing below the text to expand or reduce the box size.
The box will continue to show when switch tabs in Chrome or even when you minimize the browser.
Anytime you can click the "Back to tab" icon on the Live Caption box to go back to the Chrome tab that plays the audio.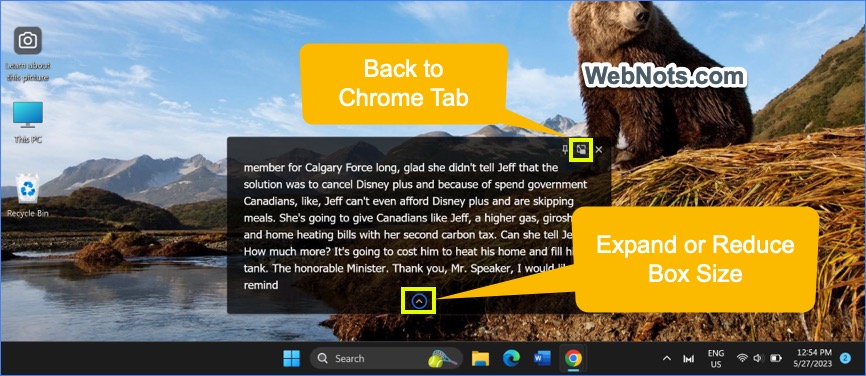 Unfortunately, there are no keyboard shortcuts to toggle the feature on or off in Chrome. However, you have a shortcut by clicking the media control icon (that says, "Control your music, videos and more") in the address bar and turn on Live Caption when the media plays.
Customizing Appearance of Live Caption in Chrome
You can't change the default appearance of how the Live Caption looks in Chrome. However, some websites may use the styles you set in Live Captions in Windows or Captions in macOS. When you are in Chrome Accessibility settings page, click the "Caption preferences" option. This will take you to Settings app in Windows or Mac where you can set the custom styles for Live Captions by adjusting font and background.
As far as I have checked, no sites use this custom OS level setup inside Chrome.
Caption Vs Live Caption
Remember that caption or subtitle is shown on the videos only when it is added by the author. YouTube, Facebook and many other platforms shows subtitles and have an option to enable or disable them. You can click the gear icon showing on the video overlay and turn the subtitles on or off. Live Caption in Chrome is different than these subtitles and work with any English video you play in the tab. You will see a separate floating box appears showing text transcript when the feature is enabled. This means, you have three options to use captions on your computer:
OS level setting (you need to turn it on from system settings)
Subtitles on videos when available (turn on or off on the video settings)
Live Caption in Chrome (toggle it from Chrome)
Since YouTube and Facebook shows subtitles by default, you may need to disable them when using Chrome Live Caption option.
Note that Chrome does not offer Live Caption on mobile apps. In this case, you should use video subtitles if available or enable the feature in iOS or Android settings.
Final Words
Compared to Windows 11 and macOS, Live Caption works very well with Google Chrome. The transcriptions are real-time without any slowness and show correct punctuations. The only problem is that you should open offline audio/video files in Chrome, but it is worth to try.