Data breach has become more common even with big technology and internet companies. The only option for users is to have a strong password and change it frequently. This will help to protect your online accounts and safeguard the data. Earlier you have to get the data breach information and then change the password for that accordingly. However, nowadays browsers become smart and you can verify whether your passwords are leaked in data breach right within the browser. In this article, we will explain how to check your passwords leaked in breach with Chrome browser.
Password Security in Chrome Password Manager
Google Chrome offers a strong password manager to save all your login passwords and keep them safe. You can login to your Google account and synchronize the passwords across all your devices. The latest Chrome version offers an option in the password manager to check whether your passwords are compromised in any previous data leaks.
You can find the weak passwords and change them with strong passwords.
Chrome will send a notification when detecting a leaked password in your stored passwords.
Chrome will check the combination of username and password is leaked in any data breach and show the warning in the browser's passwords section.
Google will not view your saved passwords from Chrome browser.
Prerequisites for Checking Password Leak in Chrome
In order to check password leak features in Chrome, you should enable the following settings:
Login to Google account – you must log into your Google account to get the details of compromised passwords in data breaches. This will not be available if you are using the browser without logging in. however, you can still get the weak passwords details even without logging in to your account.
Offer to save password – this enables Chrome to ask whether to save your passwords in the in-built password manager.
Safe browsing – you should enable safe browsing to see a warning for the passwords leaked in a data breach.
Getting notifications – you must be signed in to get notifications for password leak. Otherwise, you can see the details in Chrome.
Enable Safe Browsing in Chrome
Follow the below instructions to enable Safe Browsing option in Google Chrome:
Launch Google Chrome and click on the three vertical dots icon showing on top right corner of the browser. Select "Settings" option from the menu that appears.
Go to "Privacy and security" section and enable "Enhanced protection" option under "Safe Browsing" section.
You can click on the "Enhanced protection" option to view it offers highest security level for you browsing activities and warns you if passwords are exposed in a data breach.
Check Password Leak in Chrome
When you are in Chrome settings page, go to "AutoFill" section and click on "Passwords" option.
This will open Chrome password manager where you can see all your stored passwords along with website URLs and usernames. You will find few other options on the page and make sure the first option "Offer to save passwords" is enabled. This is the option allows Chrome to save your passwords and disabling this will stop Chrome from prompting you to save password in Chrome. However, all previously saved passwords will be retained and you can continue to use even after disabling this option.
Click on the "Check passwords" option that says, "Keep your passwords safe from data breaches and other security issues".
Here, you will see a list of compromised and weak passwords that you have stored in Chrome. As mentioned, you should sync your Chrome passwords with Google account to view the "Compromised passwords" details.
Changing Compromised and Weak Passwords
For each compromised or weak password, you can find couple of options to update the password.
Update Password on Website
The easy way is to click on the "Change password" button showing against the compromised item in Chrome. It will open the site in a new tab where you can login and change your password.
When you change the password, Chrome will prompt you to update the stored password. Click on the "Update Password" button to replace the old password with your new password in Chrome password manager. Remember this works only if you have enabled "Offer to save passwords" setting.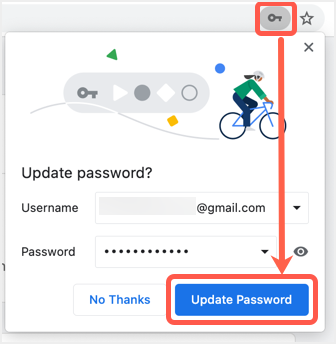 Edit Password Directly in Chrome
If you have already changed your password in another device or in another browser, you can directly edit the password in Chrome. You can find a three vertical dots icon for each item in the compromised password section. Click on that icon and you will find options for show, edit and remove password.
Click on the "Edit password" option and provide your new password in the pop-up. Save your changes to update the saved password with a new password in Chrome.
After updating your passwords, you can click the "Check again" button to recheck and get the updated detail. Sometimes, Chrome will also show you a link "Already changed this password?" which you can click and update your password.
Points to Note:
Unlike Microsoft Edge, Chrome will not suggest a strong password. Therefore, we recommend using a strong password generator tool to create your passwords first. We have a free online password generator tool that you can use for this purpose to generate a complex password with up to 50 characters length.
For editing or viewing passwords in Chrome, you need to provide the administrator password of your computer. Chrome will prompt to enter admin password multiple times for safety reasons.
Anyone having your computer's admin password can view and export all passwords stored in Chrome. Therefore, avoid using common or public computers to store your passwords.