Things move with the speed of light in this digital world. Notifications in your smartphones help you to keep up to date on the happenings. However, you have to be careful with the screen time to keep the focus on your work and health. Frequently looking at the phone's screen and picking for unnecessary notifications can easily disturb your focus. That is why it is crucial to managing notifications in smartphones. In our earlier article, we have explained hiding notifications in iPhone and in this article, we will explain various notification features come with the default Android operating system.
Why to Stop Phone Notifications?
You get notifications for almost everything like receiving a message, breaking news from your news app, from your financial apps, etc. Though some information is important to know immediately, most notifications are annoying. Below are some of the examples why you should manage your notifications effectively.
Your phone maybe running out of power and receiving hundreds of notifications can drain the battery.
Some notifications come when it is your rest time. For example, receiving many WhatsApp group chat notifications at nighttime will spoil your sleep.  
Anyone can view the notifications on your lock screen that could affect your privacy.
If you do not control the notification, you may get lost with unnecessary notifications while missing the important ones.
Manage Notifications in Android
Android 12 provides outstanding features to manage all your notification settings in one place. It gives a whole new menu in the 'Settings > Notifications' for the management of notifications. Let's go through each of them and explore in detail.
App Settings – Manage App Notifications
As mentioned, you should disable notifications from most of the games and entertainment apps to avoid distractions. Tap on 'App settings' to display the list of the apps installed on your phone.
If you want to turn on or off the notification specifically for that app, move the slider to your desired position. When there are too many apps on your phone, use the search to find the desired app by tapping a search icon up in the corner.
If you want to change notification permissions for the system apps, press the three dots line and press 'Show system.' Now, the updated list will display all the apps, including system apps.
Once you are done with setting app notifications, press the back arrow to go back to the main 'Notifications' menu.
Related: How to manage notifications in Windows computer?
Viewing Notification History
Sometimes is necessary to view all notification history to understand the context.
Tap 'Notification history' to open its menu. If "Use notification history" option is off, you can turn it on by touching the button in front of it.
The 'Notification history' presents all your recent and snoozed notifications.
Managing Conversations
Go back to the main 'Notifications' menu and tap on "Conversations" option. This will show you two sections – 'non-priority conversations' and 'Recent conversations.' Tap the conversation you want to set the priority for. You can set various settings like 'Lock screen' and 'Show notification dot' etc.
It is also possible to delete all your recent conversation history from this section.
Bubble Notifications
The "Bubbles" menu will allow you to either enable or disable floating icons for conversations. If you 'Allow apps to show bubbles,' some conversations will appear as floating icons on top of other apps.
Related: How to manage notifications in macOS?
Managing Device and App Notifications
'Device & app notifications' menu will give you the option to control which apps and devices can read notifications. Tap it to see the list of 'Allowed' and 'Not allowed' apps. Find an app in the' Not allowed' list and tap on it if you want to grant access to reading notifications. It will display another page where you can enable access to this app. When you give access to read notifications, the app will read all notifications, including personal information such as contact names and text messages you receive. The app can dismiss the notifications, act on buttons, answer calls, and turn on or off the 'Do Not Disturb.' So, give such access carefully.
Similarly, if you want to take back the access to read notifications from an app, find it in the 'Allowed' list. Tap it and turn the access off.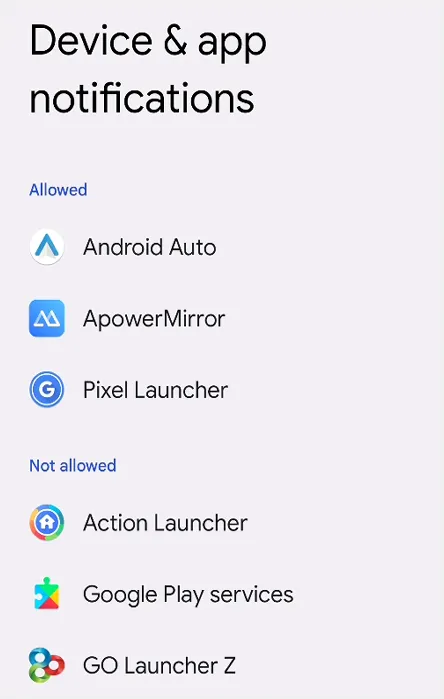 Notifications on Lock Screen
This menu lets you choose from the following three options.
'Show conversations, default, and silent.'
'Hide silent conversations and notifications.
Don't show any notifications.
You can only choose one from the above list.
Managing Sensitive Notifications
This is a critical setting from privacy perspective. If you turn it on, your Android phone will display sensitive content when locked. It means, as soon as you receive the message, it will display on the mobile phone screen even if it is locked. This can affect your privacy and security when you left the phone on the table for a while. Anybody can get a glimpse of the messages because they will display on the screen for a moment.
Do Not Disturb Mode
It is an essential menu to get notified only by your favorite people and apps. Turn it on by tapping on the blue button with the label 'Turn on now.'
'People' menu will let you choose the list of people who can interrupt in do not mode. Go to this menu and tap 'Conversations' to display a page with three radio buttons.

All conversation: There is a 'settings' button in front of it. You can check the settings as well.
Priority conversations: You can select it if you want. Settings buttons allow you to change the settings.
None: Choose it if you don't want any conversation to interrupt you.

'Calls' menu lets you choose who can make calls and interrupt. There are the following options.

Starred contacts: You can let contacts that have been starred in the contact list interrupt you.
Contacts: You can allow all the contacts stored in your phone to interrupt you.
Anyone: You can allow everybody to call you and interrupt. It includes even the callers who are into your phone contact number.
None: It means no one can make a call or interrupt.
Allow repeat callers: It is a switch that you can turn on or off. If you turn it on, the person who calls you within 15 minutes of the first call can make you a second call.

'Messages' menu controls who can interrupt with messages. Its settings are the same as the options given for the 'Calls.'
Go back to the main 'Do Not Disturb' menu.
You have 'Apps' and 'Alarm & other interruptions' menus assist to set the apps and alarms which can interrupt. Tap it, and the next page will display the slide button to turn on or off the corresponding interruptions.
The 'Schedules' menu keeps track of your activities like set your 'Sleeping' schedule. You can go to settings and write the days, start time, and end times, etc. You can also do that for 'Event' or 'Driving' and add more events of your own if required.
'Duration for Quick Settings' is a quick menu to apply the setting only for a specific time. You can set it to 'Until you turn off' or set the number of hours. You have the option of 'Ask every time.'
The last option in the list is 'Display options for hidden notifications.' This menu displays the following options with a radio button.

No sound from notifications: You will see a notification on your screen.
No visuals or sound from notifications: You won't see or hear notifications.
Custom: You can set your own preferences by hitting the settings button.
Below are few other settings that you can use:
'Wireless emergency alert' menu gives the flexibility to turn on or off alerts in case of 'Extreme threats,' 'Severe threats' and others.
Using 'Hide silent notifications in the status bar' option, you can turn it on or off as per your preference.
'Allow notification snoozing' menu is to turn on or off snoozing capability.
'Notification dot on app icon' is to have a dot on the app icon if there is a notification from that app.
'Enhanced notifications' enables or disables advanced notifications settings like suggested actions, replies, etc.
Final Words
As you can see, notifications in Android phone has large number of customizations to setup based on your need. We recommend using these settings to mute unnecessary apps and distractions. In addition, you can use the timely settings like do not disturb or duration for quick settings to make the most out when needed.