There are text processing apps like Microsoft Word offers extensive features for preparing your content. However, sometimes you may need to use the browser for typing online. It could be for taking notes or preparing your blog post online for publishing. At any case, it is necessary to check your content for spelling and grammar so that it is free from errors. If you are using Microsoft Edge browser for typing online, here is how to enable grammar and spelling checker in Edge.
Using Microsoft Editor and Spell Checker
If you are using apps part of Microsoft 365 subscription, you might have noticed Editor is part of these apps. Microsoft replaced the traditional spelling and grammar checker option with Editor tool. This is a JavaScript based tool powered by AI offers comprehensive features to write error free content. Though Editor is a premium app part of Microsoft 365 subscription, you can use the basic version with Edge for checking spelling and grammar errors. This basic version is available for free and you can enable it in Edge from settings page or use Editor add-on. In addition, you can also use default spell checker as part of the browser in Edge without using Editor.
We will explain all the three options in the following sections. For understanding purpose, we will use an online text editor to show how Edge highlights errors. Below is how it looks with Edge does hot highlight any errors when the spelling checker is disabled in the browser.
1. Enable Basic Spelling Checker in Edge
Follow the below instructions to enable spelling checker in Edge:
Open Edge and click on the three dots "Settings and more" icon on top right corner.
Select "Settings" from the menu list to go to Edge settings page.
Click on "Languages" option and enable the switch against "Use writing assistance" heading.
Now, select "Basic" option and expand the languages showing "Writing assistance languages" heading.
Turn on "Basic spell check" switch for each language to enable spelling and grammar checker in Edge.
After enabling basic spell checker, you can see Edge will highlight spelling and grammar errors in the typed content.

Right-click on any error and select the suggestion from the menu to correct your mistake.
2. Enable Editor from Edge Settings
Though the "Basic" option is useful to correct spelling mistakes, it does not check grammar errors in the text. So, instead of using the basic spell checker, you can enable Editor from the same Edge settings page.
When you are Edge Languages settings page, enable "Use writing assistance" option.
Select "Microsoft Editor" option and turn on "Use synonyms for spelling suggestions" switch.
Expand each language under "Writing assistance languages" heading and enable "Enhanced spell check" and "Grammar" options.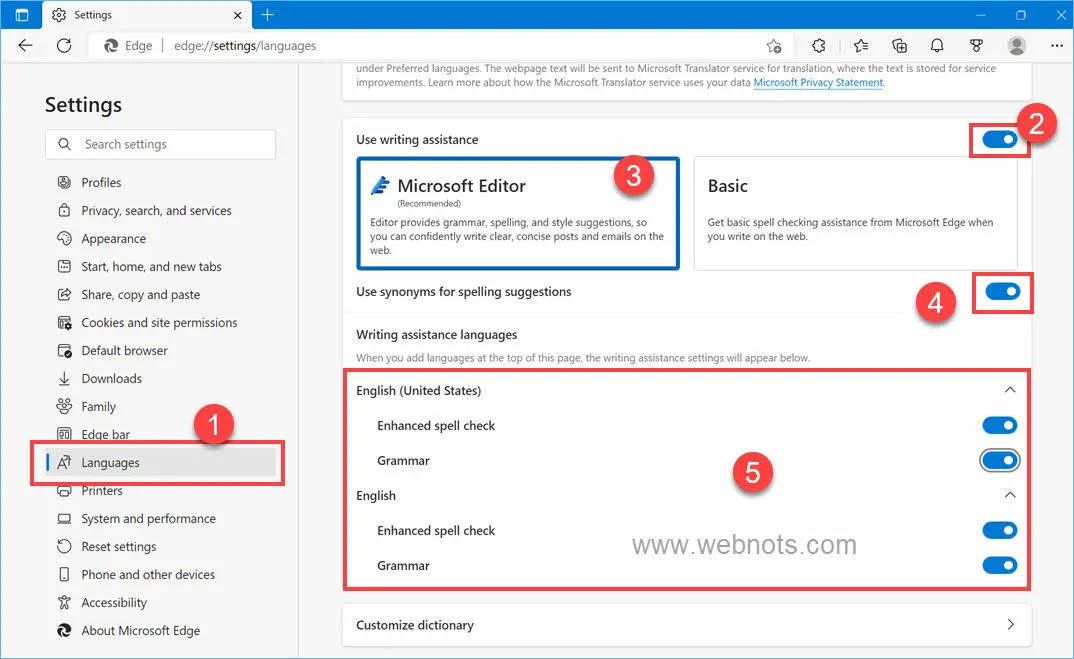 Now, Edge will automatically detect and show both spelling and grammar errors in your text similar to Microsoft Word. You can find the grammar errors with blue underline while spelling errors are shown with red underline. Simply click on the word with underline and choose the correction from the suggested word(s).

Since, Microsoft Editor is a free option you can use this in Edge instead of basic spell checker or installing add-on. Learn more on how to use Microsoft Editor in Word to create beautiful content.
Note: Both basic and Microsoft Editor option also allows you to add custom words in the dictionary to ignore those words from checking. You can do this by clicking on "Customize dictionary" option in the Edge settings page.
3. Using Microsoft Editor Add-on in Edge
This is a preferred option when you have a Microsoft 365 subscription and use Edge extensively for typing. For example, you can make use of this add-on when you need to prepare articles online for your school or personal blog.
Open and Edge and first disable the "Use writing assistance" option under "Languages" section as explained above. This helps to use the Editor extension without conflicting with the browser settings.
Type edge://extensions in the address bar and press enter. This will go to Edge extensions management settings page.
Click on "Get extensions for Microsoft Edge" link or the button.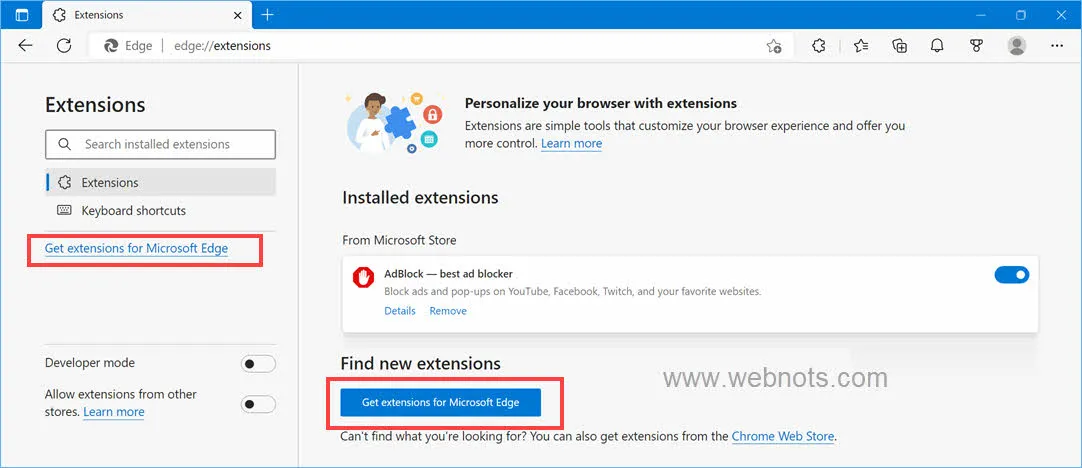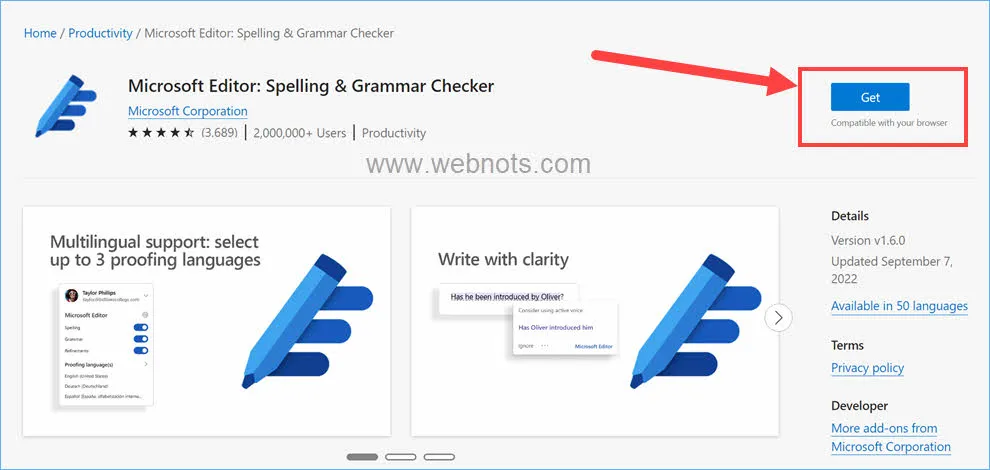 Click on "Get" button and confirm the installation by clicking on "Add extension" button in pop-up.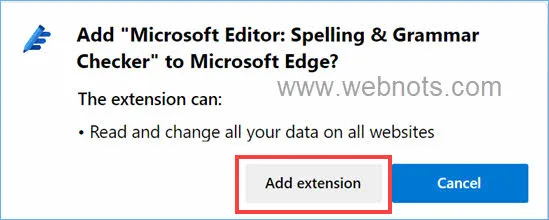 After downloading and installing the Editor extension, you will be asked to login with Microsoft account. You can close this page if you do not want to login. However, you should login to use your Microsoft 365 subscription account with the extension.
Before start using the extension, click on the puzzle icon showing next to Edge address bar. Select the "More actions" icon showing against Microsoft Editor extension and select "Manage extension" option.
This will take you to the Editor's settings page and make sure the extension is enabled. You can opt to use the extension on all the sites or add specific sites to use. In addition, you can allow the extension in in-private mode and allow accessing local file URLs.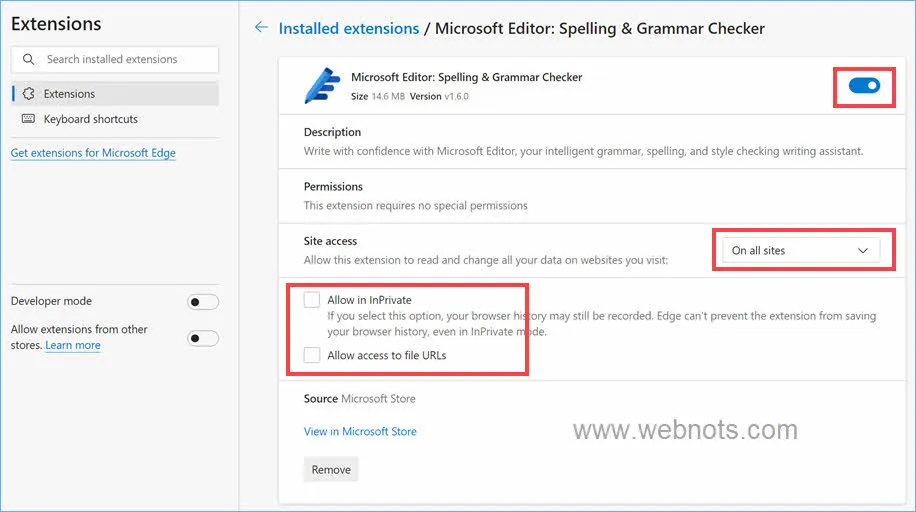 Now, let us check the text content in Edge with Editor extension. Editor automatically correct few spelling mistakes while you type and highlight them with green color.

If there are multiple suggestions, Editor will show the word with red underline. Click on the word and select the correct word from the suggestions to fix the error.
Click the gear icon below the automatically corrected word or click the three horizontal dots icon showing next to "Ignore all" option in the mistaken word and select "Editor settings" option. This will take you to Editor options where you can add additional languages, enable AutoCorrect, exclude sites and toggle the available options.
If you noticed, Editor extension does not show grammar errors by default though the option is enabled in the settings page. You should login with your Microsoft account to use this feature. As mentioned, logging in is also required to use premium Editor features if you are using Microsoft 365 subscription. Note that premium Editor allows you to check the content with three different languages at the same time. You can either use the first three languages added in the browser's settings page or add languages in the Editor's settings page for checking your content.

Note: You can also click the Editor extension icon and toggle the options. Logging into the Editor will not login to your browser profile in Edge. This means, you can use different accounts for Editor and browser login for syncing purposes.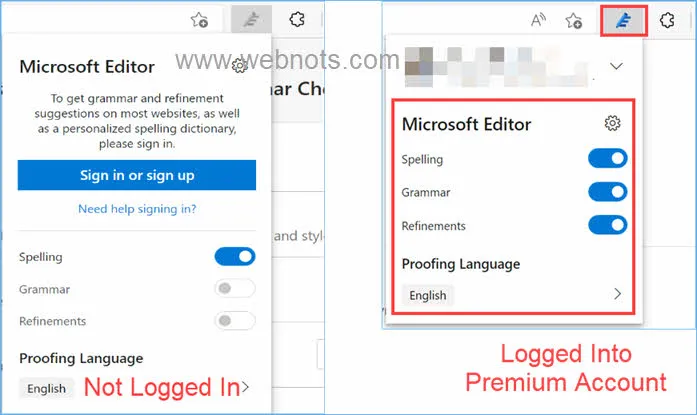 Final Words
Here is a summary of available options for enabling grammar and spelling checker in Edge browser:
Basic option in Edge settings – useful for only checking basic spell check.
Microsoft Editor option in Edge settings – use this for grammar, spelling and styling suggestions.
Free Editor extension – useful for basic spell check and needs to login for grammar check.
Premium Editor extension – useful when you want to prepare online content like lengthy articles and essays. Features include enhanced spelling and grammar check and refinements.