Blogging is increasingly becoming the future dream for many youngsters, thanks to the boom in the website building arena. Content management systems like WordPress offers end to end blogging capabilities helping different range of people to achieve their dream. It also changed the time spent by many people on mere entertainment to sharing thoughts in better ways. Nowadays it is common to see the profile of people quoting blogging as their hobby or part time job. In this article we will explain how to start your own blog in 5 simple steps with an infographic.
Planning Phase
It is very easy to start a blog using one of the free website builder tools like Blogger, Wix, Weebly, Squarespace, etc. But that is not your own blog and anything you start doing it on free basis will not exist for long time. Either you will loose interest over the period of time or you will not be able to cope up with the changing trends. So the important thing before you think of starting a blog is to understand that continuous blogging needs dedicated budget and investment of time.
Here are some guidelines before you choose blogging as your career or financial choice:
Read and understand the webmaster guidelines from Google and Bing. This is essential to have a good roadmap for your future plan.
If you are planning a single author blog, start learning things on your own before buying any third party services.
Do not buy links or spam other's site with unrelated links from your site. Also never go for traffic exchange or any type of multilevel marketing to increase the traffic of your site.
Focus on content at least for the first six months to bring decent traffic from search engines before thinking of making money from your blog.
It is a good idea to refer the design concepts followed by your competitors or your favorite sites, but never copy or duplicate the content. Remember how you feel if someone copy your content without permission.
Unlike salaried employment, blogging has lot of uncertainties beyond your influence. But with the focused approach it will take few years to setup your own brand and collect the followers to build your own community. You need to have patience during this time to harvest the benefit later. Most of the bloggers set wrong expectation and leave the site unattended just in few months. So we strongly suggest to plan your budget and time for at least two years to create an established blog. Now let's go to the beginners guide for creating your own blog.
5 Steps to Start Your Own Blog
Step 1 – Buy a Domain
Domain is nothing but the name of your site, generally referred as a URL or site address. This gives an address for your blog where people can come and visit your content. Domain name is to be bought from the companies called "Registrar" and the almost every internet company on the web sells domains along with other products. For example, GoDaddy is the largest domain name registrar and offers different types of domains. The domains have an extension like .com, .net or .org based on the purpose of your site. There are also country specific domains like .us, .ca, .cn or .in. For a general purpose blogging site we recommend to use .com domain and you can go for country specific domains if you are targeting users from a particular country.
There are lots of myths in buying a domain, let's put together some guidelines for buying a domain name:
Choose simple and one word domain name for easy remembering and branding.
Avoid using trademarks of other companies like Google, AdSense, AdWords, Apple, etc. this may end up in the violation of trademarks usage and prevent you to do certain things. For example, if you use the word "Google" on the URL then you will be rejected when applying for AdSense account.
When you choose non-existing word (like the domain name of this site), it will take long time for Google to recognize the word as a domain name. Essentially this will result in reduced traffic during initial time, but on other side the brand name will start penetrating as a unique name.
Never start using the free subdomain like "yoursite.blogspot.com" or "yoursite.weebly.com". Basically you will endup in promoting somebody's domain through your content.
Step 2 – Buy a Hosting Server
The domain name is merely a name for your site and you need to have storage space to save all content of the site. The hosting server allows you to store all your content and the hosting company charges based on the capacity you need. Generally the service is based on the storage space and the number of times the content is retrieved from the server (bandwidth). There are different types of hosting catering to specific needs. As a beginner, you can start with the lowest plan which is referred as shared hosting plan.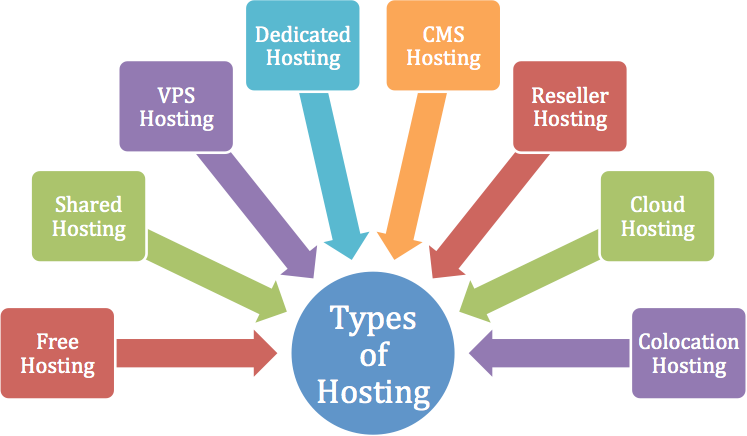 Under shared hosting you will share the resources of the server with multiple other sites. When your site grows in size you may need to move from shared hosting to separate server (this may need many years in general). There are many popular hosting companies like Bluehost, SiteGround and HostGator offer cheap shared hosting service as low as $3 per month. You can compare the price and specifications to choose the best one suitable for your need.
Step 3 – Setup DNS
Now you have a domain name and the hosting server to save all your content. The next step is to connect your domain name to the IP address of the hosting server through Domain Name Server settings. Login to your hosting account and then navigate to the DNS editor. Here you can add the necessary entries to point the domain name to the server's IP address.
Step 4 – Install CMS
Though you have purchased a hosting server space you need a front end building platform to create pages for your site. The platform is generally referred as "Content Management System" and offers various features to create blog posts by adding text content, images, musics, videos and files. WordPress is one of the popular CMS and powers more than 20% of the websites on the internet. WordPress also offers highend blogging features and can be downloaded free from WordPress.org site.
Almost all the hosting companies offer one-click WordPress installation through scripts and you can install WordPress in few minutes. WordPress stores all the text content in a database as MySQL table entries and keep all other site files and media elements in different folders. All folders and database are stored in the hosting server which can be backed up and used for emergency restore or any other testing purposes. Once installed successfully, you will get the administrator id / password to access the dashboard.
Learn how to install WordPress on Bluehost, SiteGround and manually on your server.
Step 5 – Start Building Your Blog
The final step is to access the front end WordPress dashboard through the URL "http://yoursite.com/wp-admin/" with your administrator id / password.
First delete all the dummy content part of the default installation.
Install required theme and plugins needed to support your site.
Start creating blog posts and publish to make your blog online.
Below is the infographic of the complete process: