Apple iMac desktops come with a Magic Keyboard and Magic Mouse as part of the package. Though keyboard and mouse come with iMac, you can also purchase separately to use with your desktop and laptop. Since these are wireless items, many users confuse whether to charge them separately and how to use them. In this article, we will explain how to check the current battery percentage and charge keyboard and mouse in iMac.
Charging Magic Keyboard and Magic Mouse
First thing is you should charge the keyboard and mouse as iMac does not come with battery. There is an internal battery which is only used for showing clocks and other minor purposes and not for running without power cable. Along with keyboard and mouse, you would have received a USB-C to Lightning cable with iMac package. Depending upon the iMac model, your system will have 2 or 4 USB ports on the backside of the monitor. For charging the keyboard and mouse, first make sure to connect the power adapter and turn on your iMac. After that connect the lightning cable to the USB port and insert the other end in your keyboard or mouse.
Magic Keyboard has a power input on the top center while mouse has on its bottom side. So, obviously you can use the keyboard while charging but not the mouse.
When to Charge Keyboard and Mouse in iMac?
Next question comes to your mind is, when to charge these items as you can't see the current battery percentage. There are three ways to see the battery percentage of keyboard and mouse in iMac.
1. Check Bluetooth Settings
We will explain here with macOS 13 or later (Ventura or later). Though the process is same with earlier macOS versions, you will see the menu items and the interface look different. For example, you will see "System Preferences…" in the Apple menu instead of "System Settings…" and there will be no sidebar in the settings interface.
Click on the Apple logo menu on top left corner of the screen and select "System Settings…" menu.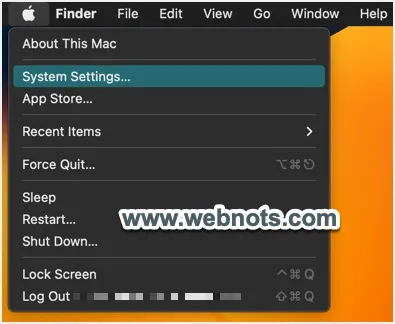 Go to "Bluetooth" section and check on the right pane under "My Devices" section.
Here, you can find the battery percentage of both Magic Keyboard and Magic Mouse.
Note: If you want to disconnect the keyboard or mouse, hover over that item to see a "Disconnect" button and click on it.
2. Check in Keyboard or Mouse Settings Page
Bluetooth section shows the battery percentage of all connected devices to your Mac. However, you can also go to individual keyboard or mouse section to see the percentage. For example, below is how the mouse battery percentage shows in macOS Ventura's mouse settings page.
3. Check Battery Percentage from Control Center
The top menu bar always shows a Control Center icon. Click on that icon and then click the small arrow next to "Bluetooth" option. Make sure to click the arrow without turning Bluetooth off.
Here, you can see the battery percentage of keyboard and mouse.
4. View Battery Percentage from Bluetooth Icon
By default, iMac does not show Bluetooth icon in top menu bar. However, you can enable it and then see the battery percentage by clicking on it.
Go to "Apple menu > System Settings" to open iMac settings.
Navigate to Control Center section from the left sidebar.
By default, Bluetooth option in the right pane will show as "Don't Show in Menu Bar". Click on that option and select "Show in Menu Bar".
This will instantly show the Bluetooth icon in top menu bar. Click on the Bluetooth icon and you will see the battery percentage of Magic Keyboard and Magic Mouse.
The lightening symbol inside the battery icon indicates the device is current charging and simple battery symbol indicates the device is not connected to power source. If the battery percentage is low, connect the cable and charge your keyboard. As mentioned, you may need to charge the mouse when you are not using the iMac.