All Mac models come with Safari as a default web browser. This means all the webpages will open in Safari browser whenever you click links in emails and messages. If you are using other browsers like Google Chrome, Firefox or Edge, here is how you can change the default browsers in Mac to open webpages in your favorite browser.
Why to Change from Safari?
Apple claims Safari is the best browser on the planet and works +50% faster than Google Chrome. There are also lot of features like tracker prevention to improve your privacy.
However, you will soon find Safari is nowhere nearer to Chromium based browsers like Chrome and Edge due to the following reasons:
Platform dependent design makes Safari useless when you want to use the browser on Android or Windows.
Completely lagging with third-party extensions compared to huge number of items available for Chromium browsers.
Missing integration with popular Google and Microsoft services like Gmail or Outlook.
If you are a developer, Safari may not support all latest design features. The developer console is not user-friendly and you also have no beta version available for testing.
Since Safari updates are available as part of macOS, you will not get the new features frequently.
Changing Default Browser in Mac
If you are fed up with Safari, here is how you can change the default browser in Mac. Before that make sure you have other browsers like Chrome, Firefox or Edge installed on your Mac.
Click the Apple logo menu and select "System Settings…".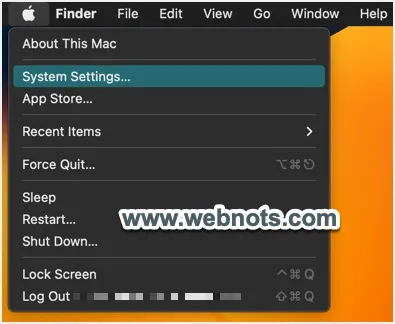 Go to "Desktop & Dock" section from the sidebar.
Scroll down on the setting page to find "Default web browser" option.
Click the dropdown against that option and select one of the available browser apps from the list.
After changing the browser, Safari will show you a notification when you open the app. You can click on the "Make Safari Default" button to revert to using Safari or go back to system settings and change the browser.
You will also see an additional item appears in Safari settings page. When you are in Safari, go to "Safari > Settings…" and then click "General" tab. Here you will see a new item showing "Safari is not your default browser" with an option to set default.
Change Default Browser in macOS Monterey or Earlier
The above steps are for macOS Ventura (13.0) or later, if you are using older macOS versions (Monterey or earlier), the interface may look little different.
Click Apple logo, select "System Preferences…" and go to "General" section.
You will see a "Default web browser" option and click the dropdown against it.
Select one of the installed browsers from the list to set it as your default.
Settings Chromium Based Browsers as Default in Mac
As mentioned, Chromium based browsers like Edge and Chrome works with same backend and settings. You can also change the browser directly from the browser app's setting instead of going through macOS setting. Here is how it works on Chrome; it will work the same manner in Edge also.
Open Chrome and go to chrome://settings/defaultBrowser page (on Edge, you need to go to edge://settings/defaultBrowser).
Click "Make Default" button and confirm the pop-up that appears.
Now, you should see the settings page show the default browser is changed.
Change Default Browser in Firefox
Non-Chromium based browsers like Firefox also offers an option to set it as your default.
Open Firefox and go to about:preferences page.
Navigate to "General" section and then click "Make Default…" button showing against "Firefox is not your default browser" option under "Startup" section.
You will see a pop-up and confirm by selecting "Use Firefox" button.
In fact, you will see a message to make the browser default every time when Firefox gets an update.