Google AdSense is one of the most popular ways for generating revenue from your online content. Earlier, Google had lot of restrictions for number of ads and usage. However, now things are changed completely, especially after the start of Covid19 pandemic. Recently, Google introduced vignette/anchor ads for desktop devices and changed matched content ads to multiplex ads. With all those changes, one question lingering on publishers mind is the use of sticky ads. In this article, we will explain what is the latest Google AdSense policy about sticky ads and other available options for publishers.
Using Sticky AdSense Ads
Google has a formal FAQ section for ad formats here and as per that support article, AdSense publishers are allowed to use sticky ads. However, there are some technical requirements for using stick ads on your site. This is contrary to many publisher's assumption that sticky ads are not permitted in AdSense. So, if you are looking for showing floating sticky AdSense ad on the sidebar section of your site, then you are free to go with that.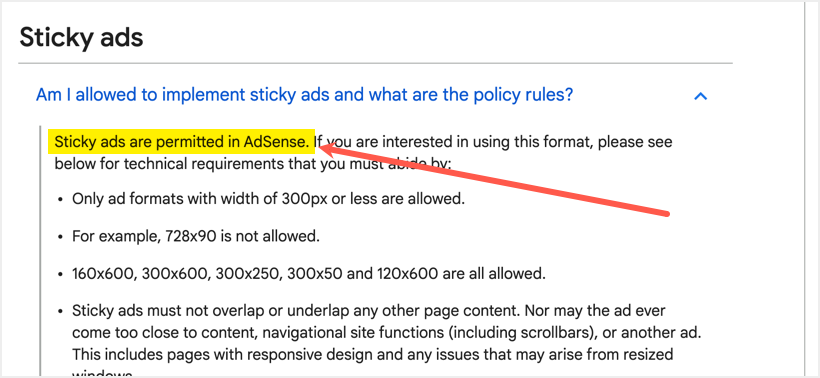 Unfortunately, the FAQ page does not have any last updated date. So, it is not clear when Google started allowing sticky display ads for AdSense publishers.
Technical Requirements for Using Sticky Ads
Google listed down some technical requirements for using sticky ads from AdSense account. The idea of using sticky ad is to show an ad on the sidebar on desktop devices. This ad will float while user scroll the content thus increasing the visibility. Considering that aspect, most of the requirements are easy to implement and needed for using sticky ad in sensible manner.
Sticky display ad is allowed only on desktop devices and not on mobile or tablets.
You are permitted to use only one sticky ad with 300px or lower width. That means, you should not use sizes 728×90 leaderboard format (anyway you can't place this size in the sidebar layout).
Allowed ad formats include 300×600, 300×250, 300×50, 120×600 and 160×600. You can use 300×600 or 300×250 ad as a last widget on your sidebar to use as a sticky ad.
Make sure sticky ad does not over or underlap the content or comes too close while resizing windows on responsive sites.
Sticky ad should only scroll in vertical direction and not with horizontal scrolling.
Ad should render smoothly without jumping suddenly.
Only one sticky ad is allowed on desktop device and you should not use multiple ads to stick in the visible viewport.
You can refer the details on the FAQ page to find the latest requirements in case of any updates available on these requirements.
How to Use Sticky Ads?
The implementation of sticky ad depends on the content management system you use for your website. You can create a responsive display ad unit from your AdSense account and show it as a last sticky widget on your sidebar. This will help to avoid overlapping of the ad and content when users scroll the page. It is super easy to implement this on WordPress sites with the free plugins available. You can follow the instructions available in our article on how to use sticky floating sidebar widget in WordPress sites.
Remember, most of the latest WordPress themes do not offer sidebar, in such a case you should not use sticky ad. Similarly, platforms like Weebly does not offer themes with sidebar and hence you may not able to use sticky display ad. If you have a plain HTML page with sidebar, then you may need to create custom CSS for making the last widget in the sidebar as sticky.
Do Not Confuse with Anchor Ads
AdSense auto ads include a sticky anchor ad format which you can enable or disable from your AdSense account. This ad will be shown on the top of mobile device as a sticky floating widget. On desktop devices, you can see the ad is sticking at the bottom of the screen.
Some users as well as Google refer these anchor ads as sticky ads as they will stick on top or bottom while scrolling the content. However, these anchor ads are different than sticky display ads in the following ways:
| Considerations | Anchor Ads | Sticky Ads |
| --- | --- | --- |
| Mobile use | Yes | No |
| Desktop use | Yes | Yes |
| Creating ad unit | Auto ads | Display ad to be created manually |
| Size and format | Responsive, can't choose the size | You can choose size less than 300px width |
| Ad placement | Automatic placement | Manual and to be complied with policy requirements |
| Position | Top or bottom | Sidebar |
Anchor ad is good for sites without sidebar and good for using them on mobile devices. On desktop, you can either enable anchor ad or use sticky display ad on the sidebar. It is not clear whether a publisher can use both anchor ad and sticky ad on the desktop. However, it makes sense to use only one to provide a good user experience.
Google AdX (Ad Exchange)
Many publishers use third-party ad companies to get approval from Google AdX. There are hundreds of Google certified (AdThrive, Mediavine, etc.) and non-certified (BuySellAds) professional companies available for this purpose. The major reason publishers go with these companies is to show sticky sidebar ad with other options like ad refresh. However, now you can use sticky ad directly from AdSense account without using AdX. Probably, you can expect Google to introduce more competitive ad technologies for AdSense publishers soon which are currently only available for large network sites.
Will Sticky AdSense Ad Improve My Revenue?
The general answer is yes as sticky ad can improve the visibility and hence the possibility of improved CTR. However, you only have an option of earning more through clicks and not with impressions as the ad will not rotate or refresh like AdX. From that point of view, it may even create bad user experience as the user need to see the same ad for longer time. The best way is to monitor the earning performance of your stick ad and decide whether it is worth of using on your site. Otherwise, you can always go for sticky anchor ad as an alternate option.