Google Docs is an easy way to create and share documents on the go. You can insert symbol, special characters, images, tables in your document and download as PDF or even publish to web. However, many users do not know that you can use Google Docs for project review and content tracking purposes. The "Building Blocks" functions allows you to insert templates in tabular format for tracking which you can customize as per your need.
Google Docs Building Blocks
When you are on the Google Docs Editor, go to "Insert" menu and select "Building blocks" option.
The building blocks section offers the following options. Other than meeting notes and email draft, you can use the remaining options to track your project or content status. These options will insert a basic table with dropdown options which you can use as it is or modify as per your need. Alternatively, you can go to "Insert > Table > Table templates" menu and choose one of the tracking templates for use.
Product Roadmap
The "Product roadmap" option will insert the following table. Only the status column will have dropdown menu for selecting from the options like "Not started", "In progress" or "Launched". This is useful when a single product has multiple sub-projects for tracking.
Review Tracker
It is common to have multiple reviewers for product support documents in large organizations. You can use "Review Tracker" template to insert a table after a cover page of the document to show its current review status. The document can be published to users when the review status is changed to "Approved".
Project Assets
This is another table template for tracking files and assets in your project.
Content Tracker
The final option is to insert a content tracker which is useful for publishers to track the status of their articles. Normally, online publishers used to maintain editorial calendar or to-do list for tracking the publishing status. With this content tracker template, you can easily do this online right from Google Docs. This is also useful for freelance writers who publish different type of articles for different publishing companies.
Editing Tracker Templates
As you can see, all the tracking templates are nothing but tables in Google Docs with additional dropdown option. In our opinion, these templates are sufficient to track your project review or document review or check content publishing status. However, it is also easy to customize the templates for your need.
Changing Dropdown Options
Let us take the base content tracker template and customize it with additional options. first You can add, delete or change the dropdown options as per your need. The default content tracker shows only no or yes options for "Published" column and we can add another status "Under Review".
Click on the dropdown value inside any of the "Published" column's cell.
It will show the current list of available options and select "+ Add / Edit Option" option from the list.
On the pop-up that appears, select add your new value like "Under Review" and select the color for that value. You can add as many as options by clicking on "+ New option" link.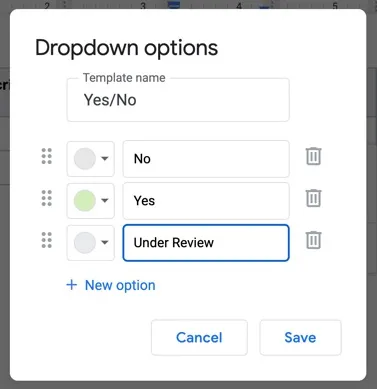 Click "Save" button and you will be prompted whether you want to make the changes to the template or only to the selected cell. You will see this message since the template has another row with same parameters. Select, "Apply to all" button to add the new dropdown value to all the rows in the table. Remember, selecting "Just this instance" will add the new value only to the currently selected cell. In other words, you will see only No and Yes value for other rows.
Now click on the dropdown value in any of the "Published" cell and you will see three options – No, Yes and Under Review.
You can insert dropdown values for any other columns like "Outlets" to restrict the free typing. Remember, you can always change the headings in the table and add or delete the columns as you need.
Inserting Date from Calendar
Date is one of the frequently used fields content tracker and other table templates. You can easily insert date by going to "Insert > Date" menu and select a date from the calendar. Learn more on how to insert date in Google Docs.
You can use other text formatting options and coloring for text / background / borders to have a beautiful content tracker. Once your tracker is ready, you can share with others and started using.