iPhone has lots of hidden features. Link preview is one such useful feature to check the correct URL before you open the webpage. Let's say, you have received an email asking to click a link and submit some details. You can easily use link preview feature to verify the destination URL without actually clicking on it.
Hyperlinks in HTML
Hyperlinks or links are the major source of scams and spams on the web. A HTML link contains the following two parts:
An anchor text that is displayed visibility
A destination URL that you will reach when tapping on the anchor text.
The problem here is that it is very easy to show a dummy anchor text which is not at all related to the underlying link. For example, below is a link saying to get a coupon. However, you will go to the home page of this website when clicking on the link.
On desktop devices, you can hover the mouse and check the URL on the browser or app's status bar. Unfortunately, this is not possible with mobile devices like iPhone.
Preview Links in iPhone
Good part is that Apple allows to preview links in iPhone by default. This feature will work on all default iPhone apps like Mail, Safari, Messages, etc.
Open an email or website in Safari app that has a hyperlink.
Press the link and long hold. You can even tap on the shortcuts on the Safari app home page and long hold.
It will show you the link preview like below.
Once you find the destination link is legitimate, you can tap on the preview open the webpage in full view.
Alternatively, you can simply swipe the preview down or tap on other place to close the preview and continue your work.
When previewing link in iPhone, you will see a context menu with different options depending upon the app. You can copy, share, add to reading list and open the URL in Safari using this context menu.
Disable Link Preview in iPhone
Unfortunately, there are no settings in iOS to completely disable link preview feature. What you can do is to hide the preview when viewing it. You can do this by tapping on "Hide Preview" option showing on top of the preview. We recommend using link preview in hide mode so that you will not suddenly see an awkward webpage opens in a preview. After checking the URL, you can tap on "Tap to show preview" option to enable preview.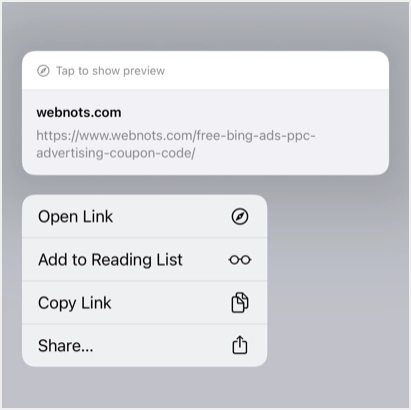 Note that all the apps will remember your choice and will hide or show the preview from next time onwards. In this way, you can decide to see the complete preview or only the hyperlinked URL without webpage's content.
Change Long Tap Duration
If you have an accessibility problem with using long tap in iPhone, you can increase the duration between the tap and preview.
Go to iPhone "Settings" and navigate to "Accessibility > Touch" section.
Tap on "Haptic Touch" option and change the touch duration to "Slow".
You can test the setup by tapping on the image given on the page to see how fast or slow the preview appears after you touch and hold.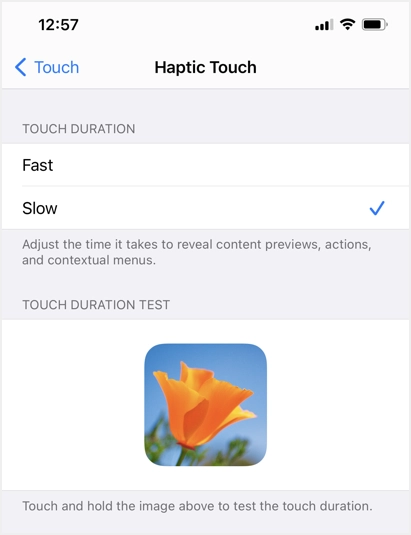 Using Other Apps
If you really want to get rid of link preview for any reason, the only option is to use alternate apps in iPhone. For example, you can use Gmail, Chrome and other third-party apps that will not show the preview when long press a link. Below is how the context menu will look in Google Chrome app when you long press on a link.
Similarly, Gmail and other apps will not use the default link preview feature in iPhone.