Pound Sterling is the currency symbol of United Kingdom written with pound sign £. Few other countries like Gibraltar (£) and Egypt (E£) also use the same pound sign as their currency symbol. If you want to type pound sign in your documents, here are the keyboard shortcuts and other options.
Alt Code Shortcuts for Pound Sign
Below are the alt code keyboard shortcuts for inserting pound symbol in Windows and Mac.
| Symbol Name | Pound Sign £ |
| --- | --- |
| Windows Shortcut | Alt + 0163 |
| Word Shortcut | 00A3 + Alt + X |
| Mac Shortcut | Option + 00A3 |
| HTML Entity Decimal | £ |
| HTML Entity Hexadecimal | £ |
| HTML Entity Name | £ |
| CSS Value | \00A3; |
| Decimal | 163 |
| Hexadecimal | 00A3 |
| Unicode Point | U+00A3 |
How to Type Pound Sign in Windows?
There are multiple ways to insert this sing in Windows based computers:
In UK keyboard will have £ sign on number 3 key. You can use Shift + 3 to insert the symbol. In US and other keyboard layouts, you can use Shift + Alt + 3 or Shift + Alt + 4 keys to type £.
You can hold the alt key and type 163 to make British pound sign £. If 163 does not work, use 0 in the front like alt + 0163. Learn more on how to use alt codes in different devices.
In Word documents, you can type 00A3 and press alt + x keys together to convert into pound symbol.
How to type pound sign in Mac?
Similar to Windows, macOS also has multiple ways to insert £ sign.
Use keyboard shortcut Option + 3 in US keyboard layouts and Shift + 3 in UK keyboard layouts.
Alternatively, hold option key and type 00A3 to make the sign using Unicode Hex Input source.
Use Character Viewer by going to "Edit > Emoji & Symbols" menu from any app. In this way, you can choose font variations to choose different display for the symbol.
How to Insert £ Sign in HTML?
You have three options to insert the sign in HTML with any tag.
Use decimal code like &# 163 ; or
Hex code in format &#x 00A3 ; or
HTML entity name & pound ;.
Below is the example code for inserting the pound symbol in HTML.
<span>&#163;</span>
<span>&#x00A3;</span>
<span>&pound;</span>
Pound Fullwidth and Emoji
Fullwidth pound sign is another Unicode symbol available for compatibility reason with double-byte characters. You can type fullwidth pound using Alt + 65505 shortcut in Windows and Option + FFE1 in Mac.
Unicode emoji has a banknote symbols with a pound. You can insert banknote with pound sign emoji 💷 symbol using alt + 128183 shortcut. Alternatively, use emoji panel in Windows or Character Viewer in Mac to insert this emoji symbol.
Insert £ in Android and iPhone
On Android, iOS and iPadOS, you can insert £ by holding the $ key for long time. This will show the pop-up of currency symbols like euro, cent, pound, etc.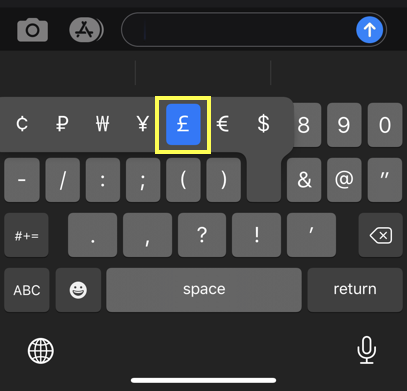 Pound Sign Browser Display
Below is how pound, fullwidth pound and banknote with pound sign emoji symbols will look like.
Additional Points
As mentioned, some European keyboard layouts have £ sign on the number 3 key like $ symbol on number 4 key.
Pound is also a unit to measure weight like kilogram. Do not confuse with pound sterling currency with unit of measurement.
Countries like Gibraltar, Egypt, Syria and Sudan also uses pound as currency symbol.
Do to confuse with double stroke Lira ₤ sign with pound. Lira was an old Italian currency symbol which was replaced by Euro.