Superfetch was an in-built service in Windows 10 which is renamed as SysMain in Windows 11. This is used for analyzing the usage pattern and identify frequently used apps. Then Windows will preload these app data in RAM thus improving the speed when you open the app. If you find this causes problem, then here is how you can disable Superfetch or SysMain in Windows 11.
Why to Disable SysMain?
Ideally SysMain should improve the speed especially when you are using SDD disk. It also only uses the freely available RAM for preloading the app data. However, it can slow down the computer when you are using HDD and limited RAM capacity. Since the service itself runs by default and launched with startup, there are also possibilities it can affect the performance. You can find plenty of issues reported by users in Microsoft support forum. The issues including 100% disk usage, slow starting and overheating.
If you find the system performs slow without any reasons, then it will not hurt to disable SysMain and check if it helps to improve the performance. There are two ways to disable SysMain service in Windows 11 as explained below.
1. Disable SysMain from Services Manager
This is the straightforward method without editing any system files.
Click search icon from the taskbar and search for "superfetch".
You will see the first result as Services app. Click on it and open the Services manager.
Alternatively, you can press "Win + R" keys to open Run prompt, type services.msc command and press "OK" button to open services manager.
When you are in services manager, click on the "Name" column to sort the available services based on their names.
Scroll and find SysMain service and the description will say "Maintains and improves system performance over time".
You can simply click on the "Stop the service" link or right-click and select "Stop" to disable the service temporarily. Since this service will be running automatically by default, stopping like this will not disable it and the service will start when you boot the system.
In order to disable completely, double click on the SysMain service name (or select "Properties" from the right-click menu).
Go to "General" tab and click "Stop" button under "Service status" section to stop the service.
You can see the "Startup type" will be showing "Automatically", click the dropdown and select "Disabled" option.
Click "Apply" button and then "OK" to close the "SysMain Properties" dialog box. Now you can close the service manager app.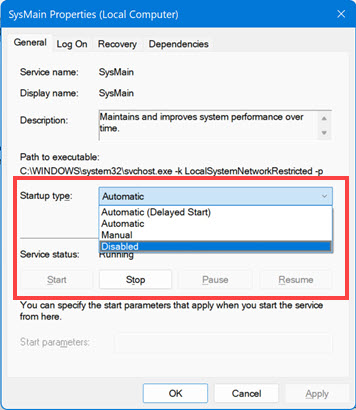 2. Disable SysMain from Registry Editor
It is also possible to disable superfetch or SysMain service from Registry Editor.
Press "Win + R" shortcut keys to open Run prompt.
Type regedit and press "OK" button to open Registry Editor.
Paste the following the address in the registry editor's address bar and press enter key to navigate to that location.
Computer\HKEY_LOCAL_MACHINE\SYSTEM\CurrentControlSet\Control\Session Manager\Memory Management\PrefetchParameters
Check whether you can find the key with the name as "EnableSuperfetch". If not found, right click and select "New > DWORD (32-bit) Value" option.
Provide the name for your new key as EnableSuperfetch and it should look like below in the registry editor.
Double click on EnableSuperfetch key and make sure or change the value is showing as 0.
The value 0 indicates turning the superfetch off and you can enable it back anytime by changing the value to 3. You can also change the value for EnablePrefetcher from 3 to 0 if required. The name "Prefetch" was earlier used in Windows XP for simple preloading. This was improved and changed to Superfetch in Windows 7 and then finally renamed as SysMain in Windows 11.
Final Words
Sometimes the settings meant for improving system performance can negatively affect as each system has different hardware configuration. Superfetch or SysMain service is one good example which can consume higher memory and disk usage especially when you use old computers. This is the same problem like hardware acceleration for graphics card which slow down the apps instead of improving. You can try the above methods and check if that helps to restore your PC or laptop's performance with SysMain service disabled. Any way it will not hurt as you can enable the back following the same procedure.