Earlier days reading content from any website was easier without privacy issues. However, things have been changed considerably and nowadays websites ask for different permissions for showing relevant content. Though this is useful to get correct data you need, most users are not comfortable in sharing their personal data with unknown websites. In this article, we will explain how to manage website permissions in Microsoft Edge browser and change the previously granted permissions to protect your privacy.
Examples of Website Permissions
Depending upon the purpose, here are some of the examples of permissions websites need:
Video conferencing sites need access to your camera for connecting to video calls.
Almost all websites set cookies in the browser for tracking user behavior. Some geographical locations like in Europe, it is a legal requirement (GDPR) for the website owner to get consent from the visitor for using such cookie.
Site owners ask permission to send push notifications so that you can get latest alerts from your browser.
Websites that offer location-based services like maps, need access to your location to offer local relevant details.
Google Search is the best example where you can find Google automatically detects your IP address and show the location at the end of search results.

You also have an option to manually update the location by clicking on the "Update Location" link. Now, you will see Google asking permission to know your location as shown below. Allowing this will give permission to Google to access your precise location and show customized results.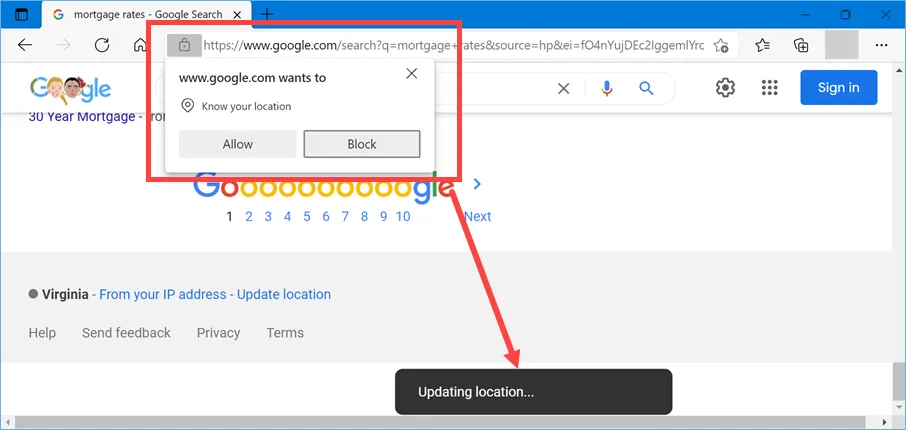 Note that the search results and advertisements showing in the search pages will change based on your IP address and the location if you set.
Manage Website Permission in Microsoft Edge
You have the following two options to manage permissions in Edge browser:
Manage single site permissions
View and manage all permissions
Note that managing file permissions in Windows is something different than managing permissions in Edge. Check the article on how to set Windows file permissions if you are looking for the settings to control file access.
View Single Website Permission
Many websites ask permission to send push notifications when you open them in Edge. Let us say, you have given permission to a site for sending notification by clicking on the "Allow" button when you first opened the site. Or you allowed the notifications from the bell icon showing in the browser's address bar. However, later you find the site sends too many notifications which are irrelevant to your interest. Now you have changed your mind and wanted to change the website permission to stop the push notification.
Open the site in Edge and click on the padlock icon showing next to the website's address. Here, you can see the permissions granted to the site under "Permissions for this site" section. Edge also allows you to allow or block notifications by selecting the option from the dropdown against "Notifications" option.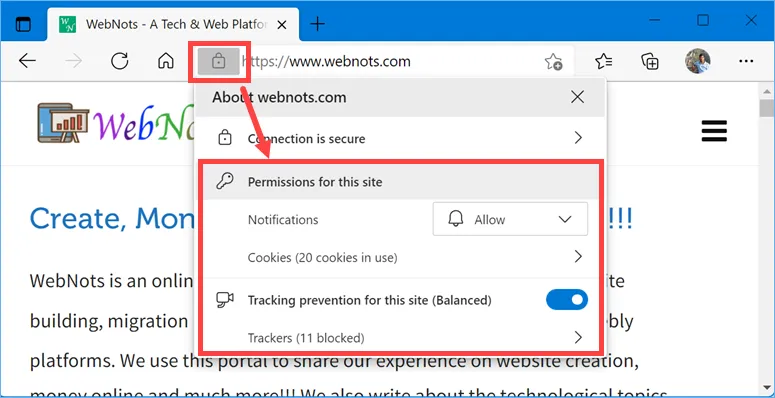 You can click on the "Cookies" to view allowed and blocked cookies from the website. On our site, we use Google Analytics for counting website visitors and hence you will see cookies related to that. If you find any suspicious cookies set by the website, you can select it and click on "Block" button to disable it. Likewise, you can also select "Clear upon exit" option under "Blocked" section to delete the cookie when you close the site in Edge tab.
Like cookies, you can click on the "Trackers" to manage the details of the trackers allowed or blocked by Edge.
View All Website Permission in Edge
Over the period, you might have allowed many websites and granted different permissions. It is difficult to remember all the website addresses and open them one by one to see the permissions as explained above. Fortunately, you can view all permissions and review them to keep or delete from Microsoft Edge settings page.
Press "Alt + F" shortcut keys or go to "Settings and more" menu showing as three horizontal dots on the top right corner of Edge browser.
Select "Settings" menu and go to Edge settings page.
Click on the "Cookies and site permission" tab from the sidebar.
This section contains options to manage cookies and data stored and site permissions.
Manage Cookies and Data Stored
Click on "Manage and delete cookies and site data" option to view all blocked and allowed cookies in Edge along with additional options to globally manage them. For example, you can completely block cookies by disabling "Allow sites to save and cookie data" option. However, this is not recommended as many sites will simply stop working without cookies. On other hand, you can enable "Block third-party cookies" option to prevent websites tracking across the browser.
Click "See all cookies and site data" option to view all cookies stored in your browser. We recommend deleting all third-party cookies by clicking "Remove third-party cookies" button. If you see Edge is very slow, then click on "Remove all" option to cleanup your browser.
Site Permissions
Site permissions section contains three sub-sections to manage all previously granted permissions in one place:
All sites
Find the list of all websites that you have provided permissions. This section will show the summary of permissions below each site for you to understand quickly. However, you can click on the site to view the details in edit mode and change the permissions if required. This is similar to managing individual site permission as explained above. The only difference is that you can view more details and have an option to reset all permissions with single click.
Recent activities
Here you can find the list of websites for which you have recently changed permissions. This is useful when you want to immediately revert a permission that you have mistakenly given to a website. Click on a site from the list and change the required permission, you can also reset all permission at once.
All permissions
This is useful section where you can enable or disable permissions on Edge browser that are applicable across the sites. You can find the current status of each permission and you can click on the section to change the setting. For example, if you do not want any site to automatically download files then click on "Automatic downloads" option.
The default option is to force the site asking your permission before downloading the files. However, you can completely block or allow the automatic downloads from sites. You can also view if any sites have been previously granted for automatic download permission and revoke it from the list.
Edge offers to control the following permissions globally. We recommend you to go through these permissions and enable or disable them as you need. In most cases you can simply block the permission like ads, notifications, camera, microphone, pop-ups, etc. For some cases like downloads and location, you can choose the site to ask for your confirmation so that you can decide as and when depending on the purpose. If you wrongly given permission or wanted to change something at any point of time, you can go to "All Sites" section and change the site's permission.
Location
Camera
Microphone
Motion or light sensors
Notifications
JavaScript
Images
Pop-ups and redirects
Ads
Background sync
Automatic downloads
Protocol handlers
MIDI devices
Zoom levels
USB devices
Serial ports
File editing
PDF documents
Protected content IDs
Payment handlers
Media autoplay
Insecure content
Virtual reality
Augmented reality
Application link
Final Remarks
Website permissions in Microsoft Edge allow you to control behavior of sites you visit and understand what access they need. Effectively managing these permissions not only help to improve your browsing experience but also protect your privacy.