Windows will show a list of shortcut menus called context menu when right-clicking. You can right-click on empty area of desktop/File Explorer or on a file/folder to see a list of quick action items. Though many users can't work on a PC without this context menu, sometimes it will be disturbing and revealing unnecessary information. For example, a third-party app may add a link in the menu and you have no easy way to remove it. If you want to disable right-click context menu in Windows 11, here are the two options available for you.
Windows 11 Right-Click Context Menu
Here is how the default right-click menu will look like on desktop and File Explorer. Disabling the menu will work only on desktop / File Explorer and right-clicking will not show any options. However, it will still work as normal inside apps like Word/Excel and on the taskbar.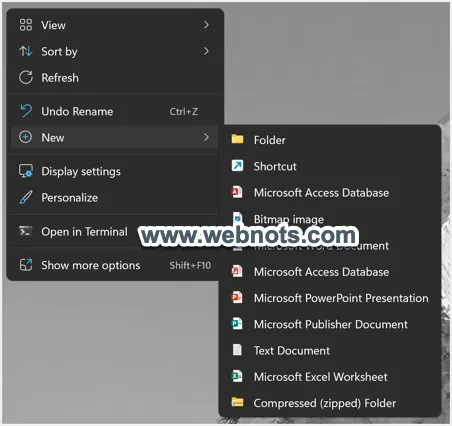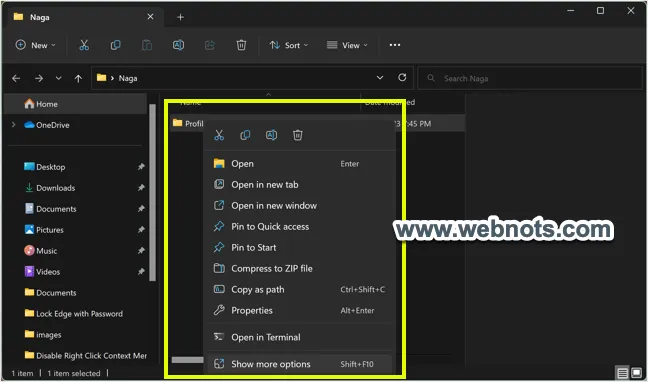 1. Using Local Group Policy Editor
Local Group Policy Editor app comes default with Windows Pro, Students and Enterprise editions. Though it does not come with Home edition, you can follow the instructions in this article to enable the app in Windows Home edition. You can configure the policies in this app to disable right-click context menu.
Press "Windows Logo + S" keys to open the search.
Type "group policy" and open Edit Group Policy option from the list.
When you are in Local Group Policy Editor app, navigate to "User Configuration > Administrative Templates > Windows Components" section. Double click on "File Explorer" folder to open the policies for controlling File Explorer's behavior.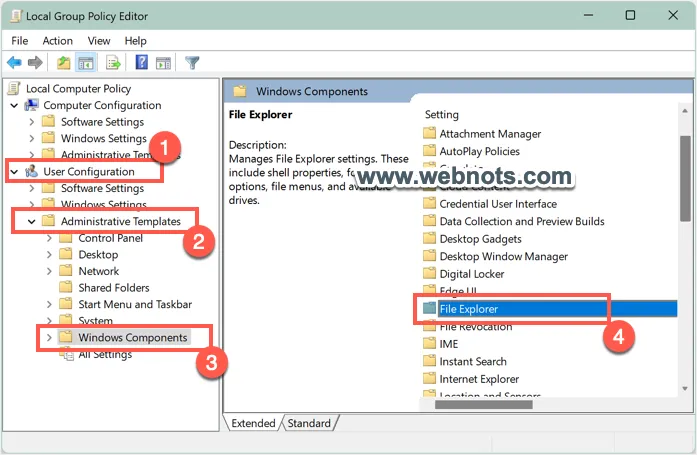 Scroll down in the policy list and find "Remove File Explorer's default context menu". Select that item and you will see the description as the policy will remove shortcut menus from desktop and File Explorer when right-clicking.
Double click on that policy and select "Enabled" option. Remember, enabling this policy will disable right-click context menu.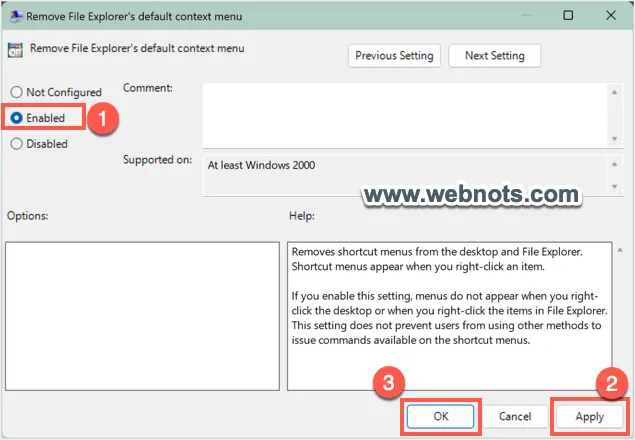 Click "Apply" and then "OK" button to apply your changes.
Now, go to desktop or File Explorer and right click on empty area or on any item. You will not see the right-click menu anymore. If you still see the menu items appear, restart your computer, and then check.
2. Disable Right Click Menu from Registry Editor
If you are not able to use Local Group Policy Editor, then follow this method using Registry Editor. It is a good idea to take a backup of your registry before doing any changes.
Right-click on the Start menu icon and select Run option.
Type regedit and press enter to open Registry Editor.
Copy paste the following path in Registry Editor's address bar and press enter.
HKEY_CURRENT_USER\Software\Microsoft\Windows\CurrentVersion\Policies\Explorer
Go to "Edit > New" menu and select "DWORD (32-bit) Value" option.
Rename the newly creates DWORD as NoViewContextMenu.
Double click NoViewContextMenu DWORD and change the "Value Data" to 1.
Click "OK" button and close the Registry Editor.
Restart your system and check the right-click context menu in disabled.
Final Words
Anytime you can go back to policy editor and set change the policy to "Not Configured" to revert the action. Likewise, you can also delete the registry DWORD to bring the right-click context menu back.