Every one of us use emoji in daily use. However, there are many interesting facts about the emojis that may surprise you. Here is a collection of emoji facts that you should know.

Emoji Facts
1. Age of Emoji
Do you know that emojis are existing for more than 30 years? The first set of emojis were used in Japanese J-Phone on November 1997. After that, in 1999, Shigetaka Kurita used the emojis in NTT DoCoMo's i-mode mobile Internet platform. Emojis became popular in late 2000 with the popularity of smartphones with younger generations.
2. Who Maintains Emojis?
Unicode Consortium, a non-profit organization maintains, create and releases new emojis. The purpose of Unicode is to standardize all available characters so that everyone can use in mobile and computers. In 2010, Unicode version 6.0 included the first set of emojis as part of the character standardization. This lead to the popularity of emojis outside Japan with Google and Apple releasing their own customized emojis on their Android and iOS/macOS platforms.
3. How Many Emojis are There?
In Unicode version 15.0, there are totally 3664 emoji symbols available and categorized under different Unicode blocks.
4. Emoji Vs Emoticon
Emoticons is a broader term many people use to refer emojis. However, these two terms are technically different. Emoticons are text characters combined to express face or body expression. On other hand, emojis are colorful picture characters include different blocks other than faces. For example, there are emojis for animals, weather symbols and activities. Unicode has a separate emoticons block that also includes emoji symbols.
However, this is only a Unicode standard emoji numbers. Applications like Skype have their own custom emojis.
5. Emoji Day
July 17 is the world emoji day. If you use Apple iMac, iPhone or MacBook, you will notice the Calendar emoji will show July 17 date. Later, Google also adopted the calendar emoji to show the same date. Every year, Apple also releases new emoji additions to iOS on this day.
6. Adopting an Emoji
Unicode Consortium has adopt a character program that offers anyone to adopt an emoji or other character. You can sponsor three levels with bronze ($100), silver ($1000) and gold ($5000). Unicode Consortium will provide a certificate and digital batch, which you can display on your website and profiles.
Remember, that adopting a character is a kind of donation and not the copyright ownership.
7. How to Add a New Emoji?
Unicode Consortium releases new emoji symbols based on the technical feasibility to accept it as a character. You can submit a proposal for considering a new emoji symbol. However, there are selection factors before considering the emoji can be part of the formal Unicode character.
8. Why Emoji Display is Different in Applications?
You may notice different applications show the same emoji in different manner. Companies like Microsoft, Apple and Google take the base Unicode reference and customize the appearance of the display. It could be in black & white or even an animated sticker. For example, Twitter has its own open source Twemoji symbols with skin tones and additional characters.
Below is an example of T-Rex dinosaur emoji showing differently on different platforms.
| | |
| --- | --- |
| Browser | 🦖 |
| Windows | |
| Apple | |
| Google | |
| Facebook | |
| Twitter | |
Sometime, you may notice s square box instead of emoji on your document. In such a case, change the font to Windings or Webdings to show it properly.
9. Typing Emoji in Windows and Mac
Both Windows 10 and Mac has their emoji keyboard similar to Android and iOS platforms. On Windows 10, you can press "Win + ." or "Win + ;" keys to open emoji keyboard. This works independently regardless of the application you use. Alternatively, you can also use alt code keyboard shortcuts to type emojis in Windows.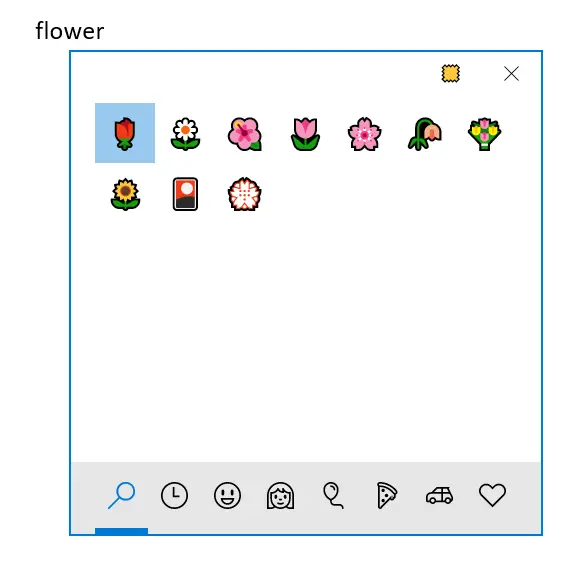 Similarly on Mac, press "Control + Command + Space" to open Character Viewer app. This contains all Unicode characters including emoji symbol with font variations.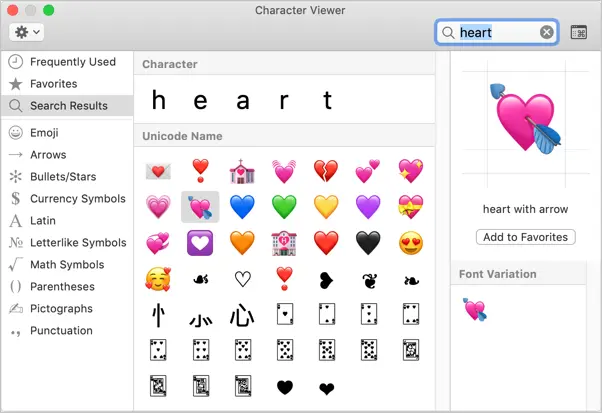 There are also free emoji keyboard extensions available for browsers that you can use to insert emoji in online browser applications.
10. Popular Emojis
There are no formal way to track the use of emojis especially in offline documents. However, there is a tracker for Twitter that helps to track the emoji usage on Twitter platform. Face with tears of joy is the most popular emoji on most of the platforms.
11. Emoji Domain
Do you know that you can register for an emoji domain name? Emoji domain is a domain that contains an emoji as part of the name. However, there are only few top-level domains available and the emoji needs ASCII mapping to convert it to a character using punycoding. It depends on the browser to display the emoji or the ASCII code on the address bar. For example, the site https://xn--i-7iq.ws/ is an emoji domain with the address i❤️.ws.