Emoji is a fun way of communicating with others without language problem. Whether you are using social networking sites, emails, documents, presentation or chats, emoji helps to express your opinions easily. However, when you primarily use desktop computer or laptop for your routine work, it's not an easy task to use your favorite emoji. Fortunately, you can use extensions to insert your favorite emoticons on Chrome browser. In this article, let us explain how to use free emoji keyboard extensions in Google Chrome.
Using Windows and Mac Emoji Keyboard
Though you can use emoji keyboard or alt code shortcuts for inserting emoji, it will be still difficult task to use within Chrome browser. However, using built-in emoji keyboards does not any third-party extension.
On Windows 10 – press, "Win + Semicolon or Dot" keys to open emoji keyboard. You can type the keyword to filter the relevant emojis.
On Mac – press, "Command + Control + Space" keys to open Character Viewer app. You can search and insert emoji from this app.
Related: How to make tools emoji with keyboard?
Best Emoji Extensions for Google Chrome
There are hundreds of emoji extensions available on Chrome Web Store. Some extensions allow you to have extensive features while most of them offer simple insert function. For example, Emoji Keyboard by JoyPixels allows you to search and insert the emoji on Chrome. While extensions such as "Chromoji – Emoji or Google Chrome" has simplified interface that allows you visually pick and insert emoji without searching option.
Let's discuss the top three emoji extensions for Chrome:
Chromoji – Emoji for Google Chrome
Emoji Keyboard – Emojis for Chrome by Coolsymbols
Emoji Keyboard by JoyPixels
1. Chromoji – Emoji for Google Chrome
Chromoji is a simple extension for Chrome that allows you to copy and insert emoji anywhere on the text input. It offers selection of common emoticons from Unicode categorized into groups for easy selection.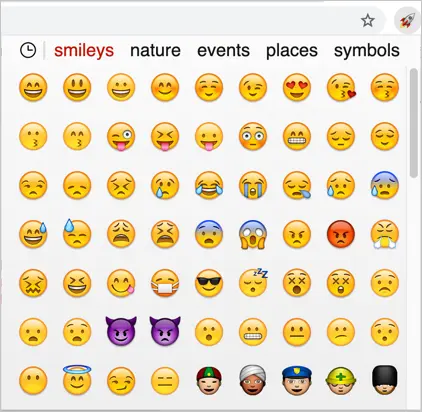 After installing the extension, click on the extension icons and then click your favorite emoji to copy into clipboard. Once copied, you can paste the emoji anywhere on your documents or chat conversation.
You can choose the Apple and Google style emoji and size from the extension's setting. Unfortunately, Chromoji extension does not have any search box which means you need to visually search for the symbol. In addition, the extension will show fewer ads which you can disable from the settings page.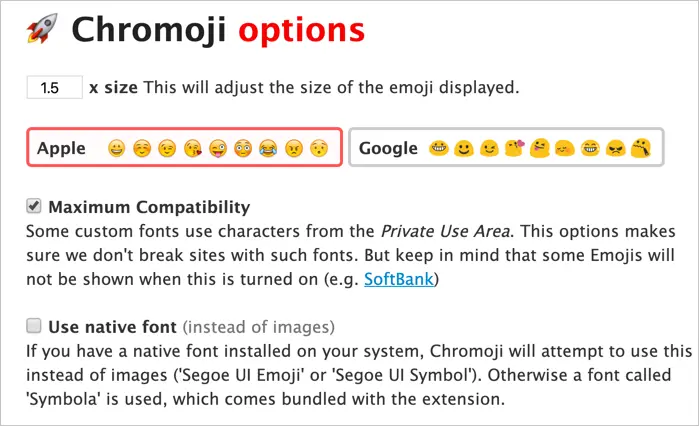 2. Emoji Keyboards by JoyPixels
JoyPixels is an ultimate emoji keyboard lets you search the emoticons you want. It allows you to search the emoji symbols, choose skin tone and type text message within extension for copying. You can search and copy the emoji to paste anywhere you want. Unlike most other emoji keyboards, JoyPixels promises to be absolutely free with no ads. Unfortunately, this extension is almost 75MB in size. It will long time for downloading and installing on your browser. In addition, larger extensions may also drag down the speed of Chrome.
3. Emoji Keyboard – Emojis for Chrome
Developed by coolsymbols.com, this light and fun extension allows you to insert emoji in text boxes. It has a wide selection of emojis similar to Chromoji and JoyPixels extension. However, you can install this extension in few seconds as the size is only 1.73MB. You have a search box to look for relevant emoji to insert. In addition, you can also view the selected emoji in the text box inside the extension.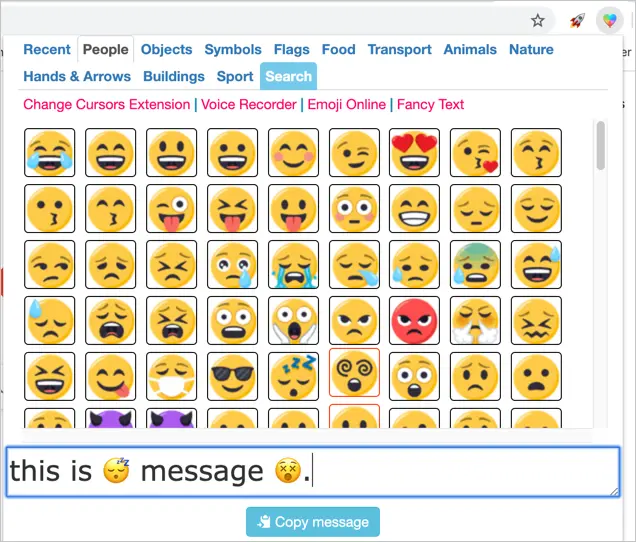 It is very useful that you can type the complete sentence including emojis and copy the sentence to paste on Facebook, Twitter or WhatsApp conversations.
How to Install Chrome Emoji Extensions?
Go to the Chrome Web Store extension page and use the search box to look for emoji extensions from the web store. Simply typing "Emoji" or "Emoji Keyboard" will display a list of the top emoji extensions for Chrome.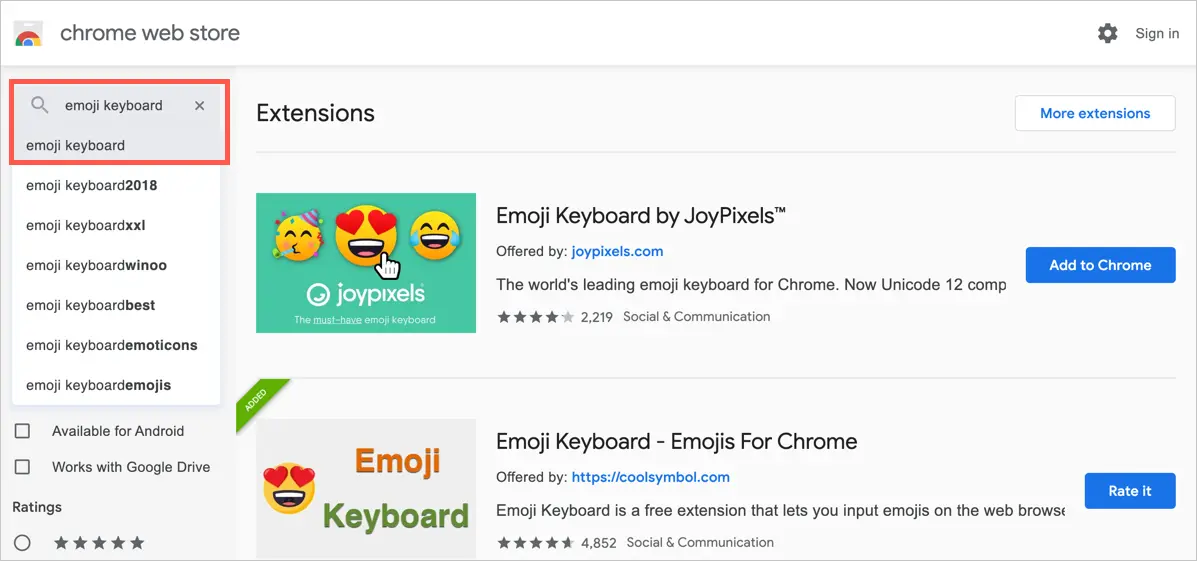 Select your desired extension, for example, "Emoji Keyboard – Emojis For Chrome".
Click "Add to Chrome" to add the extension to your browser. Chrome will show you a notification mentioning, the extension can "Read and change all your data on the websites you visit". You can accept this by clicking on "Add extension" button.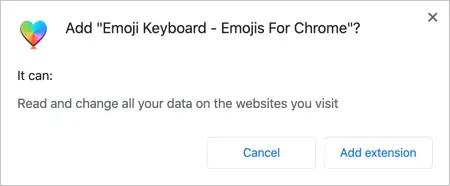 Installation of Emoji Keyboard extension will take few minutes. Once the process is completed, you can view the extension icon next to the right side of your browser's address bar. You can click on the icon to view the emoji keyboard as shown below.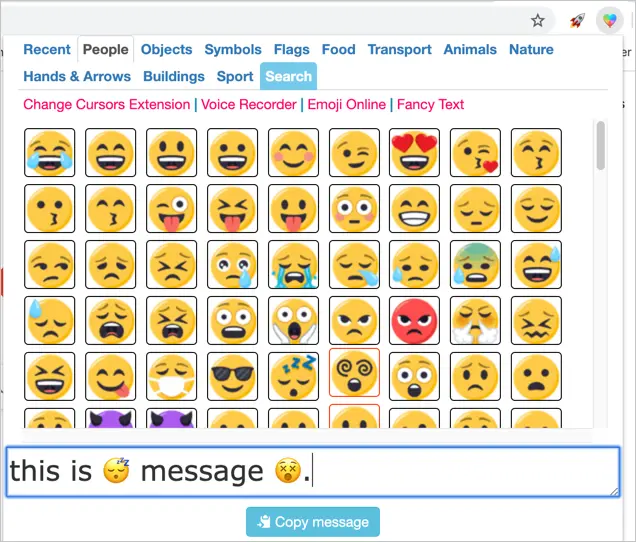 Final Words
The Chrome web store has quite a number of emoji extensions to suit your needs. These nifty keyboards are typically super lite, easy to install, and will completely change the messages you share online when using your computer.